NASA postpones launch of super-fast jet to Tuesday
(Agencies)
Updated: 2004-11-16 15:03
NASA officials on Monday postponed for a day the launch of an unmanned experimental jet that would have attempted to shoot out across the Pacific Ocean at a record speed of more than 7,000 mph after an apparent glitch with its electronics systems.
The X-43A aircraft was to have been carried aloft by a larger jet from Edwards Air Force Base north of Los Angeles and set on its way by a booster rocket over the Pacific Ocean.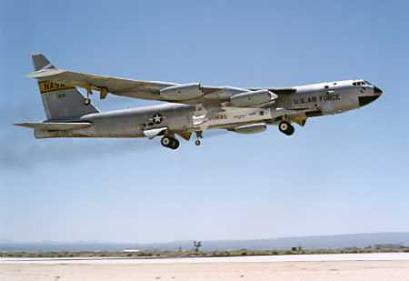 A previous model X-43A is shown during a test flight in June 2001. [Reuters/file]

NASA officials said they would try again to launch the craft some time on Tuesday. Troubleshooting on the electronics delayed the flight to the point where it risked missing its narrow launch window for the day, officials said.

"All indications are now that we should be go for tomorrow," said Griff Corpening, X-43A chief engineer, on a NASA Television broadcast.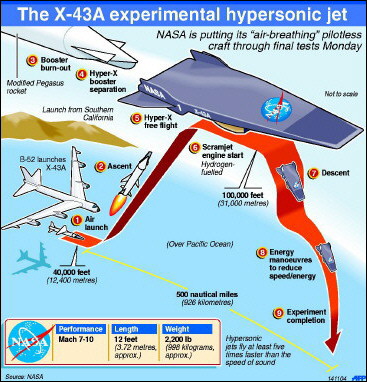 Graphic on the X-43A hypersonic aircraft. [AFP/File]

The test flight will be the final of three planned launches for the X-43A jet and its supersonic "scramjet" engine. A scramjet takes in oxygen from the air for combustion rather than carrying liquid oxygen in a tank like a conventional rocket.

Scramjet technology, NASA has said, could allow cheaper and safer flights into the upper atmosphere and into orbit around the Earth, with smaller and lighter craft.

NASA plans for the X-43A flight to reach speeds of Mach 10, or about 7,000 mph, which the agency said would be a world record for a jet-powered aircraft.

The $230 million program got off to a rough start when in June 2001 the first X-43A and its booster rocket had to be destroyed in mid-air by ground controllers. But the second attempt, in March of this year, successfully reached Mach 7.

After a few seconds of jet operation, the final X-43A will enter into a glide, traveling about 850 miles before splashing down into the ocean, NASA said. The agency has no plans to recover the craft, which has been standard procedure with the scramjet tests.




Today's Top News
Top World News

Powell quits, Rice to be new US Secretary of State




Foreign investment soars in 10 months




Beijing sounds alarm on Taipei intentions




Survey finds 20,000 more HIV carriers




Nation's retail sales realize mild growth




Report: US marine kills wounded Iraqi