Powell quits, Rice to be new US Secretary of State
(Agencies)
Updated: 2004-11-16 09:23
US Secretary of State Colin Powell, widely respected in a world often wary of America's superpower diplomacy, resigned on Monday and national security adviser Condoleezza Rice was set to replace him.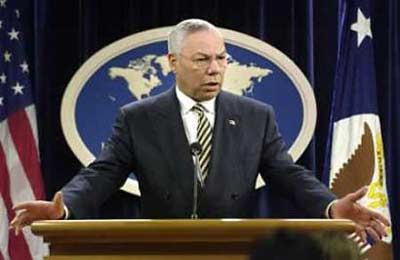 US Secretary of State Colin Powell speaks to the media after resigning from the cabinet of President George W. Bush in Washington, November 15, 2004. Powell, who was viewed as a voice of moderation in an administration dominated by right-wing hawks, is the top administration official to quit since Bush's re-election. [Reuters]
Powell, viewed as a moderate in the right-wing Republican administration, is the top official to quit since President Bush's re-election, and was one of four Cabinet resignations announced by the White House on Monday.
Rice, one of Bush's closest confidants who has generally sided with hard-liners in the administration, will be nominated to replace him and the announcement could come as early as Tuesday, senior administration officials said.
Bush also planned to name Rice's deputy, Stephen Hadley, to take her job, they said.
Rice, national security adviser since Bush took office in January 2001, has spent more time with the president than any other of his top aides except White House Chief of Staff Andrew Card. She was at his side at all times in the run-up to the Iraq war.
The change at the head of U.S. diplomacy comes as Washington makes a new push for Middle East peace following last week's death of Palestinian President Yasser Arafat.
Powell, who is expected to stay on the job until mid-January, will make a trip to the region this month to possibly meet Palestinian leaders.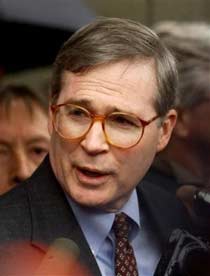 U.S. Deputy National Security Advisor Stephen Hadley speaks to the media outside the Russian Foreign Ministry building in Moscow, Friday, May 11, 2001. US President Bush has chosen national security adviser Condoleezza Rice to replace Colin Powell as secretary of state in his second term, a senior administration official said Monday Nov. 15, 2004. Hadley will replace Rice, the official said on condition of anonymity. [AP Photo]

Rice met Palestinian Prime Minister Ahmed Qurie in Berlin in May in what was the highest-level U.S. contact with Qurie at the time.

Rice's training was in Russian affairs, but in her current job she has focused on all the world's hot spots.

'Great Patriot'

As praise poured in from around the world for Powell, a retired four-star general who was the first black to be chairman of the Joint Chiefs of Staff and secretary of state, he said he always planned to serve for just one term.

"Colin Powell is one of the great public servants of our time. He is a soldier, a diplomat, a civic leader, a statesman, and a great patriot," Bush said in a statement. "I value his friendship. He will be missed."

In a typical transition for a new presidential term, the White House also announced the resignations of Energy Secretary Spencer Abraham, Agriculture Secretary Ann Veneman and Education Secretary Rod Paige. Last week, Attorney General John Ashcroft and Commerce Secretary Donald Evans quit.

Powell was the most popular Cabinet member among Americans and resisted calls in the mid-1990s to run for president.

But last year, he tainted his reputation when at a presentation at the United Nations he used flawed evidence over weapons of mass destruction to make Bush's case for a pre-emptive invasion of Iraq.

Although the United States had sharp differences with the United Nations, particularly over Iraq, Secretary-General Kofi Annan had a close relationship with Powell and said on Monday he valued the secretary's wise counsel and objective approach.

Powell failed as the top U.S. diplomat to build a large international coalition for the war that sparked anti-American anger around the world and strained traditionally strong alliances, notably in Europe.

A veteran of Washington's bureaucratic warfare, Powell had a silken touch with foreign leaders, U.S. lawmakers and the media. But he found himself on the losing side of a number of Bush administration battles -- notably the decision to go to war with Iraq without the U.N. Security Council's blessing.

It was not clear if Defense Secretary Donald Rumsfeld would keep his job, Republican sources said. One of Powell's main bureaucratic rivals who is believed to want to stay on, Rumsfeld told reporters during a trip in Ecuador he had not discussed his future with Bush.

Strong Right-wing Influence?

Powell's resignation also came against the backdrop of U.S. efforts to defeat an insurgency in Iraq before planned January elections and to stop Iran and North Korea developing suspected nuclear weapons programs.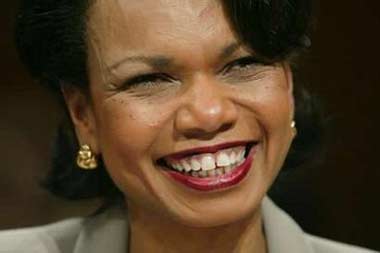 National Security Advisor Dr. Condoleezza Rice smiles during testimony before the 9-11 commission on Capitol Hill in Washington in this file photo from April 8, 2004. President George W. Bush has chosen national security adviser Condoleezza Rice, one of his closest confidantes, to replace resigning Secretary of State Colin Powell, senior administration officials said on Monday. [Reuters]
Powell's willingness to negotiate with North Korea and to acquiesce in European talks with Iran has met resistance from administration hard-liners.
Powell's close friend, Deputy Secretary of State Richard Armitage, is expected to leave with him.
Other senior State Department officials, such as planning director Mitchel Reiss and Assistant Secretary of State James Kelly, Powell's point man in negotiations with North Korea, were also expected to leave, sources said.
The departure of the moderates could deepen the right-wing influence on the president.
But British Foreign Secretary Jack Straw said Powell's departure may not herald harsher U.S. foreign policy stances. "Everything that Secretary Powell has done, he has done with the full authority of the president," he said.
Today's Top News
Top World News

Powell quits, Rice to be new US Secretary of State




Foreign investment soars in 10 months




Beijing sounds alarm on Taipei intentions




Survey finds 20,000 more HIV carriers




China plans to have 100 eyes in the sky




Self-ignited American man an FBI informant