Scores injured in Australian train derailment
(Agencies)
Updated: 2004-11-16 09:07
A high-speed passenger train carrying more than 160 people derailed and crashed in eastern Australia, injuring most of the passengers, officials said.
Five people including the train's two drivers were airlifted to hospital with serious injuries after the nine-carriage "tilt train" derailed, tossing sleeping passengers around their cabins.
After initial confusion about the number of injured, police said 128 people were hurt in the crash. It happened near the coastal town of Bundaberg, about 300 kilometers (187 miles) north of the Queensland state capital Brisbane.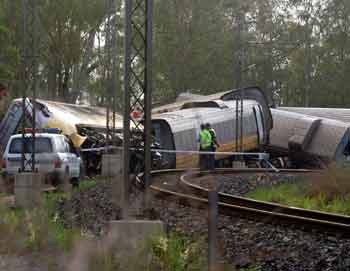 Police officers stand near the wreckage of a passenger train about 400 kilometres (250 miles) north of Brisbane November 16, 2004. The high-speed passenger train derailed on Tuesday on Australia's tropical north coast, sending carriages and passengers flying through the air and injuring 128 people, five of them seriously. [Reuters]

"We've got a variety of injuries, mostly rib injuries, spinal injuries, abrasions," said John Scott, a spokesman for the Queensland health service.

"We've still got to fully assess them and I suppose there's also a period of time of observation that we've got to do, but when we consider the sort of accident that's occurred, we've been very lucky," Scott said.

The train was carrying 157 passengers and seven crew from Brisbane to the northeastern coastal resort of Cairns when seven of its nine carriages derailed just after midnight.

Bob Scheuber, chief executive of Queensland Rail, said the cause of the derailment was not known but the Australian Transport Safety Board (ATSB) had launched an inquiry.

The tilt train involved in the crash can travel at speeds of up to 160 kilometers (96 mph) per hour and derailed on a section of track designed to handle speeds up to 150 kilometers per hour, Scheuber said.

"We don't know what speed, yet, the train was doing, but there is a black box recorder on the train and of course that will be one of the key pieces of information that the ATSB will want to look at in determining the cause," he said.

Emergency services took several hours to free about 50 passengers trapped in one of the derailed carriages, he said.




Today's Top News
Top World News

Powell quits, Rice to be new US Secretary of State




Foreign investment soars in 10 months




Beijing sounds alarm on Taipei intentions




Survey finds 20,000 more HIV carriers




Nation's retail sales realize mild growth




Report: US marine kills wounded Iraqi