U.S. troops battle insurgents across Iraq
(Agencies)
Updated: 2004-11-16 08:53
U.S. soldiers battled insurgents northeast of Baghdad on Monday in clashes that killed more than 50 people. Some guerrillas were said to be "fighting to the death" inside Fallujah, where American forces struggled to clear pockets of resistance.
At least five suicide car bombers targeted American troops elsewhere in volatile Sunni Muslim areas north and west of the capital, wounding at least nine Americans. Three of those bombings occurred nearly simultaneously in locations between Fallujah and the insurgent stronghold of Ramadi, the U.S. command said.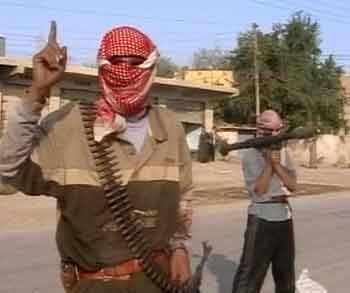 A masked gunman speaks as insurgents clashed with Iraqi police and U.S. soldiers in Buhriz, 60 km (37.3 miles) northeast of Baghdad, November 15, 2004. Gunmen stormed the police station in the the town of Buhriz on Monday using machine guns and rocket-propelled grenades, police said. A gunbattle ensued and four police cars were burned, police said. [Reuters]

The zone between Fallujah and Ramadi was one of at least three areas Monday in which insurgents pulled off almost-simultaneous attacks against U.S. or Iraqi forces, suggesting a level of military sophistication and planning not seen in the early months of the insurgency last year.

Pressing their own offensive in central and northern Iraq, insurgents attacked police stations, Iraqi security forces, U.S. military convoys and oil installations across a wide area of the Sunni heartland.

In a speech found Monday on the Internet, a speaker said to be Abu Musab al-Zarqawi, the country's most feared terror leader, called on his followers to "shower" the Americans "with rockets and mortars" because U.S. forces were spread too thin as they seek to "finish off Islam in Fallujah."

The worst reported fighting Monday took place about 35 miles northeast of Baghdad after assaults, at almost the same time, on police stations in Baqouba and its twin city, Buhriz.

Gunmen abducted police Col. Qassim Mohammed, took him to the Buhriz police station and threatened to kill him if police didn't surrender the station. When police refused, the gunmen tied the colonel's hands behind his back and shot him dead.

U.S. and Iraqi troops rushed to the scene, setting off a gunbattle that killed 26 insurgents and five other Iraqi police, Iraqi officials said.

At the same time, insurgents attacked a police station in Baqouba and seized another building. U.S. aircraft dropped two 500-pound bombs before the end of the fighting, in which four American soldiers were wounded, the U.S. command said.

During the fighting, U.S. troops came under fire from a mosque, the U.S. military said. Iraqi security stormed the mosque and found rocket-propelled grenades, mortar rounds and other weapons and ammunition, the statement said.

In one of the car bombings along the Fallujah-Ramadi corridor, the attacker rammed into a Marine armored vehicle, wounding the four troops inside. The two other bombings caused no injuries ¡ª including one in which the driver rammed his car into a tank but his explosives failed to explode.

Witnesses reported a fourth car bombing late Monday in Ramadi against a U.S. convoy but there was no report of casualties.

In Mosul, where an uprising broke out last week in support of the Fallujah defenders, a suicide driver tried to ram his bomb-laden vehicle into a U.S. convoy, the military said. He missed but set off the explosives, wounding five soldiers, four of them slightly.

"I expect the next few days will still bring some hard fighting," Brig. Gen. Carter Ham, commander of U.S. forces in Mosul, said in a statement. "So, overall, I'd stand by my assessment that the situation in Mosul is tense, but certainly not desperate."

Four American soldiers were wounded when their patrol ran over a land mine Monday near Beiji in northern Iraq, the military said.

Saboteurs blew up an oil pipeline Monday, shutting down Iraqi oil exports from the north, and set fire to a storage and pumping station in northern Iraq, officials said.

In Baghdad after nightfall Monday, heavy explosions rocked the Green Zone ¡ª the barricaded neighborhood that houses the Iraqi government and U.S. Embassy. Loudspeakers warned, "Take cover, take cover."

Gunmen carried out near-simultaneous attacks on a police station and an Iraqi National Guard headquarters in Suwayrah, 25 miles south of Baghdad, killing seven Iraqi police and soldiers.

During a news conference in Baghdad, Interior Minister Falah Hassan al-Naqib, himself a Sunni, condemned the growing attacks on Iraqi police and security forces, calling them part of a campaign "to divide this country and thrust it into a civil war."

"They are trying by all means to divide this country and to create an ethnic and sectarian war," al-Naqib said of the insurgents.

Prime Minister Ayad Allawi said police had arrested the leader of a militant group behind the killing of some foreign hostages. Moayad Ahmed Yasseen, leader of the group Muhammad's Army, was captured along with some of his followers, Allawi said. He did not say what kidnappings the group has been involved in.

However, a statement by the prime minister's office later described Muhammad's Army as the "armed wing of an organization created by Saddam Hussein" to fight for the return of the Baath party to power.

The spike in violence accompanied the American-led assault against Fallujah, the main insurgent stronghold, 40 miles west of Baghdad. The week-old offensive in Fallujah has left at least 38 American troops and six Iraqi soldiers dead.

The number of U.S. troops wounded is now 320, though 134 have returned to duty. U.S. officials estimated more than 1,200 insurgents have been killed.

In a telephone interview with reporters at the Pentagon, Marine Col. Michael Regner, operations officer for the 1st Marine Expeditionary Force, said U.S. and Iraqi forces had captured more than 1,052 prisoners in Fallujah, most of them are Iraqis but some foreigners.

"Very few of them are giving up," Regner said. "They're fighting to the death."

He said U.S. troops and Marines were working their way back from the southern part of the city toward the northern part, clearing out pockets of resistance and recovering caches of weapons.

The offensive was intended to secure Fallujah so that national elections can go ahead in January as scheduled.

But Iraq's deputy prime minister, Barham Saleh, told The Guardian newspaper in Britain that the insurgency could derail the plan to hold elections in January.

"Holding free and fair elections on time is an obligation that we have undertaken toward the Iraqi people," Saleh was quoted as saying. But he added: "Nearer the time, the Iraqi government, the United Nations, the independent election commission and the national assembly will have to engage in a real and hardheaded dialogue to assess the situation."

Meanwhile, a convoy of ambulances and relief supplies trying to enter Fallujah was forced to turn back because the fighting made it too dangerous, the head of the Iraqi Red Crescent said. The Red Crescent and Red Cross have been unable to gain access to people inside Fallujah during more than a week of violence.

Allawi's office confirmed that two of his female relatives who were kidnapped last week have been released. Allawi's cousin, Ghazi Allawi, 75, his cousin's wife and his cousin's pregnant daughter-in-law were abducted at gunpoint last Tuesday in Baghdad. There was no word on the cousin.




Today's Top News
Top World News

Powell quits, Rice to be new US Secretary of State




Foreign investment soars in 10 months




Beijing sounds alarm on Taipei intentions




Survey finds 20,000 more HIV carriers




Nation's retail sales realize mild growth




Report: US marine kills wounded Iraqi