Journey into Artificial Beauty
(Women Of China)
Updated: 2004-11-15 14:37
It is 9:30 am on a Friday morning. A dozen patients are sitting in the waiting room of the plastic surgery section of Beijing Union Medical College Hospital: a 50-year-old woman accompanied by her daughter, a 12-year-old girl and a 10-year-old boy with their parents, a pretty lady in her 30s, a middle-aged man...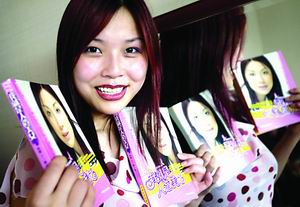 The man-made beauty Yang Yuan smiles at cameras holding her new-published book. [sohu]

They are all waiting for an interview with a doctor, to decide how, at what risk and what cost they are going to transform their body. On one side of the room, a series of silicon implants for the nose and chin are on display.

By 11 am, the number of clients waiting has tripled. Some patients 每 especially young children 每 come for minor interventions 每 such as removing a mole每 but others are getting ready for more serious operations: nose remodeling or breast augmentation.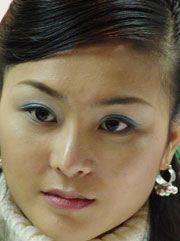 China's first artificial beauty Hao Lulu [sohu]

"I came with my mum," Liu, a girl in her 20s, explains. "She wants to have a face lift, to look younger, like many of her friends. But plastic surgery is really common among students too. Lots of girls undergoing plastic surgery are not ugly at all. They want to look better, and better. That's all."

Subsequently, the plastic surgery market 每 although it is still in the nascent stage--boomed in China in the last few years. Nearly four in five institutes opened in the last five years, and the figures are expected to grow.

Surgery Marathons

The searches for perfect beauty and cosmetic surgery have been the focus of public attention and media in the last months.

Last May, the story of Yang Yuan, now a household name, launched a debate.

Yang, who had gone through 11 facial operations at a cost of 110,000 yuan ((US$13,300) in order to win the Miss Intercontinental pageant, was disqualified from the contest because of the surgery.

The 18-year-old model decided to sue the organizers for discrimination and asked for 50,000 yuan (US$6,000) in compensation for emotional damage.

The Beijing Dongcheng District People's Court, however, ruled that she did not have adequate grounds for suing the pageant organizers.

Yang was not the first "man-made" beauty to attract media attention.
A few months earlier, 24-year-old Hao Lulu had been introduced to the public as the first Chinese man-made beauty.

She was hired by the Evercare Clinic as a living advertisement, to promote the business of the private-owned medical institution.

The girl underwent a series of 15 cosmetic surgery procedures, all provided for free by the clinic. Quite a fruitful campaign for the Evercare center, apparently: the clinic recently hired an American woman to undergo fat reduction operations for free, and is thinking of potential new recruits.

"I had operations on the face as well as on the body: the nose, the legs, the breasts," says Hao. "The first operation started on July 21, 2003. I had the last one on April 5th this year."

How does Hao feel after almost a year of regular passages on the operating table? Good, she says. "It made me happy and much more self-confident," adds the lady who recently started a career as a movie star.

20,000 Lawsuits Filed A Year

Hao's story, as she describes it, sounds like a fairy tale. But all surgeons are not Pygmalions transforming a plain life into a star's existence with the sole help of a knife and a scalpel.

Late July, a woman died after plastic surgery to boost the size of her breasts in Liaoning Province. Besides, statistics from the Chinese Consumers' Association revealed that there is an average of 20,000 lawsuits filed every year following plastic surgery procedures.

"The market is expanding rapidly, so it is quite hard to control," says Dr Du Suzhen, secretary of the Beijing Association of Medical Cosmetic Industry Members, established last June.

"In my opinion, problems encountered are of four kinds. First of all, management and registration procedures do exist in this field, but they are not always very efficient. Many institutions operate without being registered," she explains.


"The second problem is surgeons' qualification. There are strict rules in this matter. A doctor operating plastic surgery has to have a master's degree, obtained after five years of college education, and at least six years of experience in the plastic surgery field. This is the rule, but many do not respect it, so many inexperienced surgeons operate," she adds.

The third problem, Du says, is clinics' publicity campaigns. "You can see adds on buses, in magazines, and the content of these adds is not always true. All ads should be examined by competent authorities before they are released," she says.

The last problem, Doctor Du says, is the condition of equipment and use of inadequate--and therefore dangerous--material, implants for instance, which can lead to infections.

The Juicy Beauty Market

Because plastic surgery is a highly profitable sector, some practitioners try to make the most of it, through legal or illegal ways.

Besides, about 85 percent of the cosmetic surgery institutes in China are privately owned, according to the Ministry of Labor and Social Security, and some are only willing to make maximum profit on the continuing obsession for beauty.

With the rising of life standards, an increasing portion of the population 每 which, in cities, already spends an average 30 yuan (US$3.6) on cosmetics every month- is ready to spend increasing amounts of money in order to look beautiful.

However, although cosmetic surgery is affordable to more and more Chinese people, it is a luxury not everybody can afford.

In Beijing Union Medical College Hospital---surely not the most expensive of all plastic surgery institutions 每 breast reduction costs at least 5,970 yuan (US$721, between a third and a half of Beijingers' average annual salary) and for having a pair of elegant, lifted eyebrows, one will have to save at least 2,530 yuan (US$305.5).

If a client does not want an ordinary practitioner, he or she will have to pay 3,030 yuan (US$366) to book the deputy-chief surgeon and, if keen on having the chief surgeon in person, the bill will climb to 3,410 yuan (US$412).

Smaller operations, however, are more affordable: 350 yuan (US$42), for instance, to have a mole removed by a "basic surgeon."

But one had better not have a big stain on the skin: every extra centimeter removed costs an additional 50 yuan (US$6).

In November, when man-made models compete on the podium to become Miss Plastic Surgery, will they have labels indicating the cost of their transformations?

Can spectators and judges expect a 90 percent natural woman to be as beautiful as an "only 60 percent natural" person? Can they expect a woman with low income to be as perfect as a wealthy person who was able to afford several dozen operations?

The predictable media buzz about the novel beauty pageant is likely to spark new debate. And it is even more likely to convince batches of young and less-young Chinese women to have their charms transformed on the operating table.





| | |
| --- | --- |
| | |
| Panda-like dog in Chengdu | |

| | |
| --- | --- |
| | |
| Popeye the sailor man turns 75 | |

| | |
| --- | --- |
| | |
| Angelina Jolie in German TV show | |
Today's Top News
Top Life News

Taiwan's Chen urged to nod 1992 deal




Luxury foreign products make inroads




System highlights anti-corruption measures




Powell: China ties best in 30 years




Hu hails friendship with all Latin America




Calls made to change interest income tax