Russia makes overture on Kurils
(BBC)
Updated: 2004-11-15 09:15
Russia has said it may be ready to resolve a dispute with Japan over four islands seized by Soviet troops at the end of World War II.
Russia's Foreign Minister Sergei Lavrov has said his government recognises an undertaking made in 1956 to return two of the islands to Japan.
He called for talks to discuss the issue, which has long soured relations between Tokyo and Moscow.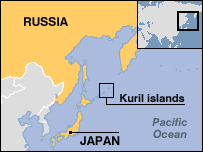 [Courtesy of BBC]

However, Japan is likely to insist all four islands are returned to it.

'Dialogue needed'

Japanese Prime Minister Junichiro Koizumi recently restated his country's claim to the territory, known in Japan as the Northern Territories and in Russia as the southern Kurils.

The BBC's correspondents say Tokyo has so far shown no interest in the offer from Moscow.

It is based on a promise by former Soviet leader Nikita Khrushchev, made in 1956, to return two of the islands - a pledge that was never fulfilled

In a Russian television interview, Mr Lavrov said the present Russian government should live up to the commitment.

He said: "We acknowledge this declaration, but its realisation requires a dialogue.

"No-one has ever discussed how to perform this in practice."

The territorial dispute has prevented comprehensive peace between the two nations.

Russia's President Vladimir Putin is expected to travel to Japan next year to mark the signing of the first treaty between Moscow and Tokyo in 1854.

The three islands and a cluster of outcrops are currently inhabited by a small community of Russian fishermen and their families.




Today's Top News
Top World News

Luxury foreign products make inroads




Taiwan's Chen urged to nod 1992 deal




Powell: China ties best in 30 years




Hu hails friendship with all Latin America




Calls made to change interest income tax




Body of western woman found in Fallujah