Iran agrees to suspend uranium enrichment
(Agencies)
Updated: 2004-11-15 08:52
Iran notified the U.N. nuclear watchdog in writing Sunday that it would suspend uranium enrichment and related activities to dispel suspicions that it was trying to build nuclear arms.
With its move, Iran appeared to have dropped demands to modify a tentative deal worked out on Nov. 7 with European negotiators, agreeing instead to continue freezing enrichment ! the process to make either nuclear fuel or the core for nuclear weapons ! and also to suspend related activities, diplomats said.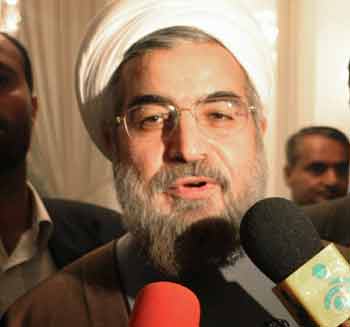 Iran's chief nuclear negotiator Hassan Rohani speaks with journalists after an officia meeting with European Ambassadors at Saadabad palace in northern Tehran November 14, 2004. Iran pledged on Sunday to suspend its uranium enrichment programme to ease concerns that its nuclear programme is aimed at developing weapons, but warned that the freeze was only temporary. Hassan Rohani, Iran's chief nuclear negotiator, said the suspension would remain in place as long as talks with the EU continued on a final resolution of the issue. [Reuters]

"Basically it's a full suspension," said one of the diplomats, speaking on condition of anonymity. "It's what the Europeans were looking for."

Shortly after diplomats revealed the Iranian move, Tehran's top nuclear negotiator, Hossein Mousavian, confirmed that his country was giving its "basic agreement" to a temporary suspension.

"We accept suspension as a voluntary measure on the basis of agreement with the European Union," Mousavian said on Iranian state television, emphasizing that his country viewed the move as a concession for "confidence building" and not a "legal obligation."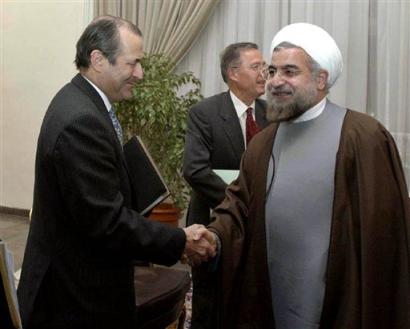 Iran's top nuclear negotiator and secretary of the Supreme National Security Council Hasan Rowhani, right, shakes hands with British ambassador to Iran Richard Dalton, in front of German ambassador Paul von Maltzahn at the Saadabad palace in Tehran, Iran, Sunday, Nov. 14, 2004. [AP]

As part of the agreement, "Europe will support Iran's joining the international group of states possessing the ability to manufacture nuclear fuel" once the suspension ends, Mousavian said, signaling yet again that Iran viewed the freeze as temporary.

State Department spokeswoman Darla Jordan said Sunday: "We are awaiting a briefing by the EU three on Monday. We continue to believe that Iran has to abide by the IAEA Board of Governors' resolution."

Washington has argued that Iran's enrichment activities are in violation of its international treaty obligations and part of a nuclear arms program. The United States has called for the indefinite suspension if not an outright scrapping of Iran's domestic enrichment program. Iran says it wants to master the technology only to generate power.

The diplomat said Iran had also fulfilled a key part of the deal by formally informing the U.N. nuclear watchdog agency ! the International Atomic Energy Agency ! of its decision.

That cleared the way for inclusion of Iranian intentions in a report prepared by IAEA head Mohamed ElBaradei.

As negotiators for France, Germany and Britain struggled with Iranian counterparts to bridge differences on the weekend, the IAEA had delayed the report on Iran's nuclear activities scheduled for limited circulation to diplomats accredited to the agency. A diplomat close to the agency said the report would now be released Monday.

The IAEA study on nearly two decades of clandestine activities that the United States asserts is a secret weapons program is being prepared for review by the agency's 35-nation board of governors when they meet Nov. 25. Based on the report, they will decide on actions that include possibly referring Iran to the U.N. Security Council, which could lead to sanctions.

After talks in Paris with Iranian envoys last weekend, European diplomats said Tehran had tentatively agreed to suspend uranium enrichment and all related activities. The suspension would last at least as long as it took the two sides to negotiate a deal on European technical and financial aid, including help in developing Iranian nuclear energy for power generation.

But the diplomats said on Friday that Iranian officials had presented British, French and German envoys in Tehran with a version of the pact that was unacceptable to the three European powers ! the main brokers of the deal ! and the European Union as a whole.

The key dispute concerned the conversion of uranium into gas, which when spun in centrifuges can be enriched to lower levels for producing electricity or processed into high-level, weapons grade uranium, the diplomats said on condition of anonymity.

The diplomats ! all of them briefed on the dispute and based in Europe ! said Iran was insisting that the deal allowed it to process uranium into a precursor of uranium hexafluoride, the gas introduced into centrifuges for enrichment. The diplomats said the tentative deal reached in Paris disallowed this.

With the Europeans determined to leave the Iranians little wiggle room, disputes also focused on more minor details. As an example, one diplomat said Sunday that the Europeans insisted that Tehran clean centrifuges of residues left by prior enrichment. That was meant to deprive the Iranians of the chance to claim that any traces found by IAEA inspectors past the formal start of suspension was from previous activities.

Iran suspended uranium enrichment last year but had repeatedly refused to stop other related activities such as reprocessing uranium or building centrifuges.