Luxury foreign products make inroads
(China Daily)
Updated: 2004-11-14 23:40
For Beijing, November is a time when a hundred brands are blossoming --a hundred bright-coloured luxury brands.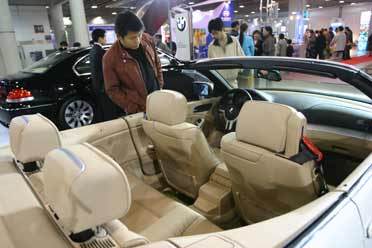 A Chinese man looks at a BMW car at an automobile exhibition in Nanjing early this year. [newsphoto/file]
The downtown Oriental Plaza, a place visited by 200,000 customers daily during weekends, opened its new shopping arcade to showcase the world's high-end consumer items.
Just a week after that, an international jewelry show is being staged, where foreign merchants are for the first time allowed to directly cut wholesale and retail deals with their Chinese counterparts. The show only changed its name to "international" in 2003.
Not just Beijing, in Shanghai, as the official Xinhua News Agency reported, the world's third largest Christian Dior centre opened around the same time. Third only in time sequence -- after similar outlets were opened in Paris and then Tokyo.
Prior to its upgrading, the Shanghai Dior centre was already generating 11 million yuan (US$1.3 million) in annual sales. And the management reportedly hopes to raise the figure to over 15 million yuan (US$1.8 million).
Not very far and not long ago, LV, Giorgio Armani, E. Zegna all opened their trendy flagship stores in China.
Not just Beijing and Shanghai, but the entire Chinese mainland is being targeted. Chinese cities are being bombarded by the world's most expensive brands, from fashion to jewelry to cars.
The world's most rapidly growing advertising industry --China's -- is bringing more and more international brands into the urban young people's daily language.
Yet this only begins the sowing season for the brand owners and their local marketing managers. Will they get a large harvest -- not just in one or two cities -- for all the money and enthusiasm they have poured into China? When will China, in its luxury spending, overtake one consumer power after another in the world, just as it did in general trade?
Number crunching game
A harvest of revenues will surely require more efforts than having the PR managers get the shop-opening news covered by the Chinese media, from the official newspapers all the way to Beijing Tatler, Chinese Elle, and up to 40 other fashion and lifestyle magazines to cater to a readership thirsty for whatever consumer concepts from the West.
But how big is the readership? And how many of the readers of such glossy pictorials can really afford the items they fancy? And how many more people are there who can be persuaded into reforming their old way of life?
Because China was a planned economy some 20 years ago, when even food items were rationed, it has not accumulated very comprehensive and consistent consumer surveys. There have been some surveys in recent years, mainly by the urban survey department of the National Statistics Bureau (NSB). But these surveys are tailored for macro-economic decision-making and are usually too broad to reflect much of sectoral significance.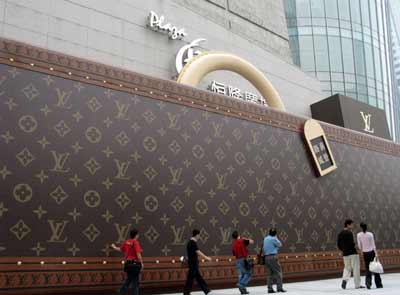 Pedestrians pass by a giant Louis Vuitton ad at the Plaza 66 shopping mall in Shanghai. For the past few years, luxury shops have been mushrooming in China's big cities. [newsphoto]
A recent NSB survey shows that urban households making 200,000 yuan (US$24,096) to over 1 million yuan (US$120,000) per year make up 22 per cent of the nation's entire urban population.
However, to complicate the issue, many Chinese, especially those who make more than others, have multiple sources of income.
According to a recent Merrill Lynch and Capgemini World Wealth Report, widely quoted by the Chinese press, there is already a layer of "high-net-worth individuals" (HNWI) in Chinese society, and their number has been growing faster than many other places in the world.
"In particular," according to James Gorman, president of Merrill Lynch's global private client group, "wealthy investors in the United States, China and India were able to capitalize on these trends despite a great deal of geopolitical uncertainty."
The total global wealth of HNWIs climbed 7.7 per cent to US$28.8 trillion in the survey, while India's growth was 22 per cent growth, and China's 12 per cent, as compared with more modest increases in the Middle East and Latin America.
The Chinese Internet services recently also quoted a Morgan Stanley analyst as saying that the actual number of individuals who can afford some luxury spending is around 1 per cent of the mainland population, or around 13 million -- although the figure could quickly rise to 100 million.
These are just the broad figures. As for the rich people who really want to buy luxury items all the time, the number is understandably much smaller. According to Yue Zheng, a Shanghai-based consumer analysis, their size is about 100,000 people in Shanghai, and China's total luxury spending is about US$2 billion -- despite its admittedly fantastic growth.
A bad example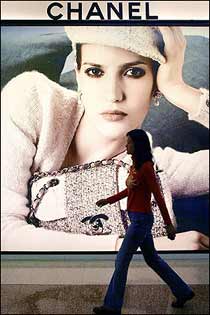 A woman walks pass an illuminated billboard ad for French fashion house Chanel in Shanghai. [newsphoto]

Just like everything in China, too much of a progress can look unsteady, if not truly dangerous. Too much enthusiasm, once seen as a single-minded chase of the rich and powerful, may at times appear arrogant and distasteful, and cause misgivings.

In fact, like consumer societies everywhere in the world, there are plenty people who don't like big companies and big brands. Not every Chinese has an equal amount of sense of vanity.

Good marketing methods (including PR) that make sense to the local culture are always more valuable than the sales a company can generate for a short period.

One-sided promotion is a typical case in the point. Just last week, as many mainland media reported, some people from a presumably semi-official China Association of Branding Strategy claimed that the nation's number of luxury consumers has swelled to a spectacular 160 million.

The size of this group is going to grow further to 250 million in 2010, they added.

But what did they mean by luxury consumers? Those who have some money to buy one or two pieces of luxury goods in their life? Or those who are addicted to lavishing lifestyle? Those who can afford any little thing carrying an international brand? Or those who can afford a BMW? The officials didn't seem to give a definition.

They just said the 250 million big spenders in 2010 would be making 20,000 yuan (US$2,410) to 50,000 yuan (US$6,024) per month. Nor did they bother to clarify whether these figures are for per capita income or per household income.

But whether in per capita income or household income, these figures don't have support from any other sources, whether official data or any respected overseas researchers.

Small wonder that the official People's Daily found the CABS figures annoying. One of its commentators called it a foreign luxury merchants' downright conspiracy, alleging that such propaganda was used by those merchants to make Chinese consumers spend more on their goods, while many people in this country actually cannot make even 2,000 yuan (US$240.96) to 5,000 yuan (US$602.41) per month, and some not even 200 yuan (US$24.10) to 500 yuan (US$60.24).

Having disputed the reliability of the figures, the commentator went on by arguing that buying luxury goods is an indication of a "mistaken view of life," urging his readers to stick to China's time-honoured virtue of frugality.

It is easy to see that too many of this sort of things may lead to the politicizing of business, and ruin the whole game. But as to how to prevent them from happening from time to time, and how to avoid the unhealthy impact it may cause, it would call for a lot of careful studies of what marketing methods can really be withstood within this particular society.

However, despite the call by the People's Daily commentator for going back to the traditional frugality, there is no question that increasing RMB is indeed being spent on brands and goods that Chinese citizens had hardly seen and heard of merely a decade ago.

Some of the early sowers are already seeing their seeds budding, not just in Beijing and Shanghai, but in many other cities. They can say the nation is riding on a great leap forward in its imports of French perfume, Swiss watches, Italian fashion, and foreign car.

If Chinese mainland and Hong Kong are combined, the sales of Swiss watches in China have reportedly already exceeded those from Japan.

The Rolls Royce representative in Shanghai claimed his confidence in meeting the company's 2004 sales target of 50 units in China.

In some cities, there is even a shortage of staff in the sales and service related to luxury goods. Hangzhou, for example, is reportedly having a difficulty staffing its jewelry retail business.

And apparently, from the near frantic growth in the sales of luxury goods in China, the central government is not seeing a dangerous mistaken view of life.

The rumour that floated in the early months of the year, that spending on luxury items would be taxed, has not become a reality, after the denial by an official to the official Xinhua News Agency in June.

Beginning as of January 2005, China will lower its tariffs on diamond imports. And that is expected to give another boost to the awakening consumer interests in luxury items in the Chinese mainland.




Today's Top News
Top China News

Spokeswoman: EU's arms embargo a 'political' issue




Hu: Iraqi election is the way out of woes




Sino-Cuban ties foster peace




Anti-cancer vaccine enters clinical research




Cold hinders search for black boxes




Kuchma calls for talks on Ukraine's crisis