Jailed Palestinian to run for president
(Agencies)
Updated: 2004-11-14 10:56
Marwan Barghouti, a leader of the Palestinian uprising jailed by Israel but perhaps the strongest candidate to oust Yasser Arafat's old guard of politicians, plans to run in upcoming presidential elections, a person close to Barghouti said Saturday.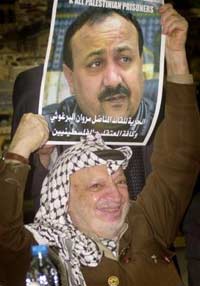 Palestinian leader Yasser Arafat is seen holding a portrait of imprisoned leader of the Fatah movement Marwan Barghouti during a reception for Palestinians freed recently from Israeli jails at his compound in the West Bank town of Ramallah in this Feb. 12 , 2004, file photo. Jailed Palestinian uprising leader Marwan Barghouti will run for the presidency of the Palestinian Authority in upcoming elections to determine Yasser Arafat's successor, a source close to Barghouti said Saturday Nov. 13, 2004. [AP Photo]

The candidacy of Barghouti, who supports violence but says he wants peace with Israel, could shake up the calcified world of Palestinians politics. By law, elections are to be held by Jan. 9, or within 60 days of Arafat's death on Thursday

Many believe the popular Barghouti is the only leader capable of unifying squabbling Palestinian factions, reining in militants and possibly restarting peace efforts with Israel.

Israel, however, is determined not to free Barghouti, who is serving multiple life terms for his role in the killings of four Israelis and a Greek monk.

Barghouti also could represent the best hope for Arafat's Fatah movement to beat down a challenge by the increasingly popular hardline Islamic militant group Hamas, which is considering running a candidate.

"When he takes that decision (to run), we will be near him and we will support him," said Ahmed Ghneim, a senior Fatah leader and another member of the younger guard. "I think he has the best chances of anybody in the movement to win the elections."

Barghouti's wife, Fadwa, said she was unaware of her husband's plans. But his brother Hisham said: "His people around him, from the Fatah and Tanzim (Fatah rank-and-file), want him, and if they want him, he is looking to be president."

After Arafat's death Thursday, Parliament Speaker Rauhi Fattouh was sworn in as the caretaker leader of the Palestinian Authority.

Though some officials have talked of amending the law to allow parliament to choose the new leader, Prime Minister Ahmed Qureia said Saturday that elections would be held by Jan. 9. Fattouh was to meet Sunday with elections officials to decide whether to hold the poll Jan. 7 or Jan. 9, Palestinian Cabinet Minister Saeb Erekat said.

Ammar Dweik, deputy chairman of the Palestinian election commission, said the Palestinians were ready to hold their first presidential election since 1996, noting that a voter registration drive was recently completed.

"There is a political will to conduct the elections," he said. "We are ready technically. All we need is a decree to set a date."

Rami Hamdallah, chairman of the Palestinian election committee, called on the international community to pressure Israel to allow the elections to go smoothly, especially in disputed east Jerusalem.

Israeli police raided registration stations several months ago, preventing most east Jerusalem residents from registering. A senior Israeli official said on condition of anonymity that Israel had not been formally contacted about the matter.

Another question is whether Hamas will field a candidate. Osama Hamdan, a Hamas leader in Beirut, Lebanon, said the group is deliberating whether to run a candidate. A senior Hamas official in Gaza, speaking on condition of anonymity, said the group's leaders would meet soon and were considering the issue seriously.

Arafat's death raised speculation Israel might release Barghouti as a goodwill gesture, but Israeli Foreign Minister Silvan Shalom ruled that out. "He will remain in prison for the rest of his life, because he's a murderer, because he's responsible for the killing of so many" innocent people, Shalom said Thursday.

Barghouti intends to run regardless, and will only bow out of the race if Fatah holds primaries and he loses, the person close to Barghouti said on condition of anonymity.

Erekat said the Fatah candidate will likely be chosen by the movement's small central committee and not in a primary.

The committee would likely nominate Mahmoud Abbas, 69, an old guard politician who has taken over Arafat's role as head of the PLO. It is far from certain, though, whether Abbas could defeat a Hamas candidate.

Many Palestinians see Abbas' generation of politicians, many of whom spent decades in exile, as a corrupt clique with little connection to the Palestinian masses. Younger leaders who cut their teeth during the first Palestinian uprising in the 1980s and early 1990s have more grass-roots support, but have largely been frozen out of top positions in Fatah, the PLO and the Palestinian Cabinet.

Barghouti, a former West Bank leader of Fatah, has firm street credentials. He spent six years in Israeli jails before being deported in 1987, and was one of the first exiles to return seven years later after interim peace deals with Israel were signed.

He once had close ties to Israeli peace activists, and speaks fluent Hebrew that he learned in prison. But after the outbreak of Israeli-Palestinian fighting four years ago, he said force ¡ª including shooting attacks on Israelis ¡ª was justified to end Israel's occupation of the West Bank and Gaza Strip. Regardless, he still says he supports peace.

Barghouti was considering running along with a vice president ¡ª a position that currently does not exist ¡ª who would handle the daily administration of the Palestinian Authority while he remains in prison, the person close to Barghouti said.

Pressure on Israel to release Barghouti would become intense if he wins.

"If the Palestinians are going to make this work against the really hard-line elements, the Islamists and some of the people of Hamas, they're going to have to have a coalition of the young guard and the old guard," former Secretary of State James Baker told CNN on Friday. "It would be really a very positive step in the right direction if Israel would release Marwan Barghouti so that he could participate in bringing about this transition."

Meanwhile, Palestinian officials worked to chart their future after Arafat, expressing hope for new peace moves in the region. Hours after Arafat's burial Friday, US President Bush and British Prime Minister Tony Blair pledged their support for new peace talks.

Qureia said Saturday they must follow through.

"I'm saying to the American administration, to President Bush, to the Israelis and to the whole world, 'Now is the period where we should be more serious,'" he said. "If we are determined to do it, we can do it in a very short time.'

Israel has said it wanted the new Palestinian leadership to prove itself before peace talks resume.

Shalom is to meet Monday with U.S. Secretary of State Colin Powell, and the State Department said Powell will travel to the region "soon" to meet with Palestinian leaders.




Today's Top News
Top World News

Powell: US-China relations healthiest in 30-plus years




US says troops occupy all of Fallujah




US rejects call for WTO complaint over RMB




Jailed Palestinian to run for president




Nutritional imbalance plagues people




Coal mining: Most deadly job in China