US rejects call for WTO complaint over RMB
(Agencies)
Updated: 2004-11-14 10:24
US President George W. Bush's administration rejected a call by US lawmakers to take China to the World Trade Organization for "currency manipulation."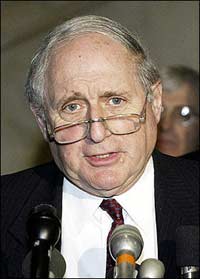 On September 30, 2004, Democratic senators Carl Levin of Michigan, seen here May 2004 and Charles Schumer of New York, along with 28 other members of Congress sent a petition to the US Trade Repsentative demanding it file a WTO complaint against China if Beijing failed immediately to eliminate the "undervaluation" of the yuan. [AFP]

The US Trade Representative's office said such measures would not help, and might hinder, Chinese progress towards leting the yuan free from a fixed peg with the dollar.

The request was made by 30 members of the US Congress.

The congressmen accused China of manipulating its currency to gain unfair trade advantages over the United States. Chinese yuan's value is pegged at about 8.3 yuan to the dollar.

In a statement, Neena Morjani, a spokeswoman for US Trade Representative Robert Zoellick, said the administration believed that to bring such a case to the WTO would undermine the White House's diplomatic efforts to pressure China for a change in its currency policies.

"A Section 301 action would not assist in these efforts, and indeed could be more damaging than helpful at this time," she said. "We therefore must decline to accept the course of action recommended through this latest petition."

"Working closely with US Treasury officials, China, according to Governor Zhou (Xiaochuan) of China's People Bank, has made this a top priority and has made a series of policy moves to liberalize rules governing foreign exchange transactions, moved to strengthen and develop the finance sector, adjusted interest rates, and taken other steps toward increasing flexibility in financial policymaking; these are clear signs that the administration's efforts are paying dividends," the statement read.

The congressional group petitioned the Bush administration in late September, urging the US government to file a case under Section 301 of the US trade law that would allow the United States to impose penalties on Chinese goods if the WTO rules against China.

Wei Benhua, deputy director of the Chinese State Administration of Foreign Exchange, said in Beijing this week that China's long-term goal was "to achieve complete convertibility of RMB (yuan)," according to Xinhua news agency.




Today's Top News
Top China News

Powell: US-China relations healthiest in 30-plus years




US says troops occupy all of Fallujah




US rejects call for WTO complaint over RMB




Nation likely to be 3rd largest trading power




Nutritional imbalance plagues people




Coal mining: Most deadly job in China