No. 1 Davenport upset at WTA, Sharapova wins
(Agencies)
Updated: 2004-11-13 15:46
French Open champion Anastasia Myskina upset Lindsay Davenport 7-6 (5), 6-4 in the WTA Championships on Friday night, which could jeopardize the American's hold on the world's No. 1 ranking.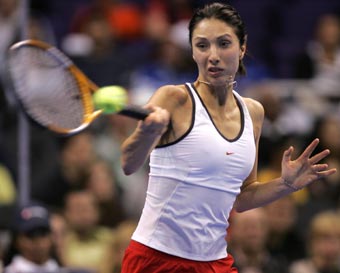 Anastasia Myskina of Russia hits a forehand to U.S. player Lindsay Davenport during her 7-6 6-4 round robin win in the WTA Tour Championships in Los Angeles, November 12, 2004. [Reuters]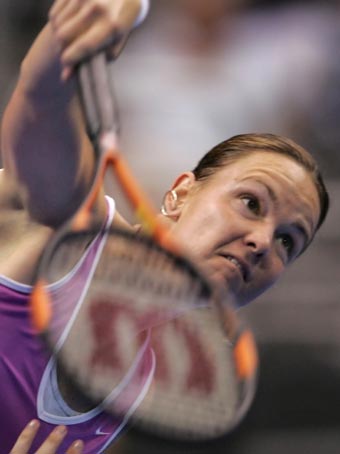 U.S. player Lindsay Davenport serves during her 7-6 6-4 loss to Anastasia Myskina of Russia during round robin play in the WTA Tour Championships in Los Angeles, November 12, 2004. [Reuters]


Davenport owns a 351-point lead over No. 2 Amelie Mauresmo, who still has a chance to regain the top spot she held for five weeks after the U.S. Open. Davenport needs to reach Monday night's final to guarantee she'll end the year at No. 1 for the third time in her career.

"If I finish the year two, it's been a great year," said Davenport, who owns a tour-leading seven titles this year. "If I finish one, great. If she plays well here and wins it, she absolutely deserves it."

Wimbledon champion Maria Sharapova eliminated Vera Zvonareva with a 6-4, 7-5 victory. Playing in the tournament for the first time, Zvonareva finished last in her four-woman group with an 0-3 record.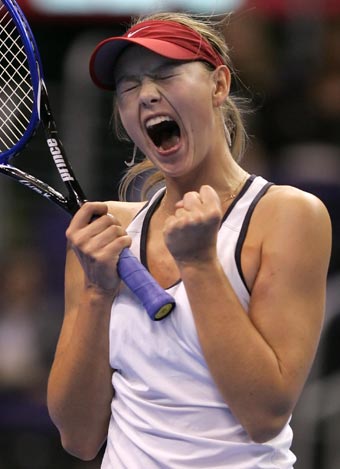 Maria Sharapova of Russia celebrates the penultimate point of her 6-4 7-5 win over compatriot Vera Zvonareva during round robin play in the WTA Tour Championships in Los Angeles, November 12, 2004. [Reuters]


Sharapova improved to 2-0 and has yet to drop a set. She will play Mauresmo on Saturday.

"I got my whole game together," she said. "When you have some confidence, if you're down a break point, you can still come back."

Sharapova had losing records against U.S. Open champion Svetlana Kuznetsova and Zvonareva, but beat both of them.

"It's a good revenge," she said.

She donned a yellow Lakers jersey with the number '04' and her name on the back after the match. Sharapova has never seen a Lakers game, but she said the team is her favorite, adding, "I love Kobe, that's for sure."

Davenport concludes round-robin play Saturday against Serena Williams, who only needs to win a set against Davenport to reach the semifinals in the season-ending tournament. Davenport likely needs to beat Williams to get into the semifinals.

"I probably have to win in two (sets)," she said. "It's probably an uphill battle for myself."

It was Myskina's second straight victory over Davenport, having beaten her 6-4, 7-6 (1) in the Kremlin Cup semifinals last month. The Russian lost their first four meetings.

"I played her a couple of weeks ago, so the memory was pretty fresh. I knew what I had to do," Myskina said. "I knew I had to move her around and she missed more forehands. When I first played her I was young and had huge respect. Now I know how to play the best players."

Davenport had 25 errors and converted just one of five break points as the favorite of 8,032 fans.

"That's the best she's played against me," Davenport said. "I was just a little off on my shots. When I had some chances, I made some errors. I tried to stay aggressive, tried to move my feet and I couldn't."

Davenport, Myskina, Elena Dementieva and Williams are in the Red Group. Davenport and Myskina have 1-1 match records. Williams is 2-0 and Dementieva is 0-2. Both players were idle Friday.

Mauresmo, Kuznetsova, Sharapova and Zvonareva are in the Black Group. Each woman plays the others once. The two players with the best record from each group will advance to the semifinals.

"I wasn't able to play my game," Zvonareva said. "The balls were so heavy. I hope I can come back next year and do better."

Davenport lost on the same night a bobblehead doll in her likeness was given away at Staples Center.




Today's Top News
Top Sports News

Nation likely to be 3rd largest trading power




Nutritional imbalance plagues people




Mine blast kills 33, injures 6 in Henan




Coal mining: Most deadly job in China




Shen and Zhao win Cup of China




Consumer price remains stable in October