Spurs tie down Shaq, defeat Heat 93-84
(Agencies)
Updated: 2004-11-13 13:56
Manu Ginobili scored 29 points and the San Antonio Spurs held longtime nemesis Shaquille O'Neal scoreless down the stretch, beating the Miami Heat 93-84 Friday night.
O'Neal, who had 23 rebounds, scored 12 of his 23 points in the third quarter before getting into foul trouble. His putback with nearly five minutes remaining pulled Miami within 77-76.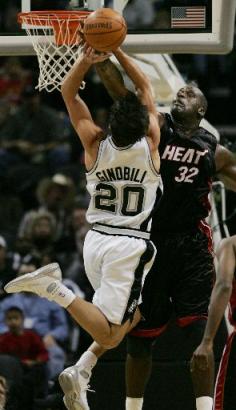 San Antonio Spurs guard Manu Ginobili (20) of Argentina is fouled by Miami Heat defender Shaquille O'Neal (32) during the fourth quarter in San Antonio, Friday, Nov. 12, 2004. San Antonio won 93-84. [AP]

The Spurs then seized control with a 13-3 run. At the 3:53 mark, Ginobili rebounded his own missed free throw in the corner and, unchallenged, calmly lined up and made a 3-pointer to extend San Antonio's lead to 83-76.

Rasual Butler then hit a 3-pointer for Miami before the Spurs followed with an unusual three-point play.

As Tony Parker a 21-foot jumper, Damon Jones fouled San Antonio's Robert Horry. Horry converted the free throw to make it 88-79, and the Heat never got closer than six points the rest of the way.

Parker finished with 18 points for the Spurs, and Tim Duncan added 17 points and 13 rebounds.

Butler and Udonis Haslem each scored 11 for Miami, who played without star guard Dwyane Wade, who was hurt in Thursday night's loss in Dallas.

The victory was the 400th for Spurs coach Gregg Popovich, all with San Antonio.

The game was touted as Duncan vs. O'Neal, but neither much in the first half.

O'Neal, who was roundly booed by Spurs fans who remember the All-Star center's years with the Los Angeles Lakers, dunked on his first shot, but then his missed six of his last seven of the half. He had six points at the break.

Duncan shot 3-for-7 in each half, and he missed five of six free throws after the break.

The Spurs had success with team defense, led by Rasho Nesterovic and Duncan, who covered O'Neal for most of the game.

But in the third quarter, O'Neal was more energetic and broke loose for 12 points on 5-for-8 shooting before sitting with his fourth foul at 2:50.

Miami's biggest lead was 6-2 ¡ª on O'Neal's first dunk.

The Spurs then went on a 19-4 run, which ended with Parker driving past a flat-footed O'Neal for a layup, pushing the advantage to 21-10.

Then the Heat countered. A 12-footer by Haslem initiated a 16-4 outburst that was punctuated by a Wesley Person's short jumper, giving Miami a 28-27 lead early in the second quarter.

San Antonio got the lead back on its next possession on a jump hook by Duncan, and later Ginobili converted a four-point play and made a 3-pointer to give San Antonio a 39-29 lead midway through the period.

Damon Jones and Ginobili made all three of their 3-pointers in the first half, helping the Spurs to a 51-45 lead at the break.




Today's Top News
Top Sports News

Nation likely to be 3rd largest trading power




Nutritional imbalance plagues people




Mine blast kills 33, injures 6 in Henan




Coal mining: Most deadly job in China




Shen and Zhao win Cup of China




Consumer price remains stable in October