Shen and Zhao win Cup of China
(Agencies)
Updated: 2004-11-13 09:49
Two-time world champions Shen Xue and Zhao Hongbo lived up to their status as favourites by claiming the pairs title in the Cup of China figure skating, fourth of the six-round ISU Grand Prix series.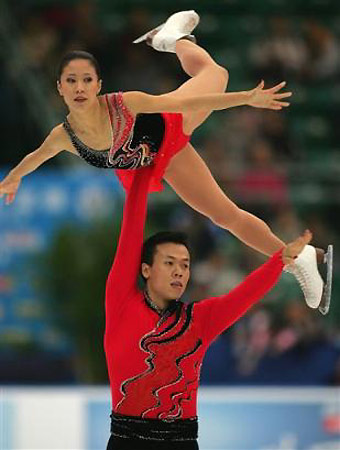 China's Shen Xue, top, and Zhao Hongbo perform during the Pairs Free Skating competition at the Cup of China ISU Grand Prix of Figure Skating in Beijing Friday Nov. 12, 2004. Shen and Zhao won the pairs competition. [AP]


Skating to a new routine, Shen and Zhao, who led Thursday's short programme, produced a series of intricate lifts and spins to give them a total of 193.54 points.

"We're very satisfied with our performance tonight," said Zhao. "We must say 'Thank you' to the audience again."

Around 5,000 local fans turned out at the Capital Gymnasium Friday night to cheer on the Chinese pair to their second triumph of this season.

Teammates Zhang Dan and Zhang Hao, the last pair to skate on Friday, finished runners-up with an overall score of 175.02 points.

The Zhangs, fresh from their victory in Skate America, performed a flawless routine but a lack of artistry cost them the title.

In ice dancing, Tanith Belbin and Benjamin Agosto held their lead in the original dance section while Canada's Jeffrey Buttle led the men's singles after the short programme.

Four Continents champions Belbin and Agosto defended their overnight lead with a strong showing which gave the US national champions 105.00 points.

Israel's Galit Chait and Sergei Sakhnovski jumped to second place ahead of Canada's Marie-France Dubreuil and Patrice Lauzon who slumped to third.

Buttle, skating to Sergei Rachmaninov's Prelude in C-Minor, landed a triple flip-triple toeloop combination, a triple axle and a triple lutz in the men's short programme, earning 76.00 points.

Li Chengjiang, the first Chinese man to win an ISU Championship -- Four Continents 2001 -- is sitting second with 69.75 points with Germany's Stefan Lindemann in third after a stumble.




Today's Top News
Top Sports News

Nation likely to be 3rd largest trading power




Nutritional imbalance plagues people




Mine blast kills 33, injures 6 in Henan




Coal mining: Most deadly job in China




Shen and Zhao win Cup of China




Consumer price remains stable in October