Nintendo set to launch new game system
(Agencies)
Updated: 2004-11-13 09:27
Nintendo Co. is set to launch Nintendo DS, the latest of its wallet-sized game systems designed to slip easily into your backpack and encourage procrastination wherever you may roam.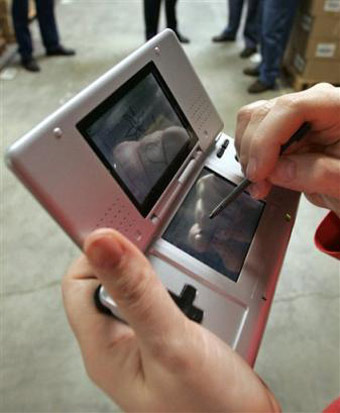 A Nintendo Co. employee demonstrates a Nintendo DS, the latest in its line of wallet-sized game systems, Nov. 4, 2004, at their shipping center in North Bend, Wash. [AP]


The Japanese company has already built up a following with its popular handheld Game Boy systems, but those appealed mainly to kids. Now, Nintendo is hoping the new gadget's sleeker design, more adult games and risque ad campaign will draw teens and young men.

That would open up a sizable set of new customers and potentially give it an edge over rival Sony Corp., which plans its own handheld offering in coming months.

The lightweight, silver DS makes big advances over the last version of its Game Boy.

A two-screen display means more sophisticated game play: Players can see their direct surroundings on the top screen, for example, but look at an overall map on the lower screen, which also doubles as a touch pad to permit more precise controls.

Using a free wireless connection, gamers can also challenge others who are within 150 feet. More advanced games taking advantage of Wi-Fi are promised soon, allowing rivals to battle it out over the Internet.

Though Nintendo has long had success with its portable game players, analyst say Sony, with its popular PlayStation game console, historically has had more appeal with teens and young adults.

"Sony has a huge amount of brand cachet and they know how to market cool," said Schelley Olhava, an analyst with IDC.

Nintendo is clearly trying to match that with a $40 million sex-themed ad campaign aimed at young men and centered around the theme "touching is good." The brashness of the campaign surprised some analysts.

"This is very untraditional for Nintendo to be aggressive ... but I think at this point it's needed," said P.J. McNealy, an analyst with American Technology Research.

Olhava said the company also is signaling its efforts to snag older gamers through the roster of DS games to be available within months of launch.

The new system comes with the futuristic shoot 'em up game "Metroid Prime Hunters: First Hunt." Other offerings will include "Tiger Woods PGA Tour," "Madden NFL 2005" and "The Urbz: Sims in the City." Olhava believes these titles will be more interesting to older players than "Pokeman" and other games for which Nintendo is traditionally known.

Even Nintendo's "Super Mario 64 DS," featuring the classic Mario character, may be popular with older gamers because of the nostalgia factor, Olhava said.

Although the company's prime target is a 17-year-old, it won't neglect its loyal young audience, said George Harrison, Nintendo of America's senior vice president of marketing. One feature likely to appeal more to kids is PictoChat, a system for sending messages and pictures to one another through the wireless connection.

"I think to be successful we need to appeal very broadly," Harrison said.

The company also wants to draw in less typical gamers, he said, although it has no immediate plans for ads targeting women or people older than their mid-20s.

The $150 Nintendo DS launches in the United States Nov. 21 ¡ª hoping to take advantage of the post-Thanksgiving holiday shopping craze ¡ª and will be in stores in Japan 10 days later. Some stores are already taking pre-orders.

The company aims to ship 1 million Nintendo DS units to North America by year's end, with 2 million expected by next spring.

Sony's PlayStation Portable, or PSP, goes on sale in Japan on Dec. 12 for about $190 and will also be able to play music and movies. The company has yet to announce pricing or availability in the United States.

Rather than one besting the other, Olhava said, both systems might find their own core audience in the near term.

"This is one of those things," she said, "where there might not be a clear-cut winner for long, long time."




| | |
| --- | --- |
| | |
| Hugh Grant signals end to acting career | |

| | |
| --- | --- |
| | |
| Model Claudia Schiffer gives birth | |

| | |
| --- | --- |
| | |
| Diaz, Timberlake defend paparazzi fracas | |
Today's Top News
Top Life News

Nation likely to be 3rd largest trading power




Nutritional imbalance plagues people




Mine blast kills 33, injures 6 in Henan




Coal mining: Most deadly job in China




Shen and Zhao win Cup of China




Consumer price remains stable in October