Arafat buried in Chaotic scenes in West Bank
(Agencies)
Updated: 2004-11-13 00:30
Yasser Arafat was buried on Friday in chaotic scenes of grief and gunfire at the compound where he spent his final years encircled by the Israeli army and powerless to realize his dream of a Palestinian state.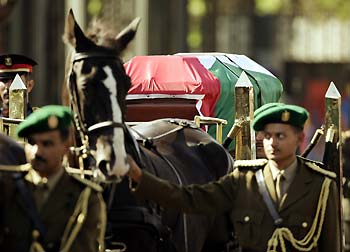 Egyptian military cadets escort the horse-drawn gun carriage carrying the coffin of former Palestinian leader Yasser Arafat during a funeral ceremony in Cairo, November 12, 2004. An official ceremony attended by dignitaries from around the world took place here before the body was flown to Ramallah for burial. [Reuters]

Soil brought from the site of Jerusalem's al-Aqsa mosque -- Islam's third holiest site -- was poured over his casket. A Palestinian flag and a black and white headdress, an Arafat trademark, were placed on the tomb of black and white marble.

"With our blood and soul we redeem you, Abu Ammar," the crowd chanted, using the nom de guerre of their leader, who fought for decades for a state he never achieved.

It was the end of an era for Israelis and Palestinians locked for decades in a conflict of which Arafat was one of the most recognized symbols.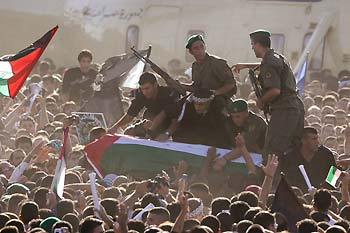 Palestinian security officers lift the coffin of the Yasser Arafat on top of a car inside Arafat's compound in the West Bank city of Ramallah November 12, 2004. [Reuters]

Palestinians lost a paternal leader whose autocratic rule and corruption-ridden administration never diminished their admiration for his struggle for independence.

Israel put its security forces on high alert over fears that Palestinian militants, whom it says Arafat never tried to restrain, would try to steal center stage. Militants in Arafat's own Fatah movement vowed further anti-Israel attacks.

An Egyptian helicopter flew Arafat's coffin from Egypt, where a funeral service was held, to his Muqata headquarters in Ramallah. The aircraft was quickly engulfed by a surging crowd of thousands chanting Arafat's name.

Firing into the air, Palestinian security men struggled to remove the coffin from the aircraft and then held on to it tight as they placed it on a vehicle that plied its way through a dense throng of weeping mourners.

At least nine Palestinians were wounded by shots fired by the security forces or gunmen. Medics said hundreds were treated after fainting or for minor injuries during the crush.
An Egyptian helicopter carrying the body of Palestinian President Yasser Arafat is surrounded by a huge crowd after landing in the West Bank city of Ramallah November 12, 2004. [Reuters]

Arafat's body had been due to lie in state ahead of burial, but a Palestinian official said it was taken directly to the tree-shaded tomb instead.

"He was buried ahead of time because of the emotion of the crowd. We had no choice," one official told Reuters.

Arafat, a former guerrilla who became a Third World liberation icon and won a Nobel Peace Prize only to sink into renewed conflict with Israel, died at the age of 75 in a French hospital on Thursday of an undetermined illness.

END OF AN ERA

The chaotic scenes in Ramallah were in high contrast to a funeral service earlier at a Cairo airbase, where the public was kept away and even some world leaders were shut out by mistake by over-zealous Egyptian guards.

Egyptian President Hosni Mubarak, accompanied by Palestinian and Arab leaders including Saudi Arabia's de facto ruler Crown Prince Abdullah and Syrian President Bashar al-Assad, led the mourners in Cairo.

Arafat's widow Suha, who had lived apart from him for the last few years of his life, watched the procession from a black car which drove alongside. Accompanied by their 9-year-old daughter Zahwa, Suha wept at the airbase.


The United States sent a second-ranking State Department official, Assistant Secretary of State William Burns, to the Cairo ceremony in a slight attesting to its boycott of Arafat as an "obstacle to peace," an accusation he denied.

Israel dispatched no one at all. "I do not think we should send a representative to the funeral of somebody who killed thousands of our people," Justice Minister Yosef Lapid said.

Israeli television stations broadcast wall-to-wall coverage of Arafat's last rites in Cairo and Ramallah, but most Isralis were unmoved by the final chapter of a man they reviled as a "master terrorist."

Israeli forces surrounding Ramallah had effectively confined Arafat to the Muqata, battered by Israeli raids after suicide bombings in the Jewish state, for the past 2-1/2 years until he fell seriously ill two weeks ago and was airlifted to Paris.

Israel ruled out an Arafat grave in Arab East Jerusalem, calculating this would strengthen Palestinians' claim to a future capital in the part of the city that Israel captured in the 1967 war and annexed in a move not recognized internationally.

Arafat left behind a people in a twilight zone between direct occupation and statehood, running their own affairs but surrounded and laid low by Israeli military crackdowns on a four-year-old revolt by Palestinian militants.

Palestinians have named a collective leadership comprised mainly of veteran moderates from Arafat's circle, reviving world hopes of a return to peacemaking.

But his interim successors will be challenged by a popular younger militant generation fed up with old guard corruption and a mood of futility in dealings with Israel, raising concern of a power vacuum that could trump any diplomacy in the near term.

Israeli Prime Minister Ariel Sharon said it could be a "turning point" for peace if successors to Arafat, who he has called a terrorist and pathological liar, ended violence.

But Sharon also said he would pursue a unilateral plan to quit Gaza and keep much of the West Bank.

Arafat returned from exile in 1994 after interim peace deals that gave Palestinians limited self-rule in the West Bank and Gaza. He shared the Nobel Peace Prize with Israel's Shimon Peres, then foreign minister, and prime minister Yitzhak Rabin, later assassinated by a Jewish ultranationalist.

But a final peace summit aimed at hatching a Palestinian state failed in 2000, pitching the region back into bloodshed.





Today's Top News
Top World News

Nation likely to be 3rd largest trading power




Nutrional imbalance plagues people




Mine blast kills 33, injures 6 in Henan




Consumer price remains stable in October




Work on anti-trust legislation stepped up




Drought in south China causes great losses