Mine blast kills 33, injures 6 in Henan
By Yu Zhong (China Daily)
Updated: 2004-11-13 00:06
Thirty-three people were confirmed dead in a gas explosion, which also injured six, at a coal mine in Central China's Henan Province on Friday, according to local safety authorities.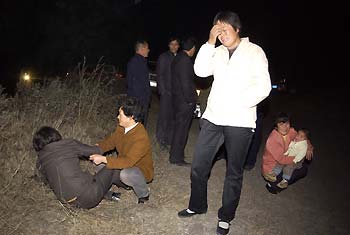 Relatives of the victims at the blast are heart broken after confirming the deaths. [newsphoto]

The six injured, including two in critical condition, were sent to hospital.

"Rescue work was already finished by the afternoon. Now all efforts are concentrated on an investigation into the cause and condolences," said an official surnamed Chen with Henan Work Safety Bureau.

The blast occurred at the Xincheng Coal Mine in Liangwa Town in Lushan County about noon on Thursday.

According to Chen, the original coal mine site there was closed in 2001.

However, Li Wei, head of the Xincheng Coal Mine, subcontracted the site to a local private mine owner in September, who soon began organizing illegal mining.

Both Li Wei and the mine keeper have been detained.

"There is still no idea of how many miners were working under the ground when the explosion took place," Chen said.

Most of the employees of the mine are local residents, the Xinhua New Agency quoted Zhang Jufeng, director of the local coal mine bureau, as saying.

The State Administration of Work Safety (SAWS) announced yesterday on its website that a coal mine safety inspection will be conducted across the area.

The local government has ordered 400-odd coal mines in the area to stop production for a week for a complete inspection.

On the day of the accident , a two-day nationwide conference on coal mine safety began in Beijing.

State Councillor Hua Jianmin said at the meeting that China will take tough measures to rectify problems in the coal mine industry this winter.

And SAWS said the spotlight will be shown upon gas safety difficulties, emphasizing that miners are not allowed to go underground without taking a self-rescue equipment, which may provide miners with some oxygen once an explosion occurs.

According to Director of SAWS Wang Xianzheng, there are currently about 9,000 high-density gas coal mines in China, accounting for 30 per cent of the total.

In the first nine months of this year, the nation witnessed 386 coal mine gas explosions, claiming 1,150 lives, Wang said.

Last month, Henan saw a gas explosion at Daping coal mine, which killed 147 miners.

Two days after the tragedy, the Provincial Coal Industrial Bureau issued a notice urging all coal mines to be immediately inspected for hidden dangers and to build up a professional gas monitoring team to guarantee the safety of miners.




Today's Top News
Top China News

Nation likely to be 3rd largest trading power




Nutritional imbalance plagues people




Mine blast kills 33, injures 6 in Henan




Coal mining: Most deadly job in China




Shen and Zhao win Cup of China




Consumer price remains stable in October