Death toll rises to 33 in Henan mine blast
(Agencies)
Updated: 2004-11-12 16:39
The death toll from an explosion at a coal mine in central China has risen to 33 with six injured, as authorities announced plans for an inspection drive in a bid to improve shockingly low safety standards in the nation's mines.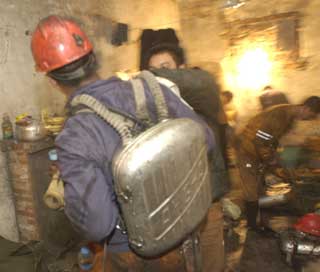 A rescuer is ready to go into the coal mine pit for a search operation in a Pingdingshan mine in Henan Province November 12, 2004. The death toll has risen to 33. [newsphoto]

The latest fatal accident to hit China's coal industry occurred Thursday at the Xinsheng Coal Mine in Pingdingshan city in Henan province.

According to the State Administration of Work Safety, the mine had been officially closed and was operating illegally.

The accident occurred as the State Council, China's cabinet, issued orders Thursday for a nationwide inspection of coal mines, vowing to crack down on unsafe mines and portraying a dismal situation in the industry, the China News Service reported.

Liu Hongyi, an official with the Pingdingshan coal-mine safety office, said that it was not clear how many miners were in the Xinsheng mine at the time of the blast because the owner had fled the site and could not be found.

Rescue operations had finished early Friday, he said.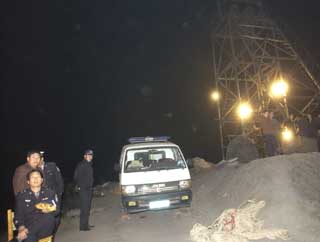 An ambulance waits at the coal mine where a blast has killed 33 workers November 12, 2004. [newsphoto]

"If the death toll is accurate then this is the biggest mine accident in Pingdingshan this year."

Pingdingshan, a central coal mining area in China, is adjacent to Xinmi coal mining district where 148 miners lost their lives late last month in one of the worst Chinese mining accidents in recent memory.

According to workers at Xinmi, mine safety had been sacrificed in an all out effort to profit from rising coal prices as state and private mines go into overdrive to meet demand.

In 2003, China produced some 5 billion tons of coal, or 35 percent of world production, but had more than 8,000 mining fatalities or 80 percent of all global mining deaths during the period, Wang Xianzheng, head of the State Administration of Work Safety, said at the State Council meeting.

"Our death rate for every ton of coal is 100 times higher than in the United States and 30 times higher than in South Africa," Wang was quoted by the China News Service as saying.

Efficiency at China's mines was also low with a per capita annual production of a Chinese miner only 2.2 percent of an American miner and 8.0 percent of a miner in South Africa, Wang said.

Besides fatalities, some 600,000 miners were suffering from lung diseases at large state owned mines due to poor ventilation, while last year state mine workers reported 20,000 new cases of lung disease, he said.

"If we consider small local and township mines, which don't report this kind of statistic, then there are some 2 million mine workers with lung disease," Wang said.





Today's Top News
Top China News

Nation likely to be 3rd largest trading power




Nutritional imbalance plagues people




Mine blast kills 33, injures 6 in Henan




Coal mining: Most deadly job in China




Shen and Zhao win Cup of China




Consumer price remains stable in October