Presidents, dignitaries at Arafat funeral in Cairo
(Agencies)
Updated: 2004-11-12 15:12
Presidents and dignitaries from more than 50 countries say a last farewell on Friday to late Palestinian leader Yasser Arafat in Egypt, his second home and one of his closest allies in years of struggle for a homeland.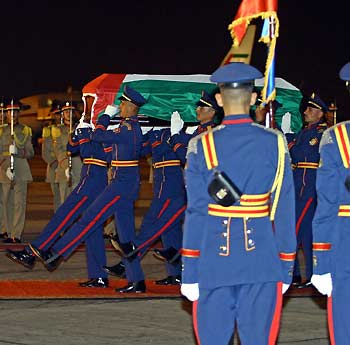 Egyptian Guards of Honour carry the coffin of Palestinian leader Yasser Arafat on its arrival in Cairo late November 11, 2004. Arafat, who rose from guerrilla icon to Nobel prize-winning peacemaker only to fall into isolation amid new violence with Israel, died in a French hospital on Thursday, a hospital spokesman said. [Reuters]

A French government plane brought Arafat's body to Cairo airport on Thursday night from Paris, where Arafat was declared dead in the morning at the age of 75 after two weeks in hospital.

Egypt is laying on the funeral because the Israeli occupation would make it difficult for many of the foreign leaders to reach a ceremony in the Palestinian territories.

After the funeral, which will take place behind walls at an officers club and military base in a Cairo suburb, the coffin will fly on to the West Bank town of Ramallah, where Israeli troops kept Arafat confined for most of the past 2-1/2 years.

At least 16 heads of state and government, mostly from Arab and Muslim countries sympathetic to the Palestinians, are expected at the military ceremony.

Most European governments, which have resisted U.S. and Israeli attempts to isolate the Palestinian leader, are sending foreign ministers. Israel is boycotting the event and the United States is sending only a senior State Department official.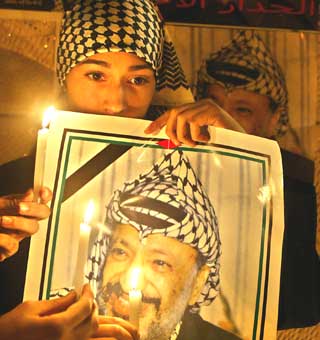 Palestinians light candles in front of posters of the late Palestinian President Yasser Arafat outside the Palestinian embassy in Amman November 11, 2004. [Reuters]

Unusually for the funeral of an Arab leader, ordinary people will not be able to take part in the procession, apparently for fear that too many would come out to show their respect.

Egypt gave Arafat, the symbol of Palestinian nationalism since the 1960s, full military honors when his coffin arrived wrapped in the black, red, green and white Palestinian flag.

While a military band played funereal music, a team of eight pallbearers in military uniform carried the casket out of the luggage hold and placed it in a hearse, which then drove it to the military hospital where it will spend the night.

His widow, Soha Arafat, embraced Egyptian first lady Suzanne Mubarak at the foot of the stairs and they stood side by side in silence as the coffin passed a guard of honor.

DREAM UNFULFILLED

Biographers say Arafat was born in Cairo but the Palestinian leader said Jerusalem was his birthplace. He spoke Arabic with a noticeable Egyptian accent and began his political activity in Cairo in the 1950s under the aegis of Arab nationalist leader and Egyptian President Gamal Abdel Nasser.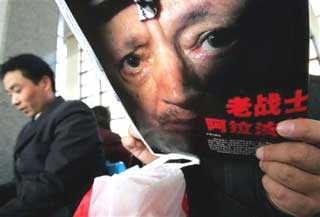 A Chinese man reads a magazine article about Yasser Arafat in Beijing Friday Nov. 12, 2004. The headline on the story, which was published before Arafat's death Thursday, reads 'Old Soldier Arafat'. Most Chinese papers carried news of his death on their front pages Friday. [AP]

He stayed away from Egypt for six years after late Egyptian President Anwar Sadat traveled to Jerusalem and broke with the Arab consensus against negotiations with the Jewish state.

But after a break with Syria and hardline Palestinian factions in 1983, he made a dramatic return to Cairo and has since treated Egyptian President Hosni Mubarak as a mentor and ally in his campaign for world recognition for Palestinians.

The funeral in exile -- Arafat would have preferred it take place in Jerusalem -- reflects the fact that Arafat did not live to realize his dream of an independent Palestinian state in the West Bank and Gaza Strip, the fraction of historic Palestine which survived the first wave of Israeli expansion.

But Arafat was the single most influential figure in a national movement which began as an alliance of fringe guerrilla groups and after 40 years eventually won U.S. support for a two-state solution to the Israeli-Palestinian conflict.

His final years were troubled. Israel and the United States said he lost an opportunity for peace in 2000, ran a corrupt administration and encouraged attacks on Israeli civilians.

Islamic militants challenged his authority at home but acknowledged his historic role as the leader who brought the plight of the Palestinians to international attention.

World leaders expected to attend the Cairo ceremonies include South African President Thabo Mbeki, King Abdullah of Jordan, Egyptian President Hosni Mubarak, Lebanese President Emile Lahoud and Zimbabwean President Robert Mugabe.

Among others, the presidents of Algeria, Bangladesh, Yemen and Indonesia are expected, as are the prime ministers of Turkey, Pakistan and Sweden. Many countries are sending foreign ministers including France, Germany, Britain, Spain, and Iran.

Arafat is expected to be buried in Ramallah on Saturday in a concrete coffin -- an unusual arrangement which would make it possible to move his body to Jerusalem at some later date without too much disturbance to his remains.




Today's Top News
Top World News

Nation likely to be 3rd largest trading power




Nutritional imbalance plagues people




Mine blast kills 33, injures 6 in Henan




Coal mining: Most deadly job in China




Shen and Zhao win Cup of China




Consumer price remains stable in October