18 US troops, 500 rebels killed in Fallujah
(Agencies)
Updated: 2004-11-12 14:56
Rebels fought for their lives in Fallujah as US troops closed in after losing 18 colleagues in three days of fighting that they said had left more than 500 militants dead.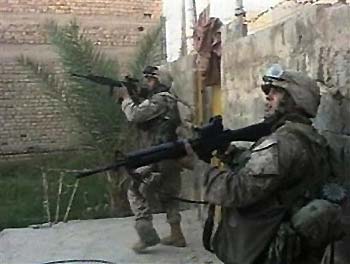 US soldiers search for insurgents in this TV image as U.S. and Iraqi forces exchanged fire with pockets of resistance in Fallujah, Iraq, on Wednesday, Nov. 10, 2004. Throughout the day, Americans hit the militants with artillery and mortars, and warplanes fired on the city's main street and market as well as the insurgent stronghold of Jolan, one of several neighborhoods where troops were skirmishing with militants. [AP]
Marines predicted that by Saturday they would have full control of the Iraqi city, seen as the epicentre of a vicious insurgency among Iraq's ousted Sunni Arab elite.
But militants took the battle elsewhere, rampaging in the main northern city of Mosul in a bloody outburst that prompted US forces to hit back with air and ground strikes.
Insurgents also detonated a car bomb in a traffic jam in a central Baghdad shopping street, killing at least nine people plus the bomber, while two US helicopters were forced to land under a hail of bullets.
Any victory in Fallujah will come at a heavy price. The US military said 18 American servicemen and five Iraqi soldiers had already died, and 69 US and 34 Iraqi troops been wounded, since the battle for the rebel enclave was launched on Monday.
A senior US defence official put rebel losses at more than 500.
There was no word on civilian casualties amid the strict curfew in force in the city.
Despite initial successes and superior firepower, fierce fighting exploded in the Jolan district of northwestern Fallujah, where the heart of the resistance is thought to beat.
Fires blazed across the battle-torn neighbourhood as night fell, while the US military pounded suspected rebel targets with heavy shelling, an AFP photographer said.
"We control about 75 percent of the city. The more we go in the more we find the fight is becoming fiercer," said marine Major PJ Batty.
Some areas fell easily, but die-hard rebel fighters refused to back down in Jolan where persistent firefights lit up the night sky.
A day after the Iraqi military said it had found a "slaughterhouse" in Fallujah where foreign hostages had been executed, Batty said three Iraqi hostages were found in "basements, handcuffed by their hands and ankles, starving, thirsty and tortured."
He said the military was on course to retake the city by Saturday morning.
In the face of the relentless onslaught in Fallujah, insurgents shifted their focus elsewhere, with a spate of bombings and other attacks across Sunni areas of central and northern Iraq, that have prompted the authorities to impose curfews in seven cities.
At least nine people were killed, many burnt to death in their cars, and 25 wounded when the car bomb exploded in Baghdad, police and medics said.
Flames raged around one car with four children trapped inside after the blast ripped through a line of vehicles at the peak of the morning rush hour.
Two US helicopters were forced to make an emergency landing after taking small arms and rocket-propelled grenade fire, a military spokeswoman said, adding that there were no casualties.
In Mosul, a US military spokeswoman said several rebels were killed in ground and air attacks launched at the request of the provincial governor after at least five people, three of them policemen, were killed in clashes Wednesday.
In Ramadi, a Sunni rebel bastion 50 kilometres (30 miles) west of Fallujah, medics said three people were killed, including a policeman and an attacker, and 17 wounded during skirmishes between rebels and US troops.
In Hawija, another staunchly Sunni town in northern Iraq, a night-time curfew was imposed after a mortar attack on a national guard compound wounded eight people, half of them Iraqi national guards, the local police chief said.
And in the city of Samarra, which was retaken from insurgents in a major offensive last month, four people were killed and eight wounded in fresh violence, local officials said.
Even the premier's family has become caught up in the mayhem. On Tuesday, a gang in three cars abducted his elderly cousin, Ghazi Allawi, his wife and their daughter-in-law. The three were reportedly threatened with death if the Fallujah campaign were not halted and all prisoners in Iraq freed.
Today's Top News
Top World News

Nation likely to be 3rd largest trading power




Nutritional imbalance plagues people




Mine blast kills 33, injures 6 in Henan




Coal mining: Most deadly job in China




Shen and Zhao win Cup of China




Consumer price remains stable in October