Rockets fall to the Timberwolves, 96-91
(Agencies)
Updated: 2004-11-12 13:13
Kevin Garnett hit a jumper with 8.3 seconds left and finished one assist shy of a triple double, leading the Minnesota Timberwolves to a 96-91 win over the Houston Rockets on Thursday night.
Garnett had 20 points, 17 rebounds and nine assists, and Eddie Griffin made a key 3-pointer down the stretch against the team with which he began his troubled career, sending the Timberwolves past a Rockets team missing leading scorer Tracy McGrady.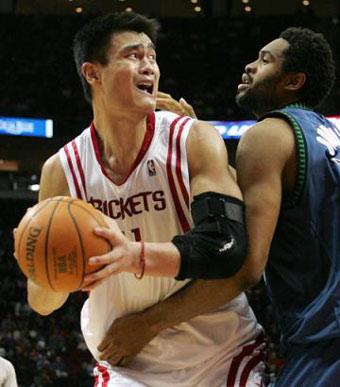 Houston Rockets' Yao Ming (11) of China looks to shoot as Minnesota Timberwolves' Michael Olowokandi, right, of Nigeria, defends during the fourth quarter Thursday, Nov. 11, 2004, in Houston. The Timberwolves beat the Rockets 96-91. [AP]


McGrady missed his first game of the season with nagging hip and groin strains. He had said during Wednesday's practice that he might try to play, but instead he took a few shots during pregame warmups and later came back to the bench in a dark brown suit.

The Rockets really could've used him.

Yao Ming scored 19 of his 25 points in the second half and Maurice Taylor added 19, but Houston's perimeter players weren't able to replace McGrady's scoring punch.

Filling in for McGrady, third-year swingman Bostjan Nachbar scored 11 points in the first half but was shut out after that. Rockets guard Jim Jackson also started fast, scoring nine in the first two quarters but only four after the break.

Meanwhile, Garnett took over in the second half.

The NBA's reigning MVP controlled the boards, poked away passes into the post and even guarded the 7-foot-6 Yao at times in the fourth as Minnesota held off a late Rockets rally.

Early in the fourth, Yao spun around Ervin Johnson on the baseline and threw down a two-handed slam to give the Rockets a 76-73 lead after they had trailed by 13.

But Garnett quickly answered with a jumper, and Griffin hit a free throw to tie it at 80 and a 3 to give Minnesota a lead it would never relinquish.

Griffin played against the Rockets for the first time since being released last season by the team that traded for him on the night of the 2001 draft. He missed last season while recovering from a slew of off-court problems but signed with the Timberwolves about a month ago and played in his first game on Tuesday.

After entering Thursday's game late in the first quarter, Griffin quickly knocked down a 15-foot jumper, drawing a chorus of boos from the crowd.

Griffin eventually quieted the fans, though, coming up with the kind of big plays Rockets fans thought the No. 7 overall pick would make when he came to Houston. He finished with 11 points and seven rebounds.




Today's Top News
Top Sports News

Nation likely to be 3rd largest trading power




Nutritional imbalance plagues people




Mine blast kills 33, injures 6 in Henan




Coal mining: Most deadly job in China




Shen and Zhao win Cup of China




Consumer price remains stable in October