Blair, Bush consult on peace in Mideast
(Agencies)
Updated: 2004-11-12 09:02
British Prime Minister Tony Blair sought consensus with US President Bush on Thursday to make peace in the Middle East an urgent priority, exploring whether the death of Yasser Arafat offers new avenues for restarting Israeli-Palestinian talks.
The two leaders met over dinner at the White House in an informal start of two days of talks about the pending elections in Iraq, Iran's nuclear ambitions, trans-Atlantic relations and Mideast peace.
Bush greeted Blair on the South Lawn with a hearty handshake and patted the smiling British leader on the back before ushering him inside.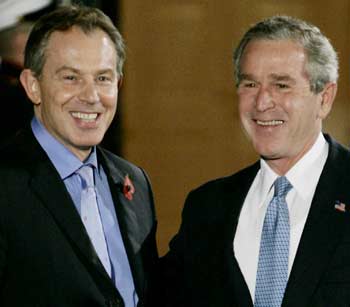 U.S. President George W. Bush greets British Prime Minister Tony Blair (L) at the South Portico of the White House in Washington, November 11, 2004. In talks on Friday, Bush and Blair are expected to focus on the war in Iraq and the middle east peace process, a day after the death of Palestinian leader Yasser Arafat. [Reuters]

Blair has publicly declared that he is seeking a renewed U.S. commitment to the Israeli-Palestinian peace process. The death of Palestinian leader Arafat on Thursday has created what many see as an opportunity for fresh efforts.

Briefing reporters during the flight to Washington, Blair's spokesman said the prime minister is expected to call on Bush to help shore up the Palestinian Authority. Palestinians need international help to improve security, bolster their economy and strengthen civil and political structures, he said.

Britain is concerned that Israel's proposed withdrawal from Gaza will create a destabilizing power vacuum if the Palestinians are not ready to assume control. "For the Gaza pullout to work, you have to have a Palestinian Authority that can deal with it," Blair's official spokesman said on customary condition of not being identified by name. "Unless you have a Palestinian Authority capable of dealing with the consequences of the Gaza pullout, then going beyond that is going to be difficult."

Blair is Bush's closest overseas ally and loyally supported and sent troops for the U.S.-led war in Iraq, in the face of widespread opposition in European capitals and at home. Their friendship is unpopular among lawmakers in the governing Labour Party and a vast section of the British public. Many believe the prime minister doggedly follows Bush's lead without exerting any real influence.

With British general elections expected next year, and Labour members still criticizing the war, Blair needs to prove that his close alliance with Bush bears fruit. Many British lawmakers expect Bush to reward Blair's loyalty with a renewed commitment to the Mideast peace process.

Before flying to Washington, Blair said Thursday that "the relationship between Britain and the U.S. is fantastically important."

"You know, I think there always is and always should be a situation in which the British prime minister and the American president get on well together. I regard it as part of my job," Blair said in an interview with GMTV, a morning news program.

Bush's refusal to sign the Kyoto Protocol on global warming, the incarceration of detainees at the U.S. military base in Guantanamo Bay, Cuba, and what some regard as heavy-handed U.S. military tactics in Iraq have contributed to the president's unpopularity in Britain. Lawmakers will watch closely for signs that Blair has shifted Bush on such issues during their talks.

But securing a commitment on the Middle East peace process would be the most obvious sign that Blair's voice is heard in Washington.

With Arafat gone from the scene, Blair was likely to urge Bush to seize the opportunity of a change in Palestinian leadership. Secretary of State Colin Powell said in an interview this week with the Financial Times that the United States would face that opening "aggressively."

Blair also will stress the importance of bolstering the Palestinian security and administrative apparatus, and insist that Israel's proposed withdrawal from the Gaza Strip and part of the West Bank must be a viewed as a first step toward Palestinian statehood.




Today's Top News
Top World News

Nation likely to be 3rd largest trading power




Nutritional imbalance plagues people




Mine blast kills 33, injures 6 in Henan




Coal mining: Most deadly job in China




Shen and Zhao win Cup of China




Consumer price remains stable in October