Bullets, tears, hopes after Arafat's death
(Agencies)
Updated: 2004-11-12 07:58
Firing bullets into the air and weeping, thousands of people streamed into Palestinian streets to mourn Yasser Arafat on Thursday while world leaders praised him as a symbol of his people's struggle for statehood.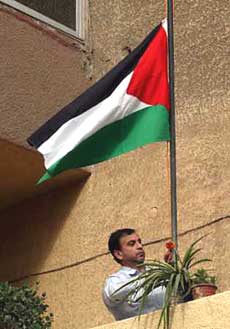 A Palestinian embassy worker in Cairo lowers the Palestinian flag to half staff after the death of Palestinian President Yasser Arafat November 11, 2004. [Reuters]

The death of Arafat, 75, inflamed the decades-old war of words between Israelis and Palestinians, but it also evoked a recommitment to Middle East peace from leaders on both sides of the conflict and across the globe.

"The death of Yasser Arafat is a significant moment in Palestinians' history," President Bush said. He urged the world to help Arafat's people achieve "an independent democratic Palestine" at peace with Israel.

Bush administration officials were conciliatory in their statements after years of sidelining Arafat, who died at a French military hospital.

"We know that, in the eyes of the Palestinian people, Arafat embodied their hopes and dreams for the achievement of an independent Palestinian state," Secretary of State Colin Powell said.

Revered by his people and once viewed by Israel as a partner in peace, Arafat was in his final years reviled by Israelis who accused him of fueling a Palestinian uprising when peace talks reached a deadlock four years ago.

After Arafat's death, Israeli Prime Minister Ariel Sharon told reporters: "The latest events are likely to present a historic turning point in the Middle East." He said peace required Palestinian leaders to "wage a war on terror."

In a speech, Sharon said he was determined to press ahead with his plan to withdraw Jewish settlers from occupied Gaza in 2005, citing a prized U.S. promise to let Israel keep swathes of the occupied West Bank in the process.

Foreign Minister Silvan Shalom said Israel would be willing to renew a peace dialogue if a moderate Palestinian leadership was elected to take Arafat's place.

PEACE REVIVAL

Palestinian Foreign Minister Nabil Shaath called for the revival of an international peace "road map" in tatters after more than four years of violence and mutual recrimination.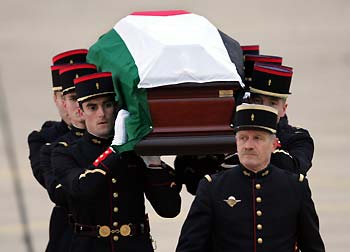 The flag-draped coffin of Palestinian President Yasser Arafat is carried by a guard of honour during a ceremony at the Villacoublay air base near Paris, November 11, 2004. Arafat's remains will be flown to Cairo for a funeral ceremony and then on to Ramallah for burial. [Reuters]

Shaath told CNN the United States, United Nations and Europe should work to ensure "a meeting that will bring the two parties together, that will establish the road for them to resume negotiations."

In the West Bank and Gaza, home to more than 3.5 million Palestinians, thousands took to the streets to mourn the icon of their nationalist cause known around the world by his military fatigues, scraggly beard and black-and-white keffiyeh headdress.

In Ramallah, where Arafat as Palestinian president lived the last years of his life, tearful crowds flocked to his battered headquarters where he was due to be buried after a ceremony on Friday in Cairo.

"Our father is dead," construction worker Fathi Abu Adnan said in Gaza City, where gunmen fired bullets into the air and youths burned tyres on the roads, sending up plumes of black smoke as Koranic verses blared from loudspeakers.

Some were adamant about pursuing the fight.

"We will not rest until we drive the Zionists out of our land," said a masked gunman in Gaza. Israeli soldiers killed four Palestinians in violent confrontations that erupted following Arafat's death.

Israelis accused him of having been a "master terrorist."

"I don't even think hell would take him," said Moti Cohen, whose friend was killed in a suicide bombing two years ago. "Every step he took was to destroy our people."

Finance Minister and former Prime Minister Benjamin Netanyahu told CNN: "This is the man who also pioneered international terrorism, the art of hijacking planes, ships, kidnapping, seizing of hostages, and you name it, which gave birth of course to other terrorist groups who emulated them including al Qaeda."

FUNERAL IN CAIRO

Leaders from across the globe were expected to attend the military funeral in Cairo. Some mourned the end of an era.

U.N. Secretary-General Kofi Annan described Arafat as one of the few world leaders who was instantly recognizable everywhere -- a man who embodied the aspirations of the Palestinian people.

French President Jacques Chirac, who visited the dying Arafat in hospital last week, called him "a man of courage and conviction."

Pope John Paul, who last met Arafat in 2001, retreated into private prayer when he was told of his death, a Vatican (news - web sites) source said. A Vatican statement called the Palestinian president "a leader of great charisma who loved his people and tried to guide them toward national independence."

British Prime Minister Tony Blair, who has made Middle East peace a cornerstone of his foreign policy, told GMTV television: "The most important thing is to make sure we reinvigorate the peace process because there is misery for Palestinians, there is misery for Israelis who suffer terrorist activity."

South African anti-apartheid hero Nelson Mandela hailed Arafat as "an icon in the proper sense of the word" and "one of the outstanding freedom fighters of this generation."

South African President Thabo Mbeki said history would record that Arafat had given hope to millions "by instilling in them the knowledge and consciousness that despite current difficulties, they hold the gift of freedom in their hands."

But former U.S. President Bill Clinton, who orchestrated the groundbreaking 1993 handshake between Arafat and Israel's Yitzhak Rabin, said Arafat missed an opportunity to establish a Palestinian state at the Camp David peace summit in 2000.

Israel's Shimon Peres, who shared the Nobel prize with Arafat and Rabin in 1994, told Israel Radio: "Arafat's biggest mistake was when he turned to terrorism. His greatest achievements were when he tried to turn to peace."




Today's Top News
Top World News

Nation likely to be 3rd largest trading power




Nutritional imbalance plagues people




Mine blast kills 33, injures 6 in Henan




Coal mining: Most deadly job in China




Shen and Zhao win Cup of China




Consumer price remains stable in October