Sharon: Arafat's death may revive peace
(Agencies)
Updated: 2004-11-11 20:16
Prime Minister Ariel Sharon described Yasser Arafat's death Thursday as a turning point for Middle East peace as Israelis marked the end of an era in relations with the Palestinians.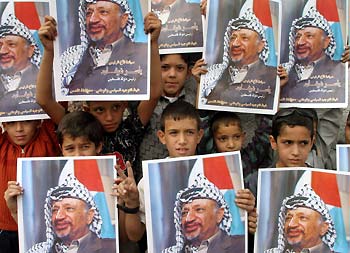 Palestinian children hold posters of Palestinian President Yasser Arafat during a rally following the announcement of his death, in east Jerusalem November 11, 2004. Palestinian leader Yasser Arafat, who rose from guerrilla icon to Nobel peace prize-winner but ended up isolated and locked in conflict with Israel, died in a French hospital. [Reuters]

Israelis offered little regret for the death of the 75-year-old Palestinian leader, noting his terrorist past. But many were hopeful that it would revive efforts to bring peace to the troubled region.

"The recent events could be a historic turning point for the Middle East," Sharon said. "Israel is a country that seeks peace and will continue its efforts to reach a peace deal with the Palestinians without delay."

President Bush and other world leaders echoed those hopes.

"We express our condolences to the Palestinian people," Bush said. "For the Palestinian people, we hope that the future will bring peace and the fulfillment of their aspirations for an independent, democratic Palestine that is at peace with its neighbors."

British Prime Minister Tony Blair was expected to press for stepped up efforts toward Middle East peace in a meeting with Bush later Friday in Washington.

Arafat "led his people to an historic acceptance and the need for a two-state solution," Blair said, adding that was something "we must continue to work tirelessly to achieve."

Though declining to even refer to Arafat by name, Sharon expressed hope that the Palestinians would work toward "stopping terrorism," which he described as a precondition for the peace process.

Palestinian Foreign Minister Nabil Shaath, in turn, called on Israel to resume implementation of the U.S.-backed "road map" peace plan, saying the Jewish state could no longer use its dislike for Arafat to avoid its obligations.

"Now, the road is open, and we are telling the Israelis, welcome if you want to implement the road map, then implement it," Shaath told The Associated Press. "It was the path of President Arafat, and we will go on the path of Arafat."

Former Prime Minister Ehud Barak, who attempted to negotiate a peace deal with Arafat at Camp David, described him as a corrupt leader whose worst sin was the "poisoning of the souls of the young Palestinians with a burning hatred for Israel."

"Today the Palestinians have the possibility to take their fate in their hands to lead to a reduction in the terror and a return to negotiations," he said. "Only time will tell if they succeed to reach these goals."

Israeli opposition leader Shimon Peres recalled how the Palestinian leader constantly wavered between violence and peacemaking, seeking to remain popular. Peres, Arafat and late-Israeli Prime Minister Yitzhak Rabin shared a Nobel Peace prize in 1994 for signing an interim peace deal.

That accord quickly unraveled amid mutual suspicions and accusations of treaty violations. A new round of violence that erupted in the fall of 2000 has killed some 4,000 people, three-quarters of them Palestinians.

"The biggest mistake of Arafat was when he turned to terror," Peres told Israel Radio. "His greatest achievements were when he tried to build peace."

Fearing widespread Palestinian riots in the coming days, Israel sealed off the West Bank and Gaza Strip Thursday and sent troop reinforcements, about five battalions or 1,600 troops, to the areas, the military said.

Troops posted in Jewish settlements were put on high alert, as were guards at Israeli jails holding Palestinian prisoners, officials said.

Soldiers were ordered not to express happiness at the death of a man who was reviled by many Israelis as a terrorist.

However, many Israelis were pleased by the news.

Israeli Justice Minister Yosef Lapid blamed Arafat for the spread of global terrorism and the failure to achieve Middle East peace.

"I hated him for the deaths of thousands of Israelis," Lapid told Israel Radio. "I hated him for preventing the peace agreements between us and the Palestinians."

"One of the tragedies of the world is that it didn't understand that the terrorism that began here would spread to the entire world," Lapid added.





Today's Top News
Top World News

Nation likely to be 3rd largest trading power




Nutritional imbalance plagues people




Mine blast kills 33, injures 6 in Henan




Coal mining: Most deadly job in China




Shen and Zhao win Cup of China




Consumer price remains stable in October