Survey: migrants' unsatisfactory sex life
(Shanghai Star)
Updated: 2004-11-11 11:13
Long separation from their wives has made the suppression of sexual needs a widespread problem among migrant workers, who have been found to be connected with a large number of recent rape cases in China, according to a new survey.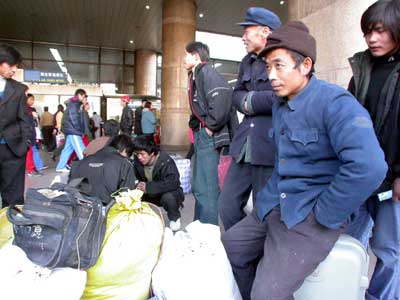 Migrant workers await trains outside a trian station. They leave for cities in the hope to gain a better life. [chinadaily.com.cn/file]
The survey randomly selected 200 migrant workers in the city of Cixi in neighbouring Zhejiang Province and found that about 44 per cent of them had left their wives behind in their hometowns when they went to work in Cixi.
Although about 28 per cent of the migrant workers brought their wives with them, they still rarely had sex because their small home was usually shared with other couples due to financial difficulties. The lack of a private room greatly reduced migrant couples' opportunities to be intimate.
Most of the migrant workers said they often felt nervous and depressed. They suffered from sex illusions from time to time due to the repression of their physical needs.
About 31 per cent of the workers said they felt a strong sexual desire when they saw women, and about 70 per cent of the men said they often looked at pornographic books and videos.
As for the question of how they chose to deal with these strong feelings of sexual need,about 40 per cent of them said they had no choice but to repress such urges. Another 30 per cent said they would think of ways to satisfy these desires, but refused to tell how they would do so.
Although these long periods of unsatisfactory sex life may have caused some migrant workers to turn to sexual violence, their understanding of the dangers posed by contagious social diseases seems to have improved in the past few years.
Most of them have basic knowledge of AIDS, and their attention towards the AIDS prevention has also increased. About 74 per cent of the migrant workers surveyed knew that sexual intercourse can spread the disease.
"We had very seldom paid any attention to the physical needs of the migrant workers before," said Xu Wenping, an official with the Zhejiang Provincial Population and Family Planning Commission, in an interview with the Shanghai-based Oriental Morning Post.
"The focus of the government work on migrant workers has long been on how to alleviate their economic suffering and mental pressure. We now have a new task, to also enhance their sexual education and knowledge."
Statistics show that in 2003, China had some 140 million migrant workers, amounting to more than 10 per cent of the country's total population. Since it is expected that the size of this migrant population will continue to grow for the foreseeable future, the social problems experienced by these floating citizens will also pose a long-term challenge for the nation.
Today's Top News
Top China News

Nation likely to be 3rd largest trading power




Nutritional imbalance plagues people




Mine blast kills 33, injures 6 in Henan




Coal mining: Most deadly job in China




Shen and Zhao win Cup of China




Consumer price remains stable in October