Tests confirm Irish case of human form of mad cow disease
(Agencies)
Updated: 2004-11-11 09:56
Medical tests on a young Irishman have confirmed that he is suffering from variant CJD, the human form of mad cow disease, a Dublin hospital spokesman revealed.
It is believed to be the first case of the fatal brain disease to originate within Ireland as a result of eating beef infected with BSE.
Last month the hospital, which is not being identified to protect the privacy of the patient, said it was treating a man in his early 20s with suspected vCJD.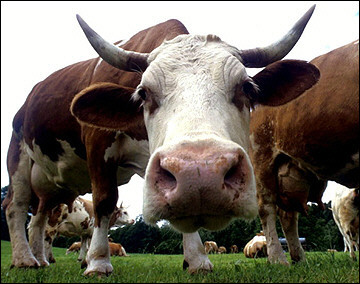 Scientists in Britain are testing tissue from a French goat to see whether mad cow disease has been naturally transmitted to another species for the first time.[AFP/file]

A biopsy of one of the patient's tonsils has shown the presence of a prion, the rogue protein known to cause both vCJD in humans and BSE in cattle.

"The result of a further test carried out on the young man suspected of having vCJD makes it most unlikely that the diagnosis pertaining to this patient is anything other than vCJD," according to a statement issued by the hospital.

Prime Minister Bertie Ahern told the Dail (lower house of parliament) that he was satisfied with control procedures to protect against BSE.

Both a variant CJD advisory group and the Food Safety Authority of Ireland had said there was no need for public concern about the safety of eating Irish beef.

He told the main opposition party leader, Enda Kenny of Fine Gael, that the man may have been infected 10 to 15 years ago, before controls were tightened, as the incubation period for the disease extends for many years.

"This would be the first indigenous case here," he said.

Only one person, a woman who had lived in Britain, was previously diagnosed with the disease in the Republic.

Deputy Prime Minister and Health Minister Mary Harney said she "learned with deep regret that the diagnosis of a young male patient in a Dublin hospital, confirms that he is suffering from variant CJD.

"My thoughts and prayers are with the patient himself, his family and friends who are attempting to cope with this difficult situation," she said.

The hospital said last month the young man had never received or made a blood donation and the cause of the infection was not linked to an operation.

Since January 2001 all Irish cattle aged over 30 months that are destined for human consumption are tested for BSE. Over 435,000 tests were carried out from January to the end of September 2004.

According to agriculture ministry figures there have been 110 cases of BSE discovered in cattle in Ireland this year.

This compares with 161 cases for the equivalent period in 2003 and with 293 cases for the equivalent period in 2002.

"The underlying trend remains positive and the increasing age profile of animals confirmed with the disease indicates that the enhanced controls introduced in 1996 and early 1997 are proving effective," according to the ministry.




Today's Top News
Top World News

Nation likely to be 3rd largest trading power




Nutritional imbalance plagues people




Mine blast kills 33, injures 6 in Henan




Coal mining: Most deadly job in China




Shen and Zhao win Cup of China




Consumer price remains stable in October