Bush administration divide reemerges over North Korea
(Agencies)
Updated: 2004-11-11 09:13
As US President Bush prepares for a second term, hard-liners are pressing once again for a more coercive approach if six-party talks make no progress on resolving the North Korea nuclear issue.
The United States remains committed to negotiations on the North's nuclear program, but officials, congressional sources and analysts said the policy is being re-examined.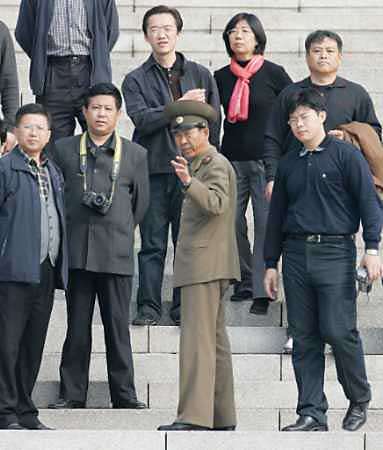 A North Korean soldier guides Chinese tourists at the truce village of Panmunjom in the demilitarized zone separating the two Koreas, November 9, 2004. This week's talks between Japan and North Korea show efforts to hold more six-party talks on the North's nuclear plans are gathering pace and most countries want a meeting before the year ends, South Korea said on Wednesday. [Reuters]

The administration put its first serious negotiating proposal on the table in June and the North has yet to formally respond. "Is our attitude that this is the beginning of a negotiation or a take-it-or-leave-it proposition. That's the first question the president has to answer," a U.S. official said.

A tougher U.S. line, including a firmer crackdown on the North's growing illicit trade in narcotics, weapons and counterfeit dollars, presupposes the failure of diplomacy.

"It is clear the administration is trying to crack down on (North Korea's) illicit activities in a way it had not done before," one U.S. source said.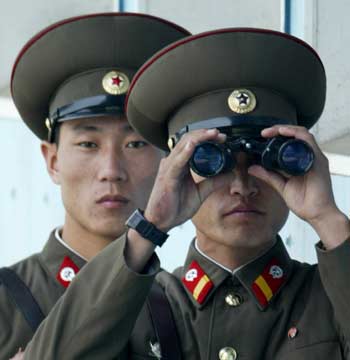 North Korean soldiers stand guard at the truce village of Panmunjom in the demilitarized zone separating the two Koreas, about 55 km (31 miles) north of Seoul, November 9, 2004. [Reuters]

"Some officials think this provides us with leverage to use against North Korea in the (six party) talks but others see it (Pyongyang's criminal activities) as confirmation that the talks are hopeless and North Korea can't be negotiated with ... The (administration) divide continues," he said.

Much will turn on whether Secretary of State Colin Powell and Assistant Secretary of State James Kelly, main advocates of diplomacy with North Korea, and Undersecretary of State John Bolton, a key hard-liner, stay on in Bush's second term.

Powell and Kelly are rumored to be leaving at some point while Bolton is seen as wanting a promotion, perhaps to deputy secretary or deputy national security adviser.

"I think the real issue facing the administration is how it's going to assess the prospects for diplomacy being revived with some prospects of real movement forward," said Larry Niksch of the Congressional Research Service, which does analysis for the U.S. Congress.

"This will determine whether it continues its present policy of relying exclusively on diplomacy or whether it turns toward more coercive measures in 2005," he told Reuters.

The six parties -- North and South Korea, the United States, China, Japan and Russia -- have met three times to discuss ending the nuclear program in the North, which Bush dubbed part of an "axis of evil" that included Iran and pre-war Iraq.

After the June session, participants agreed to convene again in September but Pyongyang appeared to stall until after the Nov. 2 U.S. presidential election. With Bush's victory, more diplomacy is under way to revive negotiations.

Senior administration officials say they have a sense of urgency about North Korea, which is estimated to have eight nuclear weapons -- up from one or two when Bush took office.

But Kelly, speaking at the Woodrow Wilson Center think tank on Tuesday, urged remaining patient.

While acknowledging the administration had not reduced North-South tensions, he said in the six-party format, "we have established what we believe offers the best hope for resolution of the problem."

But an analyst for one of the administration's favorite Republican think tanks -- Nicholas Eberstadt of the American Enterprise Institute -- slammed the Bush approach.

At an AEI event, he said the administration has a "very clear attitude toward North Korea but ... lacked a policy to translate that attitude into coherent and consistent action."

He said the nuclear crisis won't end "until we get a better brand of dictators in North Korea" and also called for "regime change at the State Department."

Eberstadt told Reuters there should be a greater emphasis on human rights abuses and increased economic pressures on Pyongyang, including interdicting shipments of heroin and counterfeit dollars that finance the communist regime.

A congressional source said Bush is expected to raise the trafficking issue when he meets South Korean President Roh Moo-hyun in Chile later this month. Experts say scores of North Korean ships dock at South Korean ports every year.

This may not sit well with Seoul, which wants time for talks to bear fruit. South Korean Ambassador Han told Reuters it "very much depends on North Korea's response" whether Bush pursues a more hawkish approach.




Today's Top News
Top World News

Nation likely to be 3rd largest trading power




Nutritional imbalance plagues people




Mine blast kills 33, injures 6 in Henan




Coal mining: Most deadly job in China




Shen and Zhao win Cup of China




Consumer price remains stable in October