French citizens flee Ivory Coast violence
(Agencies)
Updated: 2004-11-11 08:49
Hundreds of French citizens fled their former colony Ivory Coast on Wednesday after days of anti-French riots and looting in a country once seen as a model for Africa of post-independence prosperity.
Some 843 French nationals were flown to Paris from Abidjan, the main city in the world's top cocoa grower, after supporters of President Laurent Gbagbo chased the expatriates from their homes.
"I don't have a job any more or a house ... They took the bath, the furniture and electrical wires, everything," said Bruno Regis, at the airport with his wife and three children.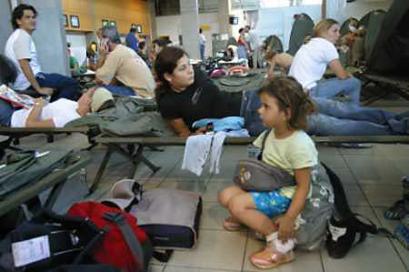 French nationals wait for flights out of the Ivory Coast in the passenger hall of the international airport at Abidjan on November 10, 2004. France was preparing to airlift citizens from its former colony after more than 2,000 French and foreign nationals were chased from their homes by violent mobs loyal to Ivory Coast President Laurent Gbagbo. [Reuters]

"The way it ended here, I wouldn't come back here even if they offered me a new job," said the teacher from Marseilles.

More than 2,200 French and other foreign nationals have been sheltering in French and U.N. bases in Abidjan after crowd violence exploded on Saturday.

Angry mobs went on the rampage after the French army wiped out most of the West African nation's small fleet of military aircraft in retaliation for the bombing of a French base.

The Ivorian government's medical services co-ordinator, Richard Kadio, said French soldiers had shot dead 54 people around the country and injured 1,266 between Saturday and Tuesday.

"The French reaction was too rapid, too disproportionate," Gbagbo told French television on Wednesday of the strike on the air fleet. "There was a chain of events and today the only thing I regret is that not enough time was left to make inquiries."

The Ivorian army accused French troops of behaving like an occupying force, saying on state television that they had opened fire on security forces as they deployed to secure Abidjan.

Saturday's air strike, which killed nine French peacekeepers and a U.S. aid worker, came during an offensive launched by Gbagbo's forces to dislodge rebels who seized the north of the country in 2002 after failing to topple the president.

"(Gbagbo) has to understand that you do not kill French soldiers without there being an immediate response, that you do not kill French soldiers with impunity," French Prime Minister Jean-Pierre Raffarin told French television.

Relief and sadness

Some 150 American, Australian, Canadian, Spanish and Portuguese nationals also left from Abidjan's sleek, modern airport on Wednesday.

People queuing in the departures hall clutched the few belongings they had salvaged. Some rested on military camp beds, women tended to babies and children played with luggage trolleys. The atmosphere was one of sadness mixed with relief.

Britain has drawn up plans for troops to help evacuate the several hundred nationals it has in the country if the situation gets worse, Prime Minister Tony Blair's spokesman said.

The riots have blocked cocoa exports, vital for a country which grows more than 40 percent of the world's cocoa beans, and inflamed ethnic tensions in a major cocoa town.

Independent of Paris since 1960 and made wealthy by cocoa, Ivory Coast has been on a downward slide since a military coup in 1999 tarnished its reputation as an economic powerhouse.

Gbagbo won power in disputed polls a year later. But since the failed coup, the country of 17 million has been cut in two with more than 10,000 French and United Nations peacekeepers in the middle to keep the warring sides apart.

Despite pressure from African leaders, terrified another bout of war could plunge the whole region into conflict, there has been little progress on peace deals and the impasse remains.

South African President Thabo Mbeki has arranged talks with opposition leaders in Pretoria for later this week while Nigerian President Olusegun Obasanjo has called for an emergency summit of West African leaders. South Africa said the 53-member African Union may send soldiers to Ivory Coast.

Several small clusters of youths draped in national flags ran to join anti-French protesters outside Abidjan's state television building on Wednesday, singing the national anthem.

"We are still here today. The white people want to kill us but it won't stop us coming out to demonstrate," said a young woman catching her breath while running with a group of 20 or 30 to the crowd of several thousand outside the television center.

A prison worker at Abidjan's biggest prison said some 4,000 prisoners had escaped through tunnels over the past week amid the chaos. On state television, government officials called on Ivorians to go back to work on Thursday.

At least 10 protesters were killed and hundreds injured on Tuesday from gunfire outside the city's landmark Hotel Ivoire. Protesters said French troops shot at them but Paris said Ivorian forces opened fire after the crowd attacked them.




Today's Top News
Top World News

Nation likely to be 3rd largest trading power




Nutritional imbalance plagues people




Mine blast kills 33, injures 6 in Henan




Coal mining: Most deadly job in China




Shen and Zhao win Cup of China




Consumer price remains stable in October