Fed lifts rates for fourth time this year
(Agencies)
Updated: 2004-11-11 07:57
The Federal Reserve on Wednesday nudged U.S. interest rates up a quarter percentage point for the fourth time this year, citing healthier job markets and indicating it will press on with a rate-rise campaign.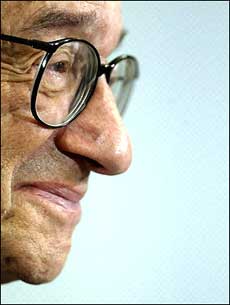 Federal Reserve chairman Alan Greenspan. US Federal Reserve policymakers, heartened by a burst in new jobs in October, raised key short-term interest rates for the fourth time in a row. [AFP]

"Output appears to be growing at a moderate pace despite the rise in energy prices, and labor market conditions have improved," the policy-setting Federal Open Market Committee said in a statement announcing its decision.

The unanimous vote by the panel moves the benchmark federal funds rate -- which affects credit costs throughout the economy -- to 2 percent from 1.75 percent.

The Fed began to lift short-term credit costs in June from a rock-bottom 1 percent and said on Wednesday it expected to be able to keep on a "measured" course that has seen it raise rates at each of its past four meetings. With the economy showing signs of improvement, the central bank is widely expected to do so again at the next meeting on Dec. 14.

"With underlying inflation expected to be relatively low, the committee believes that policy accommodation can be removed at a pace that is likely to be measured," the FOMC said, using the coded language it employs to foreshadow small but steady rate increases.

That FOMC statement largely echoed the previous one on Sept. 21.

"The key point is the obvious, which is not much has changed," said economist Stephen Stanley of RBS Greenwich Capital in Greenwich, Connecticut. "As a result ... it supports our feeling they will move again in December. There's no signal here of a change in their stance."

A Reuters poll of Wall Street top economists conducted after the Fed meeting found 13 of 20 dealers expect another increase on Dec. 14, when policy-makers meet again.

The latest hike follows Friday's Labor Department report, which showed a surprisingly large increase of 337,000 jobs last month, a reassuring indication of the economy's vigor.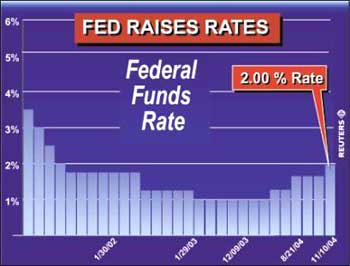 The Federal Reserve raised U.S. interest rates on November 10, 2004 for a fourth time this year by a quarter percentage point, citing brightening job markets that likely mean more increases lie ahead. The unanimous decision by the U.S. central bank's policy-setting Federal Open Market Committee moves the benchmark federal funds rate -- which affects credit costs throughout the economy -- to 2 percent from 1.75 percent. [Reuters]

The Fed also boosted the largely symbolic discount rate to 3 percent and underlined it still considered rates to be low enough to encourage borrowing and spending.

"The committee believes that, even after this action, the stance of monetary policy remains accommodative and, coupled with robust underlying growth in productivity, is providing ongoing support to economic activity," it said.

Treasury bond prices fell after the Fed move, largely on the implication the rate-rise cycle will continue.

Stock prices rose initially on the promise of "measured" or modest rate increases, but the blue chip Dow Jones industrial average and technology-laden Nasdaq composite index slid into negative territory by the close.

DECEMBER IN THE CARDS?

The Fed has indicated it still wants to remove some of the exceptional degree of stimulus it applied by bringing the rate down to a 46-year low before the current round of hikes began.

Exactly what constitutes a normal or "neutral" fed funds rate -- one that neither hinders growth nor fosters inflation -- is unclear, though economists believe it lies about 2 percentage points above prevailing inflation. That implies a rate around 3-1/2 percent to 4-1/2 percent and means the Fed has some room to go.

Several promising recent indicators suggest the recovery has gained enough pace to cope with stiffer rates while a higher level would also offer the Fed a safety margin should it need to lower rates to spur activity.

Retail sales surged an unexpectedly large 1.5 percent in September, showing crucial consumer spending is still growing, while the nation's goods and services trade deficit narrowed in September on record exports.

The chief negative for the outlook is lofty oil prices, which topped $55 a barrel last month and hovered near $48 on Wednesday and are sure to mean punishing bills for consumers with the winter heating season just beginning.

Currency markets were watching the Fed meeting keenly, trying to gauge whether higher U.S. rates will ease pressure on the beleaguered dollar, which touched a record low earlier on Wednesday against the euro.

It managed a modest gain after the rate rise but traders said the respite was likely to prove short-lived given the big U.S. trade and budget deficits.




Today's Top News
Top World News

Nation likely to be 3rd largest trading power




Nutritional imbalance plagues people




Mine blast kills 33, injures 6 in Henan




Coal mining: Most deadly job in China




Shen and Zhao win Cup of China




Consumer price remains stable in October