US seen likely to raise interest rates
(Agencies)
Updated: 2004-11-10 15:29
With the U.S. economy picking up steam, the year's fourth straight interest-rate hike looked like a certainty at Wednesday's meeting of the Federal Reserve's Open Market Committee, economists said.
Last Friday's employment report for October, which showed an unexpectedly large 337,000 job gain, has also made it more likely the U.S. central bank will raise rates again in December in its campaign to boost borrowing costs from rock-bottom levels and keep price pressures tamped down.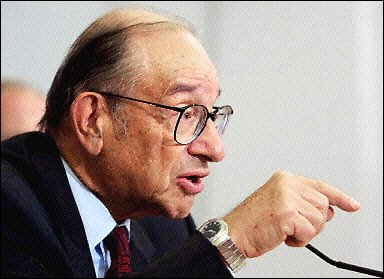 US Federal Reserve chairman Alan Greenspan and his colleagues gather Wednesday to discuss the outlook for interest rates. The unexpected boom in US job creation in October has locked in an interest rate rise, analysts said. [AFP]

The policy-making FOMC is set to meet at 9 a.m. EST on Wednesday and any announcement of the panel's actions will likely come around 2:15 p.m. EST.

As always, economists will comb through what policy-makers, who have stayed resolutely upbeat in recent public appearances, suggest about the future in their post-meeting statement.

A rate rise will be "a vote of confidence by the Fed that the economy continues to look good and they can continue to normalize policy," said Pete Kretzmer, senior economist with Banc of America Securities in New York.

In a survey Friday of large Wall Street debt-trading firms, all 20 primary dealers contacted said they expected a quarter-percentage-point climb in the benchmark federal funds rate to 2 percent.

Eleven of those surveyed also said they expect another rise in December, five firms more than in the previous poll.

"I don't see a good reason for them to stop," said Vince Boberski, chief fixed-income strategist with RBC Dain Rauscher in Chicago. After 13 rate cuts between January 2001 and June 2003 to prop up the U.S. economy, the Fed has raised rates at three straight meetings starting in June.

The seemingly sudden turnaround in sentiment about the economy, which looked shaky coming into the autumn, stems from fresh readings on retail sales, hiring and overall growth that seem to vindicate the Fed's unrelenting faith.

"The recent data bear out their optimism," Kretzmer said.

Retail sales surged an unexpectedly strong 1.5 percent in September, showing crucial consumer spending is still growing.

October's jobs report, along with upward revisions to past months, eased worries about sluggish hiring. And gross domestic product grew at a 3.7 percent annual rate in the third quarter, a decent if not breakneck pace with few signs of inflation.

Still, economists see some risks to the outlook, particularly from high energy prices.

Costly energy in the form of gasoline and home heating oil cuts into money consumers would otherwise spend on other goods or services and could push up inflation.

But even that danger may be passing. On Tuesday, December crude oil futures in New York settled at $47.37 a barrel, the lowest level since September.

Most one-day Fed policy meetings are on Tuesdays, but a Fed spokesman said this week's gathering was being held Wednesday to accommodate Fed Chairman Alan Greenspan's attendance at a Bank for International Settlements meeting in Basel, Switzerland.

Wednesday's FOMC meeting is the second-to-last of the year. The final gathering is set for Dec. 14.




Today's Top News
Top World News

Nation likely to be 3rd largest trading power




Nutritional imbalance plagues people




Mine blast kills 33, injures 6 in Henan




Coal mining: Most deadly job in China




Shen and Zhao win Cup of China




Consumer price remains stable in October