Obesity weighs down Shanghai's children
(China Daily)
Updated: 2004-11-10 09:25
More than 15 per cent of Shanghai primary school students suffer from obesity, while 30 per cent of them have poor eyesight, a report released by the Shanghai Statistics Bureau and Women and Children's Welfare Committee says.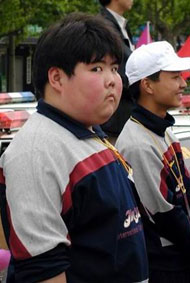 Obesity has been common among Chinese urban children nowadays. [sohu]

The obesity rate for Shanghai primary school students last year reached 15.2 per cent, up from 13.5 per cent in the previous year.

Some 4 per cent of children under 6 were obese while 11.1 per cent of middle school students were overweight, statistics showed.

Calories

Excessive intake of calories and fat coupled with lack of exercise is the main cause of obesity in most cases, according to the report.

Yet Jiang Yifang, a nutrition researcher at Shanghai Children's Hospital, points out that psychological disorders are another major cause that are too often ignored.

He said overweight children often eat when not hungry: some want to eat when feeling bad or when watching TV or before going to bed, others would want to eat simply at the sight of food.

Shanghai's obesity rate for children has been among the highest in China for years. The average figure for children in China's big cities is 8.1 per cent, according to the first national survey on nutrition and health jointly organized by the Ministry of Health, Ministry of Science and Technology and National Statistics Bureau in 2002.

The report also found that 29.9 per cent of primary school students suffer from bad eyesight.

What is more disturbing is the trend of poor-sighted rate increasing considerably with school age. The figures for junior school and high school students are 61.2 and 80.6 per cent respectively.

Heavy work loads and lengthy periods spent in front of TV and computer screens were found to be the main causes.

To curb the trend, authorities say it is vital for both health and education institutions to stop children from excessive and unhealthy use of their eyes.





| | |
| --- | --- |
| | |
| Hugh Grant signals end to acting career | |

| | |
| --- | --- |
| | |
| Model Claudia Schiffer gives birth | |

| | |
| --- | --- |
| | |
| Diaz, Timberlake defend paparazzi fracas | |
Today's Top News
Top Life News

Nation likely to be 3rd largest trading power




Nutritional imbalance plagues people




Mine blast kills 33, injures 6 in Henan




Coal mining: Most deadly job in China




Shen and Zhao win Cup of China




Consumer price remains stable in October