Economist sees rising Sino-US trade friction
(Agencies)
Updated: 2004-11-09 09:59
China and other Asian economies should brace themselves for possible severe trade friction with the United States due to large American trade deficits, a top US economist says.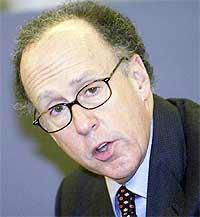 Stephen Roach, the chief international economist for US investment bank Morgan Stanley. [file photo]

The specter of a more protectionist America is rising even though the US trade shortfalls are largely a problem of its own making, according to Stephen Roach, the chief international economist for US investment bank Morgan Stanley.

"I do believe that the risk of protectionism will rise, largely because the Bush administration refuses to accept its responsibility in pushing down US savings through its reckless fiscal policy," he told a briefing in Beijing.

"That is an early sign for Asia in general, and you in China in particular, to prepare for the likelihood that trade frictions could intensify, in large part because of actions taking place in Washington rather than in Beijing."

The US has been forced to accept a large current account deficit in order to finance budget shortfalls run up by the government and continued heavy spending by American consumers, economists have argued.

As American trade deficits with major economies around the world soar, China is becoming a favorite target of criticism by US politicians, Roach said.

"Japan was the scapegoat in the 1980s. China is at the top of the list of being a scapegoat today," he said.

As the world seeks to resolve its trade imbalances, China will come under growing pressure to revalue its currency, which has been pegged to the dollar for the past decade, he said.

"America must fix its budget deficit but there is also adjustment required of Asia, and those would include more flexible currency policies, and that would certainly include China as well in that regard," he said.

"China has good reason for going slow on changing the currency regime. I do think that there will be pressure on China to accelerate that progress."

Roach said he believed China's economy, long seen as dangerously overheated, was now in the early stages of a soft landing engineered by Beijing policymakers.

"China's soft landing is good news for an unbalanced global economy," he said. "It's important progress for the world on the road to global rebalancing."

For the three months to September, China's economy grew 9.1 percent compared with a year earlier, after recording 9.8 percent in the first quarter and 9.6 percent in the second.

Real estate has been pointed out as one of the key areas of concern in the Chinese economy, but Roach said he had not detected a nationwide property bubble outside the country's largest city Shanghai.

"It's clear that the Shanghai property market has clearly gone to excess, and that a correction is likely at some point, for all we know maybe unfolding right now," he said.

"The hope is it will be a correction that is contained largely to the Shanghai property market itself and will not spread."




Today's Top News
Top China News

Nation likely to be 3rd largest trading power




Nutritional imbalance plagues people




Mine blast kills 33, injures 6 in Henan




Coal mining: Most deadly job in China




Shen and Zhao win Cup of China




Consumer price remains stable in October