Iraq insurgents bomb attacks killing 22
(Agencies)
Updated: 2004-11-07 15:17
Iraq insurgents launched deadly attacks Sunday against police stations in western Anbar province for the second day in a row, killing at least 22 people, police and hospital officials said.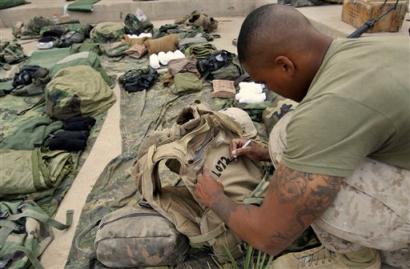 A US Marine of the 1st Division writes his zap number on his bullet proofed vest as he gets ready at his base outside Fallujah, Iraq, Saturday, Nov. 6 , 2004. The zap number gives information about the Marines blood group, name, rank and social security number in case he gets injured or killed. More than 10,000 U.S. troops have taken positions around the rebel-controlled city of Fallujah, bolstering the U.S. Marine units expected to lead a joint Army-Marine assault on the city. [AP]

At dawn, armed militants clashed with police and then set off explosions at police stations in the neighboring towns of Haditha and Haqlaniyah, 220 kilometers (137 miles) northwest of Baghdad, said Capt. Nasser Abdullah of the K3 police station in Haqlaniyah.

At least six policemen were killed at the Haqlaniyah police station, he said. Also killed was the manager of security police for the western Anbar sector, Shahir al-Ghureifi.

A third police station, the K3 station, also came under attack as rebels clashed with Iraqi forces, he said. Guards at the Haditha Dam were also attacked, he said.

Dr. Bassem Zaayan at Haditha Hospital said a total of at least 22 people were killed in the attacks.

On Saturday, insurgents launched deadly coordinated attacks in Samarra, located 140 kilometers (87 miles) east of Haditha, leaving 29 people dead and another 40 wounded.

Insurgents stormed a police station, triggered at least two suicide car bombs and fired mortars at government installations. One of the car bombs, targeting the mayor's office, used a stolen Iraqi police vehicle, the US military said.

Twenty-nine people, including 17 police and 12 Iraqi civilians, were killed throughout the city, the US military said. Arabic language television stations said more than 30 died as gangs of insurgents roamed the city, clashing with American and Iraqi forces.

The dead included the local Iraqi National Guard commander, Abdel Razeq Shaker al-Garmali, hospital officials said. Forty other people, including 17 policemen, were injured, the military said.

The city of Samarra, located 100 kilometers (60 miles) north of Baghdad, has been touted by US and Iraqi commanders as a model for pacifying restive Sunni Muslim areas of the country.




Today's Top News
Top World News

Nation likely to be 3rd largest trading power




Nutritional imbalance plagues people




Mine blast kills 33, injures 6 in Henan




Coal mining: Most deadly job in China




Shen and Zhao win Cup of China




Consumer price remains stable in October