Iran wants China its top oil importer
(Agencies)
Updated: 2004-11-07 10:29
Iran wants China to replace Japan as its biggest importer of oil and gas, Iranian Oil Minister Bijan Namdar Zanganeh was reported as saying here.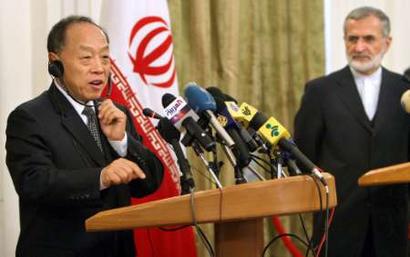 Chinese Foreign Minister Li Zhaoxing talks to the media while his Iranian counterpart Kamal Kharrazi (R) looks on in Tehran, November 6, 2004. China said on Saturday it would be better to resolve Iran's nuclear case without sending it to the U.N. Security Council, where Beijing holds the option of vetoing any sanctions against Tehran.

[AP]

"Japan is our number one energy importer due to historical reasons ... but we would like to give preference to exports to China," Zanganeh was quoted as saying the China Business Weekly magazine.

"From the supply side, we have no difficulties (in making China the top energy oil importer from Iran)," the minister added.

Iran and China last week signed a preliminary accord under which China will buy 10 million tonnes a year of liquefied natural gas (LNG) for 25 years in a deal worth 100 billion dollars.

The memorandum of understanding also grants to Chinese oil giant Sinopec the right to exploit the Yadavaran oil field on a buy-back basis in cooperation with a major international oil company.

On Saturday, Chinese Foreign Minister Li Zhaoxing said in Tehran that Beijing opposed US efforts to refer Iran to the United Nations Security Council over its nuclear programme.

"It would only make the issue more complicated and difficult to work out," Li said during a news conference.

The United States accuses Iran of secretly trying to develop nuclear weapons under cover of its civilian atomic energy program and wants the UN watchdog International Atomic Energy Agency (IAEA) to take Iran before the UN Security Council when the IAEA meets in Vienna on November 25.





Today's Top News
Top China News

Nation likely to be 3rd largest trading power




Nutritional imbalance plagues people




Mine blast kills 33, injures 6 in Henan




Coal mining: Most deadly job in China




Shen and Zhao win Cup of China




Consumer price remains stable in October