First Asian American in the NY State Assembly
By Han Ou (chinadaily.com.cn)
Updated: 2004-11-05 16:37
For the first time in New York State¡¯s legislative history, a Chinese American was elected to the State Assembly yesterday.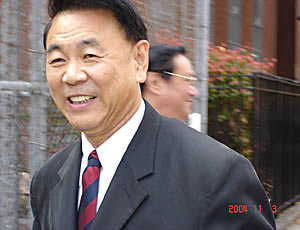 Jimmy Meng walked out of the P.S. 20 polling station at noon on Election Day, wearing the smile of a winner. [chinadaily.com.cn/Han Ou]
Jimmy Meng, a Democratic from Flushing, Queens, won 71 percent of the votes, easily defeating Republican Mailin Tan, who won 20 percent, according to unofficial early results.
¡°The impact of my victory is a big, big encouragement for all the Asian Americans in the country,¡± Meng said at victory party late last night.
In a sign of Asian Americans¡¯ growing political influence, the Republican, Democratic and Green Party candidates in Assembly District 22 were all Chinese American.
Meng stood out from the trio because ¡°he put together a strong coalition behind him, primarily by uniting the Chinese and Korean voters, which had never happened before,¡± said Bob Liff, a political consultant familiar with the race. ¡°He managed to convince them, particularly the Korean voters, that they would share common interests in this process.¡±
On the campaign trail, Meng always kept the Korean and Spanish interpreters alongside him while going door-to-door to say hello to potential voters. He said it was the most effective way in turning out voters ¡°because people could see you were working hard.¡± In his campaign office, people who spoke Chinese, English, Korean and Spanish worked side by side in registering voters and answering phone calls.
The 22nd Assembly District, which lies east of the Van Wyck Expressway, from the Long Island Expressway to several blocks north of Northern Boulevard, was redrawn after the 2000 census so that it embraced the Asian-American community more completely, thus uniting the Asian vote.
Yucai Yang, a businessman living in Flushing and Shanghai who flew in from Shanghai yesterday to vote for Meng, said, ¡°Chinese Americans used to suffer a lot from roaring racial discrimination in this country. The social climate now is much, much better. With Meng¡¯s election to the State Assembly, this community is going to open up more to the mainstream American society.¡±
After Meng cast his own ballot at P. S. 20, in Flushing yesterday morning, he said with a big smile, ¡°This has been my happiest day since January,¡± when his campaign started. ¡°I¡¯m glad to see that our ten months hard working has paid off.¡±
In the state Democratic primary in September, Meng ran what Liff described as an ¡°insurgent campaign¡± against the incumbent, Assemblyman Barry Grodenchik, who had the support of the Queens Democratic organization. In that race, Meng won 2,877 votes, or 51 percent, to Grodenchik¡¯s 2,311 votes, or 41 percent. A third candidate, Benjamin Singer, received 425 votes, or 8 percent.
A week later, Grodenchik¡¯s campaign staff accused Meng of bringing out ¡°ghost voters¡± to support him during the election. They submitted to the city Board of Elections for further scrutiny a list of 191 voters, who they said had registered with problematic or even nonexistent home addresses.
It turned out that 10 people on the list had provided their home addresses as 135-29 Roosevelt Ave., which just happened to be the Chung Hwa Book Co., a commercial building owned by Meng and used as his campaign headquarters. Voters must register in the district where they live and should notify the voter registration staff if their home addresses have changed before the election, according to the city Board of Elections.
¡°The incident has nothing to do with me,¡± Meng said on Election Day, adding that those 10 people were registered in 1997 and did not vote this September. He said he was not directly involved in the voter-registration work.
¡°Given that the Queens¡¯ addresses are very complex in its nature, some new voters were not familiar with the registration regulation,¡± said Teresa Young, a key aide to Meng. ¡°It¡¯s understandable that minor mistakes might be made. But it¡¯s not our problem.¡± She said that many people on the suspect list actually voted in the City Council election in 2001, and not this time.
On the other hand, Councilman John Liu, who became the first Chinese-American city councilman in 2001, insisted that he never heard any story of ¡°ghost voters¡± during his campaign three years ago.
¡°I still have not seen or heard anything,¡± he told the e-Day News. ¡°Such false or fraudulent registrations have never happened before.¡±
Although the city Board of Elections certified Meng¡¯s victory in the Democratic primary, where he defeated Grodenchik by 566 votes, the board started a probe to investigate any possible voter fraud. The board formally notified the 191 voters that their voting record in the primary election was nullified due to the apparent illegal registration.
A seasoned community leader

Born in Shandong province in China, Meng lived mostly in Taiwan before he came to the United States as a graduate student of English in 1975.
Meng, 60, has lived in Flushing with his wife and three children for more than 25 years. He owns the Queens Lumber Company and the Chung Hwa Book Co. in downtown Flushing.
Meng was a member of former Mayor Rudolph Giuliani's Small Business Advisory Council, and is chairman of the Asian American Coalition of Queens, chairman of the Flushing Business Association, and board member of Queens Borough Community College and the Queens Public Library. As the chairman of the Flushing Business Association, Meng initiated a sanitation drive in an effort to get rid of the stinking trash often piled in front of the storefronts, especially busy restaurants in downtown Flushing.
¡°Meng is a firefighter for this neighborhood,¡± said Connie Chang, who is Meng¡¯s secretary at the nonprofit business association.
¡°I am a Catholic, and I like to help people,¡± Meng told a group of journalists outside the Flushing polling station yesterday. ¡°I don¡¯t like people to call me ¡®politician.¡¯ I like to be called a political volunteer.¡±
¡°Jimmy understands the concerns and the needs of the community,¡± said Rep. Gary Ackerman, D-Queens, as he announced his endorsement of Meng at Flushing Town Hall last Tuesday. ¡°He¡¯s proven himself as a very worthy campaigner. He surprised a lot of people and won the Democratic primary.¡±
Democratic Assemblymen Anthony Seminerio from Richmond Hill, Brian McLaughlin from Flushing, Mark Weprin from Bayside, City Councilman Hiram Monserrate from Corona and City Councilman John Liu from Flushing also joined Ackerman in announcing endorsements of Meng last Tuesday.
Candidates debate ¡°If I¡¯m elected, I¡¯m going to work on two issues as soon as possible: first, fighting on all levels for funding from the state and the city; second, reaching out to all the ethnic groups of this community and asking them what they want me to do for them,¡± Meng said while debating the Republican candidate, Meilin Tan, and the Greens No to War candidate, Evergreen Chou, in the Sheraton LaGuardia East Hotel in Flushing last Tuesday night.
Tan criticized Meng, saying, ¡°He doesn¡¯t have solid connections with the established state and city officials. He¡¯s not able to win as much funding as this community needs.¡± During the campaign, Tan repeatedly portrayed herself as an old friend of Gov. George Pataki and Mayor Michael Bloomberg.
At 61, Tan is an experienced real estate broker in Flushing, where the Democratic voters outnumber the Republicans by a ratio of almost 5 to 1.
In the debate, Chou challenged Meng¡¯s position on hoping to see more luxury apartment buildings in the community. ¡°Nowadays, the housing rent in this neighborhood is soaring,¡± Chou said. ¡°The working-class people cannot afford to live in the expensive buildings.¡± Chou, 40, works as a sonogram technician in the Lutheran Hospital Center in Brooklyn.
¡°I always represent the interests of the majority of the people here. However, some rich businessman does not,¡± Chou said.
Meng replied that he would listen carefully to people¡¯s opinions and try to represent the community as a whole.
More new voters than before

With many first-time voters having registered during the primary election, at least 18,930 voters in the Assembly district turned out to vote on Election Day. According to the city¡¯s Board of Elections, 67,159 new voters had registered in Queens in the past nine months. While the board didn¡¯t break down the statistics by ethnicities, Asians and Latinos were the fastest growing groups of voters, according to the related reports.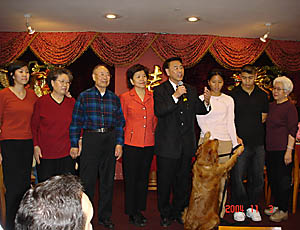 Meng, joined by his family, gives a speech at midnight last night at a restaurant in Flushing. [chinadaily.com.cn/Han Ou]
In the state Democratic primary on Sept. 14, nearly 1,000 more voters in Flushing participated than in the 2002 primary.
¡°This year we have seen many new voters, especially Chinese voters,¡± Councilman Liu said last Friday. ¡°I think Chinese Americans here in New York are beginning to see how important it is to be part of the process and to make connections between voting and having a voice in the government.¡±
During the Democratic primary, however, Liu supported the Jewish incumbent, Assemblyman Grodenchik.
Liu later criticized Meng for winning a close and bitter victory by campaigning heavily on ethnic appeal.
¡°Jimmy¡¯s campaign definitely succeeded in mobilizing new Asian voters,¡± Liu said. ¡°I think part of the campaign result is decided by its objective. While the objective of Jimmy¡¯s campaign was turning out new voters, Grodenchik¡¯s campaign focused more on the issues.¡±
Meng said any suggestion that he reached out only to Asian-American voters was an unfair comment on the work that went into his victory. He said his campaign staff worked tirelessly to build a diverse coalition including all ethnic groups in the community.
¡°The only reason we won the election was because of the old-fashioned hard work,¡± Meng said after the debate last Tuesday. ¡°Starting from June 28, we campaigned door-to-door in three teams every night. We worked from 6 to 9 except for one night when we stopped the tour at 7 p.m. because of the heavy rain.¡±
¡°My husband lost 11 pounds of weight during the process,¡± said Meng¡¯s wife, Xiaomin Wang, who said she was happy with the result. ¡°He also had several shocks, which he never had before. It scared me so much.¡±
¡°John thinks that I got most of my support from my own community,¡± Meng said, ¡°but I got support from whites, blacks, Koreans, Chinese and the Jewish community. We had a very good multi-ethnic campaign team.¡±
Meng¡¯s daughter Grace, his campaign manager, added that in order to calculate the turnout rate of each ethnic group, the campaign workers would make a particular racial mark behind each voter¡¯s name on the registration roll.
A prospect for future

Meng has made history by becoming the first Asian-American assemblyman in Albany.
¡°He is just like Una Clarke, who became the first Caribbean in the City Council, and Guillermo Linares, who was the first Dominican district representative of Washington Hights,¡± said Liff, the political consultant. ¡°The Asian Americans now are sitting at the table of power. It starts a process that is unchangeable today. What if a Korean candidate will challenge a Chinese incumbent in the future?¡±
In the meantime, people in the Queens district are yearning for Meng to bring home more benefits to the community.
¡°I look forward to working closely with Jimmy,¡± Councilman Liu said. ¡°I¡¯ll try very, very hard to succeed working with him. It¡¯s not about me. It¡¯s not about him. It¡¯s about our community looking good or bad.¡±
Meng also expressed his strong willingness to cooperate with Liu, saying he would work with Liu ¡°100 percent to make this a better community for everyone.¡±
Liu said that being the only Asian American of the 51 members in City Council was fun but hard. ¡°I very often have to stand on issues alone. There are a lot of issues that my colleagues don¡¯t want to get involved in, mostly because they don¡¯t understand them, like why a law-abiding Chinese clerk was beaten to death on the street.
¡°I assume being one of the 150 members in State Assembly is much, much harder,¡± Liu said. ¡°There is no one to look at, or to learn from, either his success or mistakes. You have to find your own way. I¡¯m sure Jimmy is up to it. I¡¯ll give him whatever I can and whatever he looks for from me.¡±
After Meng walked out of the voting booth, he smiled and said, ¡°I¡¯ll work with all of my Democratic colleagues in Albany to build a prosperous Flushing community.¡±

Today's Top News
Top World News

Nation likely to be 3rd largest trading power




Nutritional imbalance plagues people




Mine blast kills 33, injures 6 in Henan




Coal mining: Most deadly job in China




Shen and Zhao win Cup of China




Consumer price remains stable in October