Beijing installs SARS early-warning system
(Agencies)
Updated: 2004-11-05 14:19
China's capital, Beijing, has installed an early-warning system for infectious diseases, anticipating a possible return of the deadly SARS virus as winter sets in, the Beijing Morning Post said on Friday.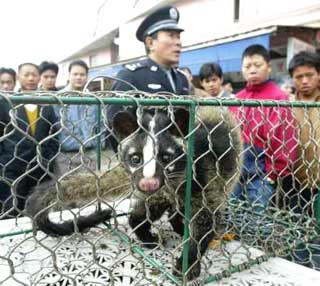 A confiscated civet cat paces inside a cage at a wild game market in Guangzhou, the capital of Guangdong province, in this November 12, 2003 file photo. China has banned the cooking and selling of civet cat to prevent a return of SARS, state media said on November 2, 2004, quoting the health ministry. Chinese health experts concluded last month that civet, considered a delicacy in the south of the country, was the primary source of last year's SARS epidemic that killed hundreds of people around the world. [Reuters]

The system divides infectious disease outbreaks into four classes of magnitude, with different responses to be put in motion for each.

Class one, or severe outbreaks, covered the infection of 100 or more people by SARS or any other infectious disease and contagions that expand by more than 20 percent in two months, the newspaper said.

Three public hospitals, including Ditan Hospital, which handled many of Beijing's SARS cases in last year's outbreak, and one military hospital had been designated as treatment centers for class one and two outbreaks.

In the last two weeks, China has issued emergency instructions to hospitals nationwide to isolate patients suffering from severe respiratory diseases and banned the cooking and selling of civet cat, an animal considered the primary source of last year's SARS epidemic.

Severe Acute Respiratory Syndrome allegedly emerged in China's southern Guangdong province in November 2002 and was soon spread by travelers worldwide.

The disease eventually killed 800 people around the world, 300 of them in China, and infected around 8,000, dealing a severe blow to several Asian economies.

Nine people were confirmed infected with SARS in April this year in Beijing and Anhui province and one died.




Today's Top News
Top China News

Nation likely to be 3rd largest trading power




Nutritional imbalance plagues people




Mine blast kills 33, injures 6 in Henan




Coal mining: Most deadly job in China




Shen and Zhao win Cup of China




Consumer price remains stable in October