Cars outstrip parking supply in Guangzhou
By Liang Qiwen (China Daily)
Updated: 2004-11-05 09:40
The rapid and stable development of the Chinese economy has increased a lot of people's purchasing power.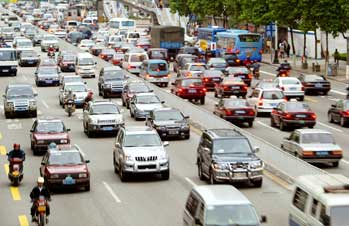 The drastic increase of private cars has highlighted the serious lack of parking spaces in Guangzhou. [newsphoto]
More and more Chinese residents now own private cars.
But parking space has not been able to keep up with this increase. Take Guangzhou for example. There are 2,420 car parks in the city, with about 280,000 parking spaces.
But there are 500,000 registered cars - 220,000 more than available spaces.
This has meant an increase in parking fees.
Guangzhou's current parking fee regulations were put into effect by the municipal government on July 1, 2001.
Outdoor fees are 350 yuan (US$42) a month and indoor fees 600 yuan (US$72) a month.
The fees are much higher than in Beijing and Shanghai, where the average monthly outdoor fees are around 150 yuan (US$18), indoor fees around 400 yuan(US$48).
Guangzhou's car parks have uniform fees, whether in busy downtown areas or in suburban districts.
Many car owners complain that this does not reflect the land value of the different areas.
Officials at the Price Control Administration of Guangzhou have also realized the disadvantages of these fees.
Liang Yuanbin, an official with the administration, said the regulation has no effect in deterring parking in downtown areas, thus making the short supply of spaces in busy business districts more serious.
"Dropping the parking fee is imperative," said Liang.
The new fees will be implemented on November 15.
Parking fees will be based on zones. The first zone is assigned to the busiest downtown, the second is the quieter urban area, and the third in the suburban area.
In the first zone, an outdoor space will cost 450 yuan (US$54) a month, in the second 300 yuan (US$35) and in the third, 200 yuan (US$24).
Per hour it will cost drivers 3 yuan (36 US cents), 2 yuan (24 US cents) and 1.5 yuan (18 US cents) depending on the zone.
Residential car parking will cost 400 yuan (US$48) (indoor) and 150 yuan (US$18) (outdoor) a month.
The first zone will cost more than the old charge.
Liang Yuanbin said the new fees were more reasonable and considerate.
Pros and cons
The administration's motion is good news for car-owners, yet has been met with complaints from operators of car parks.
Electronic company manager Xiao Bo brought a Honda for about 100,000 yuan (US$12,000) several months ago.
He said many city dwellers could afford cars at this price, but the heavy parking fees were a problem.
To park at the office he spends another 660 yuan (US$72) a month alongside his apartment fee, and business trips cost him even more.
He was relieved when he heard the fees are about to drop.
Yet most car park operators are upset by the upcoming lower fees.
Pun Kwuo Fan moved to Hong Kong at the end of the 1980s, but returned to his hometown, Guangzhou, at the beginning of 1990s, working in the property management business since then.
He said the business is a rising-sun industry.
In the past 10 years, his Qiaofu Property Management Company has grown to be one of the most influential property management companies in Guangzhou.
He is running three residential-building car parks, which have about 400 parking spaces.
Now, Pun worries that the lower fees will affect his business.
On April 28, the local price control administration held a hearing, which attracted hundreds of people from various circles, such as experts, car park operators, and car-owners.
The administration tabled a draft proposing per indoor parking space at residential buildings should cost 300 yuan(US$36) a month, and an outdoor spot should be 150 yuan (US$18) a month.
But the proposal evoked strong repercussions from car park operators, including Pun.
The administration backed down, increasing monthly fees to 400 yuan (US$48) for inside, and maintaining the outdoor fee at 150 yuan (US$18).
Pun said monthly management expenses per parking space averaged about 120 yuan (US$14), for staff, electricity, cleaning and maintenance.
Each space needed an investment of about 100,000 yuan(US$12,000), Pun said.
Former fees meant costs could be recouped in about 10 years.
But the new fees prolonged this to 30. "I wonder how many people will invest in car parks in the future," said Pun. "There may be a serious short supply."
Pun said he and other operators would try out the new fee and if they suffered heavy losses they would appeal to Guangzhou People's Congress to review the new price.
Liang Yuanbin said commercial car parks, such as those attached to office buildings, hotels and shopping malls, would not be affected by the new fees, but would maintain their current market price.
He said he believed the new fees would not have a big impact on these car parks.
Jin Wenzhou, a professor at the College of Traffic and Communications with the South China University of Technology, said price control is a means to ease the short supply of parking space in the city.
But such a large gap is impossible to be filled in a short time.
He said consumers should not buy cars simply because they were cheap without considering the parking charges.
The balance of demand and supply of parking should be achieved by both car park constructors and car-owners.
Today's Top News
Top China News

Nation likely to be 3rd largest trading power




Nutritional imbalance plagues people




Mine blast kills 33, injures 6 in Henan




Coal mining: Most deadly job in China




Shen and Zhao win Cup of China




Consumer price remains stable in October