Arafat takes turn for worse, aides say
(Agencies)
Updated: 2004-11-04 08:48
Yasser Arafat's condition has deteriorated significantly over the past day, and doctors treating him at a Paris hospital remain unsure what has caused the 75-year-old Palestinian leader's illness, Palestinian officials said early Thursday.
The Palestinian sources, speaking on condition of anonymity, confirmed an Israeli TV report that Arafat was in very serious condition. They said details would be disclosed at a previously planned news conference scheduled for Thursday at 10 a.m. EST.

Palestinian leader Yasser Arafat's health has suffered a setback and doctors treating him in France are carrying out more tests to discover why, Palestinian envoy Leila Shahid told Reuters November 3, 2004. Palestinians hold posters of President Yasser Arafat during a rally to support him in the West Bank city of Hebron, November 2, 2004. [Reuters]

Arafat, who has been ill for three weeks, was flown to a French military hospital on Friday after passing out briefly at his West Bank headquarters.

Mohammed Dahlan, a former Palestinian security chief in Paris with a group of Arafat aides, denied, however, that Arafat's condition has worsened. "The president's condition is stable," he told reporters.

Arafat initially was said to have been suffering a severe case of influenza, but later was diagnosed with having blood abnormalities and trouble with his digestion. Palestinian officials insist leukemia has been ruled out, but say doctors remain uncertain what is causing Arafat's illness.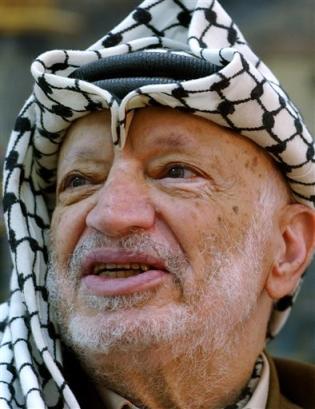 Palestinian leader Yasser Arafat is shown during a meeting at his headquarters in the West Bank town of Ramallah on Sept. 26, 2004. [AP/file]

In Israel Channel Two television said the Palestinian leader was moved to an intensive care unit at the French military hospital outside Paris.

Earlier, the Palestinian envoy to France, Leila Shahid, said Arafat felt well enough to ask about the U.S. presidential election. An aide later issued a statement in Arafat's name congratulating President Bush on his re-election.

Israeli Foreign Minister Silvan Shalom said Israel is closely monitoring the health of Palestinian leader Yasser Arafat and is preparing for the "day after" his death.

"We are tracking his condition very carefully," he told Israel Radio. "Our goal is to prepare for the day after, if and when he dies."

Israeli intelligence was widely criticized after it was caught off guard last week when Arafat's health suddenly deteriorated and he was flown to Paris for treatment.

Although no details are known about Arafat's ailment, Shalom said his condition "is very serious." At the same time, he said, "it is too soon to eulogize Yasser Arafat," and Israel expected the picture to become clearer within the week.

Israel believes Arafat may have cancer, or possibly a serious infection, he said. "We are preparing for every eventuality," he said.

Initial blood tests performed while Arafat was still in Ramallah in the West Bank revealed a low blood platelet count.

Platelets are blood components that aid clotting. Physicians gave Arafat a platelet transfusion shortly after he was urgently transported from his battered Ramallah headquarters to the Percy military hospital southwest of Paris on Friday.




Today's Top News
Top World News

President Hu congratulates Bush on re-election




ASEAN-China trade better than expected




Chinese to travel in space in 20 years




Arafat takes turn for worse, aides say




Five babies in ICU die, hospital investigates




Consumer prices facing new pressures