ASEAN-China trade better than expected
By Zhang Jin (China Daily)
Updated: 2004-11-04 00:32
Trade volume between China and the Association of Southeast Asian Nations (ASEAN) is likely to reach US$100 billion by the end of the year, Vice-Premier Wu Yi said Wednesday.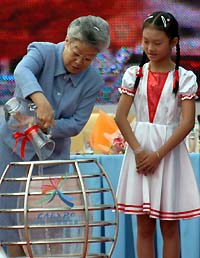 Vice-Premier Wu Yi pours water into a big vase at the opening ceremony of the first China-ASEAN Exposition (CAEXPO) in Nanning, capital of the Guangxi Zhuang Autonomous Region in South China. Cambodian Prime Minister Hun Sen, Laotian Prime Minister Boungnang Vorachit and Myanmar Prime Minister Soe Win, and Vietnamese Vice-Premier Pham Gia Hkiem also poured water brought in from rivers of their countries in respective vases and the water flowed together to form a fountain to mark the start of the expo. [newsphoto]


Reaching that goal would be a year earlier than both sides expected when Chinese Premier Wen Jiabao and leaders of 10-member ASEAN met at a summit last year.

"From January to September, the bilateral trade volume increased 35.6 per cent year on year to stand at US$75.45 billion," said Wu. "It is possible to exceed US$100 billion for the full year."

Wu made the prediction at the China-ASEAN Business and Investment Summit, a sister event of the first China-ASEAN Exposition (CAEXPO). The event opened Wednesday in Nanning, capital of South China's Guangxi Zhuang Autonomous Region.

To be held annually, the expo will offer a platform to bridge enterprises from China and ASEAN.

China's trade with its Southeast neighbours has prospered since 1990, enjoying a 20 per cent annual average rise, said Wu.

Last year's volume was US$78.2 billion and ASEAN has become China's fifth largest trading partner for 11 consecutive years, she told the summit.

Wu also called for joint efforts from both sides to diversify trading.

"While consolidating and expanding trade of traditional goods, we should actively promote the trade of machinery and electronics products and commodities with high added value," she said.

Wu noted that China will adopt a variety of means to further encourage its enterprises to import from ASEAN.

In terms of mutual investment, Wu said ASEAN is an important source of foreign funds.

By June, ASEAN members have chalked up a cumulative investment totalling US$34 billion.

And China's investment in ASEAN has been on the rise in recent years, adding up to US$1.037 billion.

Wu said the Chinese Government will continue pushing for companies to invest in ASEAN.

Meanwhile, the vice-premier also wants to fast-track the construction of the China-ASEAN free-trade area (FTA), saying regional economic integration has become a trend amid the tide of globalization.

"China and ASEAN should team up," she said: "Only by doing so, can we grasp opportunities, meet challenges... and withstand the fierce competition on a global basis."

"It is predictable that with the FTA in place, the two sides will better benefit from each other's economic development," she said.

China and ASEAN signed a comprehensive economic co-operation framework agreement in 2002, which would lead to the establishment of the world's largest FTA by 2010. That includes 1.7 billion consumers with a combined gross domestic product of US$2 trillion.

This year, China and ASEAN carried out an early-harvest programme that eliminated or reduced most of the import tariffs on vegetables and fruits.

In September, the two sides completed negotiations on the trade of goods and will begin to implement tariff cuts in 2005.

The next phases of the FTA will concern trading of services and investment.

To facilitate the FTA process, the vice-premier hopes the two sides will intensify their co-operation in such fields as finance, services, investment, agriculture and the information industry.

At the same summit, leaders from ASEAN countries uttered confidence in the FTA construction, saying the free trade pact will result in a win-win situation as its early-harvest has proven.

"The FTA will prove good for both," said Hun Sen, Cambodia's prime minister. "ASEAN has benefited from a more developed China."

"The early-harvest programme has improved business confidence," said Myanmar Prime Minister Soe Win.

More than 100 items of the country's exports to China are subject to zero tariffs, he said.