Bush camp sees victory, Kerry will not concede
(Agencies)
Updated: 2004-11-03 19:23
US President Bush's campaign declared victory over Democratic Sen. John Kerry and claimed re-election to a second term in the White House on Wednesday, but Kerry refused to concede until all ballots were counted in Ohio.
| | | |
| --- | --- | --- |
| Candidate | Electoral | States Won |
| Bush (R) | 254 | 28 |
| Kerry (D) | 252 | 20 |
In a dispute that evoked memories of the prolonged election recount in Florida in 2000, questions about provisional and absentee ballots in the potentially decisive state of Ohio delayed the outcome of a contested presidential election.
Ohio was crucial to the electoral calculations of both candidates as they tried to piece together the 270 electoral votes needed to win the White House. Without Ohio, neither candidate reached the magic number.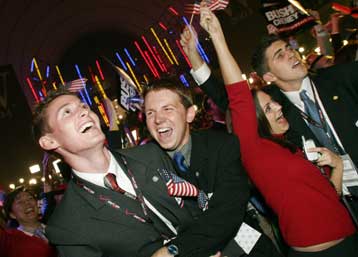 Supporters of President George W. Bush cheer during a rally at the Bush-Cheney election night headquarters in Washington, early November 3, 2004. [Reuters]
White House Chief of Staff Andrew Card, in a pre-dawn appearance before Bush supporters at a planned victory rally, said Bush had compiled a "statistically insurmountable" lead in Ohio and had won a majority of the popular vote.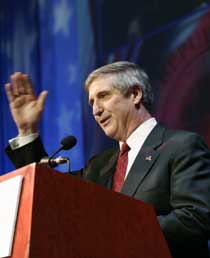 White House Chief of Staff Andy Card declares victory in the reelection of U.S. President George W. Bush at an election night rally in Washington, DC November 3, 2004. [Reuters]

"We are convinced that President Bush has won re-election," Card said, adding Bush would make a statement later on Wednesday.

Kerry's running mate, Sen. John Edwards of North Carolina, told supporters in Boston there would be no concession until all votes had been counted in Ohio.

"It's been a long night, but we've waited four years for this victory, we can wait one more night," Edwards said, adding: "We will fight for every vote."

Two television networks projected Bush would win Ohio but three others did not make a call as Bush took a lead of 125,000 votes with 100 percent of precincts reporting.

It appeared unlikely on Wednesday that there were enough votes left uncounted to close the gap. Ohio's Republican Secretary of State Ken Blackwell said there could have been as many as 175,000 provisional ballots cast after voters had their registrations questioned.

It was a bad night for Democrats nationwide, as Republicans expanded their majorities in the Senate and House of Representatives and knocked off Senate Democratic Leader Tom Daschle of South Dakota.

That will make it easier for Bush to push his conservative agenda through Congress if he is re-elected, potentially making his tax cuts permanent and appointing more federal judges including possibly some U.S. Supreme Court justices.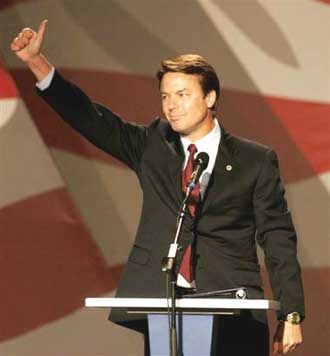 Democratic vice presidential candidate Sen. John Edwards addresses supporters during the election night rally in Boston, Tuesday, Nov. 2, 2004. Edwards thanked supporters and announced that he and presidential candidate Sen. John Kerry would not concede. [AP]
Bush captured Florida, the biggest of the toss-up battleground states, and rolled up wins across the country to move within reach of victory. Kerry won Pennsylvania's 21 electoral votes but New Hampshire was the only state won by Bush in the bitter 2000 election that he had captured.
Long Lines of Voters
Long voter lines were reported nationwide and few major voting glitches were recorded in the final act of a presidential campaign marked by deep disputes over the war in Iraq, the fight against terrorism and the economy.
Kerry had challenged Bush's decision to go to war in Iraq without adequate allied backing and his economic record of tax cuts, job losses and burgeoning budget deficits.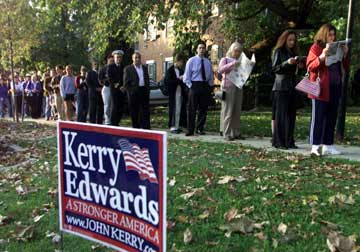 Voters form a line outside a polling station in Alexandria, Virginia, early November 2, 2004. [Reuters]
But Bush's argument that he could keep America safe after the Sept. 11, 2001, attacks on Washington and New York, and his criticism of Kerry as an ineffective and flip-flopping leader, resonated with enough voters to put him on the verge of a win.
With 270 electoral votes needed to win the White House, Bush had captured 28 states with 254 electoral votes. Kerry won 20 states and 252 votes. Bush held a lead of nearly 4 million votes over Kerry nationwide with 98 percent of the precincts reporting.
Still undecided were Iowa, New Mexico and Ohio, but only Ohio could make either candidate a winner.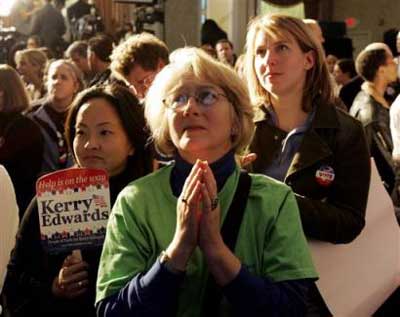 Supporters of US Democratic presidential nominee Sen. John Kerry, D-Mass., watch election returns at Pennsylvania Democratic Party election night headquarters in Philadelphia Tuesday Nov. 2, 2004. [AP Photo]
Bush's projected win in Florida, where his brother Jeb is governor, gave him a giant boost in his bid for re-election and added 27 electoral votes to his column.
Bush, who watched the results in the White House with his family, including his father, former President Bush, said early in the evening he was confident of victory.
"We're very upbeat, thank you," Bush told reporters. "I believe I will win."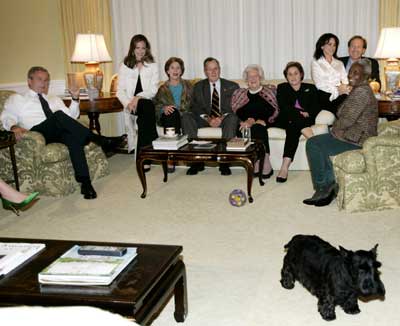 Barney, pet terrier of the U.S. first family, walks away from a group picture of the Bush family including U.S. President George W. Bush (L) as they watch the election results of the 2004 presidential election in the West Sitting Hall of the White House residence November 2, 2004. Members of his family are (L-R) daughter Barbara Bush, first lady Laura Bush, father and former President George Bush, first lady Barbara Bush, sister Doro, sister-in-law Maria Bush, brother Neil and family friend Lois Betts. [Reuters]
Kerry, watching the results in his hometown of Boston, did not make an appearance before reporters but sent out aides to predict a win.
The dollar lost ground and U.S. Treasury prices firmed early on Wednesday after the uncertainty in Ohio made the market more cautious about betting on a Bush victory.
The lingering bitterness over that election, when Bush lost the popular vote to Democrat Al Gore but narrowly won the Electoral College after the U.S. Supreme Court stopped a vote recount in Florida, fueled Democratic get-out-the vote efforts this year.
Today's Top News
Top World News

Bush camp sees victory, Kerry will not concede




US astronaut casts vote from space




Does El Nino hail milder winter?




NAO releases audit result on SARS fund




Pilot trainer jet sales to take off




Scientists to stop invasive plants