China bans slaughter, cooking of civets
(Agencies)
Updated: 2004-11-03 09:37
China has banned the slaughter and cooking of civets ¡ª believed to be the source of the 2002-2003 SARS outbreak ¡ª in an effort to prevent a resurgence of the deadly disease as winter approaches, a news report said Tuesday.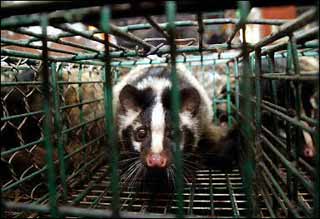 Civet cat. [file photo]
The announcement came a week after the government said 70 percent of civets tested in the southern province of Guangdong were carrying the virus. The mongoose-like animals are considered a delicacy by many southern Chinese.
The ban on cooking civets came in new rules issued Monday by the Health Ministry to prevent a new outbreak of severe acute respiratory syndrome, the Beijing Daily newspaper reported.
SARS first emerged in Guangdong in late 2002. After researchers found the virus in civets, restaurants were barred from serving them. Thousands of animals were seized from markets and slaughtered.
The rules are meant to promote "civilized eating habits," the Beijing Daily said.
SARS killed 349 people in China's mainland and a total of 774 around the world. An outbreak in April in Beijing and the eastern province of Anhui killed one woman and sickened eight other people.
The government announced Oct. 23 that a study of 103 civets from across China found that 70 percent of those from Guangdong carried the virus. It said none of those from northern and eastern China was found to be infected.
Today's Top News
Top China News

Bush and Kerry trade early victories




Dow drops as exit poll talk hits market




Does El Nino hail milder winter?




NAO releases audit result on SARS fund




Pilot trainer jet sales to take off




Scientists to stop invasive plants