CARE hostage faces transfer to Al-Zarqawi
(Agencies)
Updated: 2004-11-03 09:09
The kidnappers of aid worker Margaret Hassan threatened to turn her over to al-Qaida-linked militants notorious for beheading hostages unless Britain agreed within 48 hours to pull its troops from Iraq, Al-Jazeera television reported Tuesday.
Al-Jazeera broadcast only the portion of the video that showed a hooded gunman, but did not air the sound. The newscaster said the kidnappers gave Britain 48 hours to meet their demands, "primarily the withdrawal" of British troops.
Otherwise, the 59-year-old Hassan will be handed over to al-Qaida in Iraq, a group headed by Jordanian militant Abu Musab al-Zarqawi. His followers have beheaded at least six hostages: three Americans, a Briton, a Japanese and a South Korean. The United States has offered a $25 million reward for al-Zarqawi's capture or killing ¡ª the same amount as for Osama bin Laden.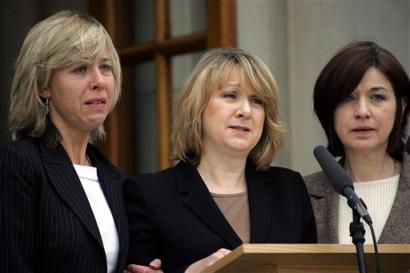 Iraq kidnap victim Margaret Hassan's three sisters, from left to right: Catherine Fitzsimons, Deidre Fitzsimons and Geraldine Fitzsimons make a statement to the media in Dublin Tuesday, Nov. 2, 2004. Irish Prime Minister Bertie Ahern and the relatives of Iraq hostage Margaret Hassan appealed Tuesday for her release. [AP]

In London, Prime Minister Tony Blair's office and the British Foreign Office both declined to comment on the reported demand. Britain has 8,500 troops in Iraq, the second-largest contingent after the United States.

Word of the tape first came from Irish Prime Minister Bertie Ahern, who told his parliament it showed the Dublin-born Hassan pleading for her life directly to the camera before suddenly fainting, according to the British news agency Press Association.

Ahern, who had not seen the video, said a bucket of water is then thrown over Hassan's head and she is filmed lying wet and helpless on the ground before getting up and crying, PA quoted him as saying.

Ahern described the text of the video as "distressing" and said "there were a number of very dangerous and very serious timescales stated."

Al-Jazeera spokesman Jihad Ballout said from Doha, Qatar: "Yes, we have received a tape, but we decided not to air it because we believe it's too graphic."

It was the first time a deadline was set in Hassan's abduction.

Hassan, an Irish-British-Iraqi citizen who heads CARE International in Iraq, was abducted last month from her car in Baghdad. No group has claimed responsibility for her kidnapping and there was no sign on the brief broadcast of any banner identifying who held her.

Her captors previously released three videos of Hassan, and in two of them she pleads for her life, saying she fears she will be beheaded. But she does not say when, and none of her kidnappers have appeared in any of the tapes.

Earlier Tuesday, Ahern met Hassan's three sisters and issued a joint appeal for her release. Standing beside Ahern, Hassan's sister, Deirdre Fitzsimons, addressed her captors directly.

"We are the Irish family of Margaret and we are pleading with you to set her free," she said.

Ahern, whose country is militarily neutral and officially opposes the U.S.-led occupation of Iraq, stressed that Hassan was a particularly inappropriate target.

"Margaret has no political associations. She represents nobody but the vulnerable and the poor," Ahern said. "Your quarrel is not with Margaret. Nor is it with the Irish people, who have been a firm friend of the Arab nations."




Today's Top News
Top World News

Bush and Kerry trade early victories




Dow drops as exit poll talk hits market




Does El Nino hail milder winter?




NAO releases audit result on SARS fund




Pilot trainer jet sales to take off




Scientists to stop invasive plants