US presidential election handed off to voters
(Agencies)
Updated: 2004-11-02 21:06
The first US presidential election since the country plunged into its epochal war on terrorism was finally handed off to voters Tuesday, US President Bush declaring the "safety and prosperity of America" is at stake and Democratic challenger John Kerry saying "the hopes of our country are on the line."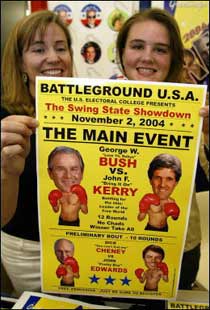 Louise Egan (L) and her daughter Emily hold a poster showing the election battle between President George W. Bush and Democratic rival John Kerry. US polling stations began opening at 6:00 am (1100 GMT) with sharply divided voters choosing between George W. Bush and John Kerry. [AFP]

A dizzying final dash across the Midwest and points south capped a campaign that found the contenders deadlocked at every vital turn and stirred expectations that Americans, for once, were highly motivated to vote.

"Today is decision day," Kerry told cheering supporters at an airport hanger in Toledo, Ohio, early Tuesday morning. "You have an opportunity now, this day, to make fundamental change in America, and the hopes of our country are on the line."

By all signs, voters were engaged.

At one polling place in a Virginia suburb of Washington ! where there was no hotly contested local race to spur interest ! nearly 100 people were in line when the polls opened at 6 a.m., in a turnout that one voter said was the largest she had seen in 20 years of voting at the location.

"Every election's important ... but my very survival is an issue, and that never was," said Margie Miller, 55, of Baldwin, N.Y., whose husband Joel died at his 97th-floor desk at the World Trade Center in the Sept. 11 attacks. "All I care about is safety, safety, safety."

The final pre-election polls turned up tied ! 49-49 in one CNN-USA Today-Gallup survey, with Ralph Nader at 1 percent. Tight surveys in Florida and a variety of Midwestern states including Ohio deepened the mystery over who would collect the necessary 270 electoral votes.

"In all honesty, I don't think it's possible to predict what's going to happen," Democratic vice presidential candidate John Edwards said Tuesday on NBC's "Today" show. "I think we're going to see unprecedented turnout, I think we're going to see huge voter participation. And when that happens, democracy works. So we feel very confident, very optimistic."

The nation's first votes cast and counted on Election Day, in the mountain hamlet of Hart's Location, N.H., reflected in miniature what seemed likely to be writ large across the country: a horse race in votes, not just polls.

Following a quirky tradition of post-midnight voting in New Hampshire's North Country, 16 people voted for Bush, 14 for Kerry and one for Ralph Nader. Bush beat Democrat Al Gore 17-13 in the hamlet in 2000.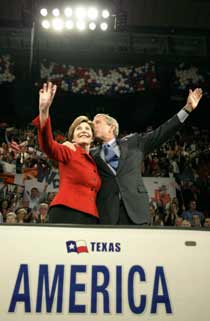 U.S. President George W. Bush kisses first lady Laura Bush at an election rally in Dallas, November 1, 2004. Bush and Democratic nominee John Kerry battled to an unpredictable finish on Monday, racing through a handful of crucial swing states to hunt for the votes that could break open a deadlocked White House race. [Reuters]
The prospect of unprecedented legal challenges hung over Election Day, each side sending thousands of lawyers into motion to monitor the flood of newly registered voters and mount hair-trigger challenges against any sign of irregularity.
In an 11th-hour blow for Democrats in battleground Ohio, an appeals court in Cincinnati stayed lower court decisions and cleared the way for vote challengers to be present at polling places in the state Tuesday. Democrats had claimed Republicans were seeking to discourage minority voters by keeping party representatives out of polling stations.
The decisions were quickly appealed to the U.S. Supreme Court, where Justice John Paul Stevens declined to overturn the appeals court action in an order issued little more than hour before the polls there opened.
Bush finished his last campaign with a noisy homecoming rally late Monday night that packed an overflow crowd of 8,000 into a basketball stadium in Dallas, a rare detour off the circuit of battleground states.
His supporters hoped the venue was a lucky charm ! it was the same stadium where he held his last rally in his governor's race 10 years ago, beginning an unbroken string of electoral success.
Kerry stopped in Toledo en route to Wisconsin for the rest of the night. He was flying home to Boston to vote and await a verdict that no one could foretell with confidence.
The policy-laden speeches were finished and so, for the most part, were the character assaults that flew from both sides for weeks.
"Let's go make it happen," Kerry implored a crowd in Milwaukee. Bush and Kerry came within a mile of each other in Milwaukee and the Democrat's motorcade encountered a procession of Bush campaign buses just after the president had split off for Air Force One.
Bush toned down the jabs at Kerry during his six-state, seven-stop, 19-hour finale Monday but did not abandon them completely.
"In the course of this campaign, my opponent has spent much of his time talking about the day that is gone," Bush told a Monday night rally in Albuquerque, N.M. "I'm talking about the day that is coming."
The president lost New Mexico and Wisconsin in his 2000 squeaker.
Polls found not only a sizzling contest again this time but a sense among people that this election counted more than others in the recent past. As well, untold millions took advantage of expanded opportunities to vote before Election Day in 32 states.
Altogether, those harbingers raised hopes that voter turnout, usually anemic by comparison with other democracies, would climb.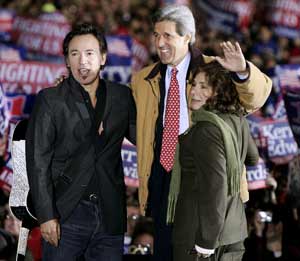 .S. Democratic presidential nominee John Kerry (C) and wife Teresa Heinz Kerry (R) join musician Bruce Springsteen at rally in Cleveland, Ohio, November 1, 2004. [Reuters]
Miller, the Sept. 11 widow, described herself as a loyal Democrat but said she still had not decided who would get her vote. "I'd like to know I'm gonna live another 20 years, that I'll have grandchildren," she said.
Bush and Kerry touched on that theme ! people's safety ! until the final moments of their almost relentlessly rancorous battle, both promising steadfast leadership in the war on terrorism and a single-minded focus on the nation's security.
"I believe we can bring the world back to the side of America," Kerry said Monday, making six stops in four states ! two stops each in Ohio and Wisconsin. "I believe that we can regain America's respect and influence in the world, and I believe we deserve a president who knows how to fight a more effective war on terror and make America safe."
Bush said: "The American president must lead with clarity and purpose. As presidents from Lincoln to Roosevelt to Reagan so clearly demonstrated, a president must not shift with the wind."
There were few grace notes in the eight-month slugfest but in the final hours, Bush ad consultant Mark McKinnon, accompanying the president, offered a nod to an opponent who is known as a strong finisher if a sometimes plodding starter.
"They went through some really tough times and they never let it pull them down," he said. Kerry "ran tough and hard, and we ran tough and hard, and at the end I don't think the campaigns are going to be looking back with great regret at what they could or should have done. I think we did it all."
Legal teams were just getting started, however, already maneuvering and ready to pounce on any sign of irregularities that could be pivotal if the election turned out to be a close as polls suggested.
The nation's terrorism-threat level remained at midrange yellow, meaning elevated, for most of the country, despite the emergence late last week of a videotape of Osama bin Laden taunting Bush.
Today's Top News
Top World News

US presidential election handed off to voters




China's grain production ends a 5-year slide




Kerry win could mean cheaper oil -- analysts




Gunmen seize American, 3 others in Iraq




IOC President Rogge: Good Games ahead




China a top anti-dumping target -- WTO