On election day, Kerry offers 'fundamental change'
(Agencies)
Updated: 2004-11-02 14:41
Democratic challenger John Kerry urged Americans to go to the polls on Tuesday and hold President Bush accountable for the last four years by voting for fundamental change.
"The hopes of our country are on the line," the Massachusetts senator told an airport rally in Toledo shortly after midnight where he was met with a chorus of "No More days!"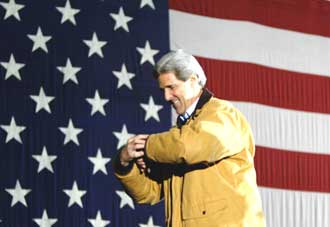 U.S. Democratic presidential nominee John Kerry checks his watch during an after-midnight rally at the airport in Toledo, Ohio November 2, 2004. Ohio is predicted to play an important role when voters choose between Senator Kerry and President George W. Bush in the 2004 U.S. presidential election when polls open later in the day. [Reuters]

Kerry sprinted through a swathe of battleground states in a final pre-election dash bidding to break the deadlocked race with the Republican incumbent.

"It's great to be here in Toledo, the first stop on Election Day," Kerry said. "I think George Bush is back home in bed in Crawford, but I'm here fighting for every single vote that we can get."

Bush traveled more than 2,000 miles through five states on Monday before heading to his ranch in Crawford, Texas. Kerry left Toledo for La Crosse, Wisconsin, where he was spending the night before returning to Boston to vote and mark an Election Day tradition -- lunch at the Union Oyster House.

"This campaign is coming to an end today," he said. "Today is decision day. You have an opportunity now, this day, to make a fundamental change in America. The hopes of the country are on the line."

Kerry set out from Florida on one of the longest days of his general election campaign -- six stops in four states. Singers Jon Bon Jovi, Stevie Wonder and Bruce Springsteen provided star power for his last-minute push for votes at rallies in Milwaukee, Detroit and Cleveland.

In each battleground state -- Florida, Wisconsin, Ohio and Michigan, he urged Americans to go to the polls -- especially the thousands of newly registered voters.

At each stop, Kerry framed the choice voters face: Four more years of the same "failed" economic and foreign policies or a fresh start.

"Take away the clutter. Take away all the labels -- Democrat, Republican, independent," Kerry said. "This is your chance to hold George Bush accountable for the last four years."

RETURNS TO VIETNAM SERVICE

Kerry's last campaign dash began at St. John's church in Orlando, Florida -- where the practicing Roman Catholic marked All Saints Day -- and wound up about 20 hours later in the upper Midwest.

"The president just keeps looking at you and saying, 'It's hard work, it's hard work, it's hard work,"' Kerry told thousands of cheering supporters in Detroit. "Well today and tomorrow, Mr. President, millions of Americans are going to help me to do what we need to do, which is to relieve you of that hard work and set America in a new direction."

Trying to convince Americans he could handle the job of commander-in-chief, Kerry slammed Bush and Vice President Dick Cheney in a television interview for portraying him as weak-kneed and not tough enough to fight an aggressive war on terror.

He used a well-known incident from his Vietnam War service as a Navy lieutenant commanding gunboats in the Mekong Delta to take a jab at both men for not serving in the military.

"When people run around saying things like that, you'd better be pretty suspicious about them," Kerry said on CBS' "The Early Show."

"It's what you do that makes a difference. When I turned my boat in Vietnam into an ambush ... I didn't see George Bush or Dick Cheney at my side."

Kerry's aim the day before the election was to get vital newspaper and television coverage in the states where he is facing his fiercest battle with Bush for the 270 electoral votes needed to win the presidency.

Kerry adviser Mike McCurry told reporters the Democrat had about a 6 percent advantage over Bush among the 5 million or so early votes cast in states like Florida, Iowa and West Virginia.

'We're Going to Win,' Bush Says

US President Bush came home to Texas on Monday night after a last blitz through battleground states, declaring to thousands of spirited supporters, "we're going to win" over Democrat John Kerry on Election Day.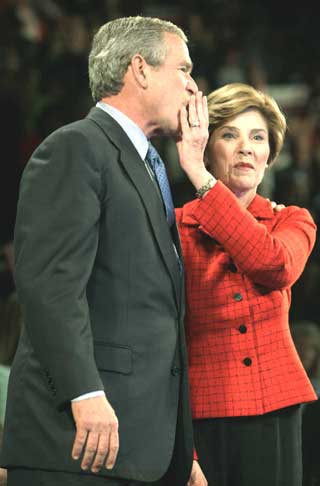 U.S. President George W. Bush has lipstick wiped from his face after being kissed by first lady Laura Bush at a campaign rally in Dallas, November 1, 2004. Bush and Democratic nominee John Kerry battled to an unpredictable finish on Monday, racing through a handful of crucial swing states to hunt for the votes that could break open a deadlocked White House race. [Reuters]

After traveling more than 2,000 miles across five states that could hold keys to victory on Tuesday, Bush said: "It's great to be back where it all started."

His voice raspy after a day of stump speeches, Bush told the sign-waving crowd, which included many longtime supporters, that when he first ran for Texas governor 10 years ago he ended his campaign with a rally in Dallas.

As he completes his run for a second presidential term, he said: "I'm having my last campaign rally in Dallas, and we're going to win."

"We had to do this again for good luck," said his wife, first lady Laura Bush.

Bush said he and Kerry have some big differences: "He's from Massachusetts, and I'm from Texas. He is a committed liberal, and I am a compassionate conservative."

Air Force One sped the president from Ohio to Pennsylvania, on to Wisconsin and Iowa and to New Mexico, and he exhorted large crowds to turn out the vote and fend off Democratic Sen. John Kerry.

"Tomorrow is voting day, and I'm asking you to get your friends and neighbors to go to the polls. Turn out our fellow Republicans, wise independents and discerning Democrats," Bush told thousands of supporters, many of them wrapped in blankets, outdoors on a cold night in the high desert of Albuquerque, New Mexico.

Throughout the day, he argued he should be returned to the White House to pursue the war on terrorism, protect America, see Iraq stabilize, keep taxes low and improve social programs.

He said Kerry cannot be trusted to be the commander in chief and would raise taxes.

"WHO DO YOU TRUST"

"Ultimately this election comes down to, who do you trust? Who do you trust to make the tough decisions? Who do you trust to lead this country to a better tomorrow?" he said in Milwaukee.

He and his Republican allies were counting on a massive get-out-the-vote drive in swing states on Tuesday to carry him to victory in a race that polls show is essentially deadlocked.

Looking for any way to give himself an edge in the race, Bush planned a stop in Columbus, Ohio, on Election Day to issue a final reminder to voters to head to the polls.

First he and his wife, Laura, will vote at the fire station near his Crawford, Texas, ranch. He will await the judgment of voters from the White House.

Bush told reporters at the airport in Pittsburgh before a rally in Burgettstown, Pennsylvania, that he was "confident we're going to win" with the finish line in sight.

"I just want to assure you I've got the energy, the optimism and the enthusiasm to cross the line," he said.

In a sign of how important these swing states are to both candidates, Kerry's plane landed in Milwaukee just a short time before Bush's was taking off.

In Sioux City, Iowa, Bush got in a plug for Republican John Thune, who is running in nearby South Dakota to unseat Senate Democratic leader Tom Daschle.

Bush passed the time on Air Force One flights during the long day playing a rolling game of gin rummy with aides Karl Rove, Joe Hagin, Nicolle Devenish and others. In Milwaukee Rove picked up vanilla milk shakes for Bush and senior staff.

Bush's daughters, Jenna and Barbara, joined him on the campaign trail in Iowa as did his sister Dorothy.

Bush campaign media consultant Mark McKinnon, who described the campaign mood as "confident but anxious," said he was not surprised the race was so close. "It's settling in where it started," he said.




Today's Top News
Top World News

On election day, Kerry offers 'fundamental change'




China's grain production ends a 5-year slide




Kerry win could mean cheaper oil -- analysts




One American, 5 others kidnapped in Iraq




IOC President Rogge: Good Games ahead




China needs 2,200 planes in next 20 years