Bush has one-point lead on Kerry -- poll
(Agencies)
Updated: 2004-11-02 08:02
US President Bush edged into a one-point national lead on Democratic Sen. John Kerry, and the White House rivals were deadlocked in the key state of Florida on the eve of the presidential election, according to Reuters/Zogby polls released on Monday.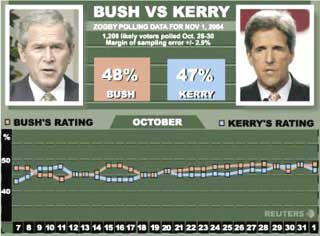 President George W. Bush edged into a one-point national lead over Democratic Sen. John Kerry one day before a cliffhanger presidential election, according to a Reuters/Zogby poll released on November 1, 2004. [Reuters]

In the final Reuters/Zogby polls before Tuesday's voting, Bush led Kerry 48-47 percent in the three-day national tracking poll, well within the margin of error. Bush and Kerry were deadlocked at 48 percent on Sunday.

"Each candidate continues to do well among his base constituency," pollster John Zogby said. Only three percent of voters remain undecided.

Kerry led in six states won in 2000 by Democrat Al Gore -- Iowa, Minnesota, Michigan, New Mexico, Pennsylvania and Wisconsin -- and Bush led in Colorado, Nevada and Ohio, which he won in 2000.

Bush and Kerry were tied at 48 percent in Florida, site of a bitter 36-day recount dispute that gave the presidency to Bush in 2000.

If the other poll results held in Tuesday's voting, the race for the White House would once again hinge on the outcome in Florida, where Bush's brother Jeb is the governor.

A flurry of other state polls have provided contradictory results and made confident predictions of Tuesday's outcome nearly impossible.

The national poll found Kerry was favored by young voters -- those between the ages of 18 and 29 -- by 64 percent to 35 percent, but the size of the turnout in that voting bloc is one of the biggest unknowns of Tuesday's election.

Kerry had a 54-40 percent edge among newly registered voters, another unpredictable group that could be a wild card on Tuesday depending on how many actually vote.

At this stage of the disputed 2000 election, Bush led Democrat Al Gore by one point in the daily tracking poll.

The poll of 1,208 likely voters was taken Friday through Sunday and has a margin of error of plus or minus 2.9 percentage points.

The national poll showed independent candidate Ralph Nader, blamed by some Democrats for drawing enough votes from Gore to cost him the election in 2000, with 1.2 percent.

The polls of about 600 likely voters in each of the battleground states were taken Friday through Monday.

The state-by-state results: In Colorado, Bush led 49-47 percent; Florida, tied at 48 percent; Iowa, Kerry 50-45 percent; Michigan, Kerry 52-46 percent; Minnesota, Kerry 51-45 percent; New Mexico, Kerry 51-48 percent; Nevada, Bush 50-45 percent; Ohio, Bush 49-43 percent; Pennsylvania, Kerry 50-46; and Wisconsin, Kerry 51-45 percent.





Today's Top News
Top World News

Bush, Kerry battle to wire in tight race




China's grain production ends a 5-year slide




Bush has one-point lead on Kerry -- poll




Village clash now under control, 7 dead




One American, 5 others kidnapped in Iraq




Rogge: Good Games ahead