One American, 5 others kidnapped in Iraq
(Agencies)
Updated: 2004-11-02 07:56
Gunmen stormed the compound of a Saudi company in a fashionable Baghdad neighborhood Monday, seizing an American, a Nepalese and four Iraqis after a gunbattle in which a guard and one of the assailants were killed, police said.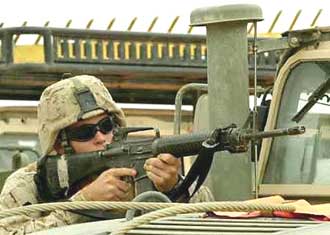 A U.S. Marine looks through the sight of a machine gun as they patrol a position close to Falluja, west of Baghdad, November 1, 2004. U.S. forces battled rebels in Ramadi and shelled Falluja on Monday, but there was no sign that an all-out American-led offensive to retake the insurgent-held cities had begun on the eve of the U.S. presidential election. [Reuters]

The American, who was not identified, was the 12th U.S. citizen reported kidnapped or missing in Iraq. He was grabbed about 500 yards from the house where two Americans and a Briton were kidnapped last month. All three were beheaded.

The dramatic abduction occurred two days after the decapitated body of Japanese backpacker Shosei Koda was found in western Baghdad. The al-Qaida-affiliated movement of Abu Musab al-Zarqawi claimed responsibility for his kidnapping.

Elsewhere, gunmen assassinated the deputy governor of Baghdad while to the west of the capital U.S. troops clashed with Sunni insurgents in Ramadi, killing an Iraqi freelance television camera operator. American artillery pounded suspected insurgent positions in Fallujah, and residents reported fresh air and artillery attacks there late Monday.

But Prime Minister Ayad Allawi came under new pressure, this time from Iraq's president, to forego on all-out American assault on Fallujah and other Sunni insurgent strongholds. U.S. and Iraqi officials hope to curb the insurgency in time for national elections in January.

Police Lt. Col. Maan Khalaf said the heavily armed kidnappers arrived in three cars around iftar, the traditional sunset meal which Muslims eat to break their daily fast during the holy month of Ramadan.

The kidnappers stormed the two-story house, which is surrounded by an outer wall with iron bars, in a hail of gunfire and forced the victims to leave with them. There were conflicting reports on the number taken but Interior Ministry spokesman Col. Adnan Abdul-Rahman said they were one American, a Nepalese and four Iraqis.

"We heard gunfire. I went outside to see what's going on when a man pointed a machine gun at me and said: 'Get in or else I'll shoot at you,'" said Haidar Karar, who lives nearby.

From his house, Karar saw "at least 20 attackers, some masked and some not." He said some were wearing traditional Arab robes and all were carrying automatic weapons.

More than 160 foreigners have been abducted this year by militants with political demands or by criminals seeking ransom. At least 33 captives have been killed ¡ª several of them by al-Zarqawi's group, which is believed headquartered in Fallujah.

By comparison, more than 152 Iraqis were kidnapped in October alone, the highest number recorded in a single month since the U.S. occupation began in March 2003, according to the Interior Ministry.

Early Monday, gunmen opened fire on a car carrying Baghdad province's deputy governor, Hatim Kamil, killing him and wounding his two bodyguards, officials said. A militant group, the Ansar al-Sunnah Army, claimed responsibility for the attack in southeastern Baghdad.

"This is the fate of whoever is aiding or supporting the crusaders against the Muslims and mujahedeen," the group said on its Web site. It was impossible to verify the claim's authenticity.

Heavy clashes between U.S. forces and insurgents continued in Ramadi, an insurgent stronghold 70 miles west of Baghdad. A bomb on Sunday killed one Marine and wounded four there, the military said.

On Monday, a woman was killed and her two children injured, hospital officials in Ramadi said. Also killed was an Iraqi freelance television cameraman, Diaa Najm, who provided material to Associated Press Television News ¡ª believed to be the 24th journalist killed in Iraq this year.

The latest violence occurred as American troops are gearing up for a major offensive against Fallujah, the strongest bastion of Sunni insurgents and located about 40 miles west of the capital. The order to launch the assault must come from Allawi, the Iraqi prime minister, who warned Sunday that his patience with negotiations was thinning.

However, Allawi, a Shiite Muslim, faces strong opposition to such an attack within the Sunni minority. In an interview published Monday by the Kuwaiti daily Al-Qabas, interim President Ghazi al-Yawer, a Sunni, said he disagreed "with those who believe a military attack is necessary."

"The way the coalition is managing the crisis is wrong," al-Yawer said. "It is as if someone shot his horse in the head to kill a fly that landed on it. The fly flies away and the horse dies."

Allawi has given no deadline for an attack on Fallujah but has insisted that the city must hand over foreign fighters and permit government forces to assume responsibility for law and order.

The city fell under insurgent control after the Bush administration ordered Marines to call off their attack against the city in April following a public outcry in Baghdad over reports of hundreds of civilian casualties.

A handful of Iraqis showed up for the first day of voter registration in central Baghdad on Monday. They refused to allow TV cameras to film them for fear of retaliation.

To help protect the voting, fresh American soldiers arrived in the capital ¡ª reinforcements that push the total U.S. military presence in Iraq to about 142,000, the highest level since the summer of 2003. Some Army units slated to depart were being held back until after the January elections.




Today's Top News
Top World News

Bush, Kerry battle to wire in tight race




China's grain production ends a 5-year slide




Kerry win could mean cheaper oil -- analysts




Village clash now under control, 7 dead




One American, 5 others kidnapped in Iraq




IOC President Rogge: Good Games ahead