Olympic press services begin
By Liu Li (China Daily)
Updated: 2004-11-01 22:56
The Beijing Olympic Press Centre was launched yesterday to meet the increasing media demand for the information about the Beijing 2008 Games.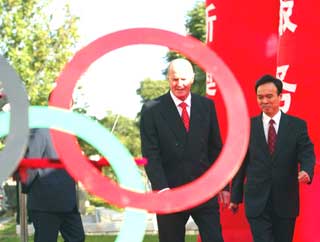 Long Xinmin (right), deputy Party secretary of Beijing, accompanies Kaven Gosper, vice president of the IOC's Coordination Commission for the 2008 Olympics to unveil the Beijing Olympic Press Center in Beijing November 1, 2004. The press center, located in the Huabei Hotel in northern Beijing, will serve as a venue for the municipal government and the Beijing Organizing Committee for the 2008 Olympics (BOCOG) to hold press briefings. [newsphoto]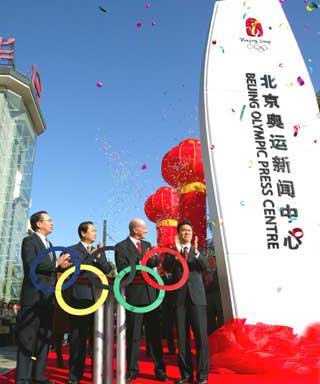 Chinese and IOC officials unveil the the Beijing Olympic Press Center November 1, 2004. [newsphoto]
Located at the Huabei Hotel in Beijing, the press centre is jointly operated by the Media and Communications Department of the Beijing Organizing Committee for the Games of the XXIX Olympiad (BOCOG) and the Press Office of the Beijing municipal government.
It will assist domestic and overseas media in their coverage of BOCOG'S preparatory efforts as well as other work undertaken by relevant municipal governmental departments, sources said.
Meanwhile, press conferences and media briefings will be held on a regular basis to ensure an authoritative and regular release of Olympics-related information.
The centre will also organize social gatherings and cultural activities for domestic and international journalists.
"A successful Olympic Games cannot be done without the extensive participation of the media," Jiang Xiaoyu, vice-president of BOCOG said yesterday at the launch ceremony.
"To provide high-quality media services is an important part of BOCOG's work to host a successful Olympic Games in 2008 in Beijing," he said.
Jiang further said that Beijing will try to learn from the successful experiences of previous Games, especially the Athens 2004 Games, to further improve the flow of news and information and upgrade Beijing's Olympic media services.
It is expected some 22,000 journalists from around the world will cover the 2008 Olympic Games in Beijing, said Kaven Gosper, International Olympic Committee (IOC) member and Vice-President of the IOC Co-ordination Commission for the Games of the XXIX Olympiad.
Gosper said he is expecting an exciting "journey" from now to the 2008 Games.
He also said yesterday he is impressed by progress in preparation for the Beijing Games.
Gosper was in Beijing to attend the third Meeting of the Co-ordination Commission for the 2008 Games and the Athens Games debriefing, sources said.
Today's Top News
Top China News

China's grain production ends a five-year slide




Top State firms see big profit hikes




Olympic press services begin




Village clash now under control, 7 dead




Efforts to stabilize oil products prices




Rogge: Good Games ahead