Top Baghdad official shot dead
(BBC)
Updated: 2004-11-01 17:13
Gunmen have assassinated the deputy governor of Baghdad and wounded two of his bodyguards, Iraqi officials say.
Hatem Kamil Abdul Fatah was killed in a drive-by shooting in the southern Dora district of the capital, an Interior Ministry spokesman said.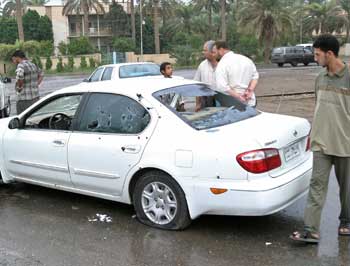 An Iraqi youth surveys the scene of the assassination of the deputy governor of Baghdad, Hatem Karim, who was killed and two of his bodyguards were wounded in a drive-by shooting in the southern Dora district of the Iraqi capital, November 1, 2004. Gunmen assassinated the deputy governor of Baghdad on Monday, a day after Iraq's U.S.-backed interim prime minister spoke of an imminent military showdown with rebels in the western city of Falluja. [Reuters]

His car was rammed by attackers as it went past a mosque, the BBC's Alastair Leithead reports.

The attack happened as voter registration was getting under way for the elections scheduled for January.

Iraqis wanting to vote or run for election have six weeks in which to register in 550 centres across the country.

Our correspondent says the centres have been set up in places where Iraqis receive food rations in the hope that people will not feel threatened, and to reduce the risk of targeted attacks.

But militant groups have made threats against those working on the elections, he adds.

Tikrit rocket attack

The killing of the Baghdad official was the latest in a series of attacks on officials linked to Iraq's US-backed interim government.

It follows a rocket attack on Sunday in the city of Tikrit, which killed at least 15 civilians and wounded eight.

Reports suggest insurgents fired two rockets at an American base, but one missed and hit a hotel housing workers.

Sunday also saw clashes in Ramadi, west of Baghdad, in which at least seven Iraqis were reportedly killed.

Meanwhile, Iraqi interim Prime Minister Iyad Allawi has said time is running out for talks aimed at averting major conflict in the insurgent-held city of Falluja.

He said he was determined to re-establish control over the city, by military means if necessary, after meeting tribal leaders from the area.

US forces continue to bombard Falluja and are preparing for a major assault.




Today's Top News
Top World News

Qian Qichen: US strategy seriously flawed




Two Chinese men to circle space for 5 days




Bush, Kerry begin last day of campaigning




New limits set on car fuel consumption




US trouser quota against WTO principles




Poisonous gas gush kills 15 Chinese miners