Uruguayans elect first leftist president
(Agencies)
Updated: 2004-11-01 16:41
Tabare Vazquez, a cancer specialist and former mayor of the capital, won Uruguay's presidential election, becoming the nation's first leftist leader and strengthening a regional shift toward left-leaning governments.
Vazquez claimed victory after exit polls showed he won Sunday's race over two other major candidates, triggering raucous celebrations. Thousands of Uruguayans thronged the streets, lingering through the night to the boom of fireworks and chants of "Viva Tabare!"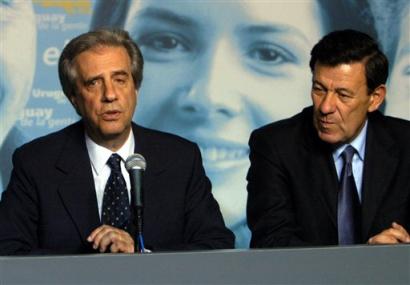 Leftist candidate Tabare Vazquez, left, accompanied by his running mate Rodolfo Nim speaks at a news conference after he declared victory in Uruguay's presidential election, Sunday, Oct. 31, 2004, in Montevideo. [AP]

"After all Uruguay has been through the last few years, we finally have something to cheer," said Juan Gonzalez, a 36-year-old shoe salesman.

The win for the 64-year-old adds this South American nation of 3.4 million to a regional shift to the left. Leftist and center-left leaders have come to power in Argentina, Brazil, and Venezuela over disenchantment with financial turmoil and free-market economic policies.

Vazquez has promised moderate policies with an emphasis on helping the poor.

"This is a proud night for Uruguayans," said Vazquez, an oncologist and former mayor of Montevideo, his words echoing over a crowd of thousands of flag-waving supporters gathered outside a downtown Montevideo hotel.

"I want you to know I'm going to defend you. This victory is yours," he declared.

The vote highlighted a dramatic shift for this longtime U.S. ally. American-Uruguayan relations blossomed under current President Jorge Batlle even as other leftists leaders took power in the region emphasizing greater distance from Washington on a range of economic, trade and foreign policy issues.

This was the first electoral defeat for two of the country's more traditional parties. The Colorado and the more centrist National parties alternately controlled the presidency for more than 170 years. That lock on power has been interrupted occasionally by military rule, most recently during the country's 1973-84 dictatorship.

Rising public anger over a 2002 economic crisis set the backdrop for the campaign. Uruguay was lashed by financial turmoil in neighboring Argentina two years ago, unleashing a severe currency devaluation and the collapse of several leading banks.

Two major polling groups gave nearly identical figures of 51 percent for Vazquez ¡ª of the Broad Front leftist coalition ¡ª and 34 percent for runner-up Jorge Larranaga ¡ª of the National Party. The exit polls did not give a margin of error and election officials said they would wait until later Monday to release an official tally.

Vazquez was widely seen as the front-runner in a race against Larranaga and Guillermo Stirling of the ruling Colorado party. Both men conceded the race before initial results were even released. Batlle was barred from seeking a second consecutive, five-year term.

Long one of Latin America's most stable economies, Uruguay is climbing out of an economic depression in which the economy shrank by 11 percent two years ago.

The upheaval left one of every three Uruguayans below the poverty line ¡ª a blow to a country where generous social benefits had for years assured one of the region's highest living standards. Thousands of young Uruguayans emigrated to Europe and the United States.

Vazquez has stressed he will strengthen the country's ties with regional neighbors Argentina and Brazil and will restore relations with Cuba.

Taking part in street celebrations that stretched through the night, Laura Iglesias, a 23-year-old student, danced and shouted with a group of friends, her face painted in the red, white and blue colors of the Broad Front party.

"This election has finally given us hope again," she said.




Today's Top News
Top World News

Qian Qichen: US strategy seriously flawed




Two Chinese men to circle space for 5 days




Bush, Kerry begin last day of campaigning




New limits set on car fuel consumption




US trouser quota against WTO principles




Poisonous gas gush kills 15 Chinese miners