Bush, Kerry begin last day of campaigning
(Agencies)
Updated: 2004-11-01 16:27
President Bush, sucking lozenges to save his voice, and John Kerry, at risk of losing his, swung into the last day of campaigning hoping an election too close to call will end with everyone knowing who won.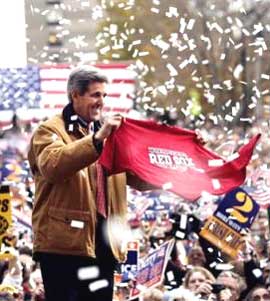 Democratic presidential candidate Sen. John Kerry, D-Mass., holds up a Boston Red Sox shirt at a rally in Manchester, N.H. Sunday, Oct. 31, 2004. [AP]

Squeezing every dwindling hour for advantage, Bush laid on a six-state, seven-stop tour Monday stretching from early morning into late night, mostly in the Midwest. His Democratic opponent was working the heartland for a final time, too, their schedules placing them three blocks and one hour apart midday in Milwaukee.

Both sides had get-out-the-vote armies primed for action, plus lawyers deployed across the country ready to throw any photo finish into court at the first sign of polling-place irregularities.

"I expect this election is going to be decided Tuesday night," Kerry told The Associated Press on Sunday, "but, given experience, I would be irresponsible if I wasn't prepared to be able to protect every person's right to vote."

Bush said it's vital to see a clear winner emerge election night, especially considering how closely the process is being watched around the world.

"We'll see how it goes Tuesday night but I really think it's important not to have a world of lawsuits that stop the will of the people from going forward," the president told "Dateline NBC." Bush won the presidency in 2000 in a postelection tangle broken when the Supreme Court stopped a Florida recount.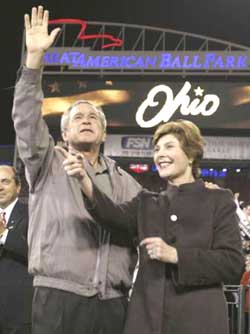 U.S. President George W. Bush and first lady Laura Bush wave to supporters during a rally at the Great American Ballpark in Cincinnati, October 31, 2004. Bush will campaign all day November 1, the eve of the Presidential election. [Reuters]

The long, bruising campaign was finally ending, surely not a moment too soon for the combatants. Kerry occasionally coughed during his speech at a Tampa, Fla., rally Sunday night, which in the past has been an early sign of losing his voice.

Bush stocked up on lozenges and cut down or eliminated caffeine, which constricts the vocal cords, said adviser Karl Rove, who figured the president's voice would be hoarse in another day anyway. Asked what Bush is doing to save his voice, Rove cracked, "Just chewing on me less every day."

Bush pitched his case for continuity in the war on terrorism before tens of thousands filling the Great American Ballpark in Cincinnati on Sunday night, the fifth consecutive day he campaigned in Ohio.

And with U.S. and Iraqi forces preparing for an onslaught against the insurgent stronghold in Fallujah, Bush offered this explanation for the bloody run-up to Iraqi elections at the end of January: "Iraq is a dangerous place today because Iraq is moving toward freedom."

A bit of 11th-hour giddiness set in: Bush advisers descended the steps of Air Force One in Cincinnati wearing camouflage jackets, a Halloween stunt tweaking Kerry for donning "cammo" to go hunting in the same state. They handed out M&Ms on the tarmac.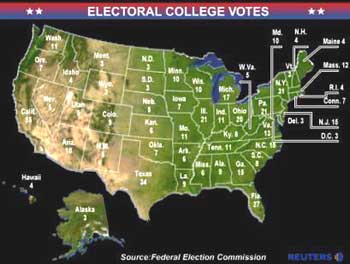 This graphic details the Electoral College vote count by state for the 2004 presidential election. [Reuters]

The Democrat summed up his case before a crowd of thousands Sunday night in a Tampa park, the city's high-rise buildings as backdrop.

"This is the moment to hold George Bush accountable for the deficits, for the loss of health care, for the loss of jobs, for the loss of America's influence and respect in the world," he said. "This is the moment to restore our hopes and dreams and bring back the vision of this country."

Kerry told the AP that if elected he would quickly name a Cabinet and begin a "flurry of activity" to heighten the country's security. "I'm going to make America safer and I have some very strong and real steps to take quite immediately to make that happen," Kerry said.

New polls told a now-familiar story ¡ª it's neck and neck in battleground after battleground.

A strong majority in a Pew Research Center survey said this election is especially important, a result that could presage a high turnout. Fully 84 percent said so, compared with only 67 percent in 2000 and 61 percent in 1996.

Bush was stumping in Ohio, Pennsylvania, Wisconsin, Iowa and New Mexico on Monday before a crowning home-state rally in Dallas and a night at his Crawford ranch. Vice President Dick Cheney flew to Hawaii for a late-night rally before heading back to the mainland early Monday.

Kerry spent Sunday night in Florida, with two stops in Ohio, two in Wisconsin and one in Michigan lined up on the last day.

Aides said the Massachusetts senator would fly home to Boston on Tuesday to vote and carry forward his Election Day tradition ¡ª lunch at the Union Oyster House. His running mate, North Carolina Sen. John Edwards, was campaigning in the Midwest and Florida.

The scramble capped the most expensive political advertising campaign in history ¡ª more than $600 million spent by Bush, Kerry, their political parties and allies. That's triple the amount spent in 2000, with Democrats and their friends having the edge in spending.

The campaign was playing itself out in the shadow of a videotape by Osama bin Laden after a weekend during which officials reported the combat deaths of nine Marines in Iraq.

Bush promised, "we'll eventually get Osama bin Laden. In the meantime, we're destroying his network, slowly but surely, systematically destroying it."

Asked about former New York Mayor Rudy Giuliani's comments that troops in Iraq bore responsibility for missing explosives, Bush told NBC he never blames the troops. "I'd be glad to blame myself," he said.

But Bush said there is "a lot of conflicting information about ammunition sites" and said troops have secured or destroyed 400,000 tons of ammunition.




Today's Top News
Top World News

Qian Qichen: US strategy seriously flawed




Two Chinese men to circle space for 5 days




Bush, Kerry begin last day of campaigning




New limits set on car fuel consumption




US trouser quota against WTO principles




Poisonous gas gush kills 15 Chinese miners