Mr Shanghai gives all credit to his fiancee
(eastday.com)
Updated: 2004-11-01 09:17
Jiang Lejun, 25, was crowned the first "Mr Shanghai" on Saturday after the final judging at Shanghai Television Station.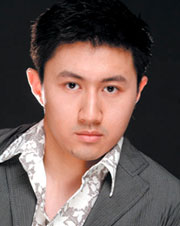 First ever "Mr Shanghai" title went to 25-year-old Jiang Lejun. [sina]

He will head for Beijing next month together with the second prizewinner Li Yang and the third prizewinner Cheng Hong to fight for the title "Mr China" in the first national male pageant.

"Thanks go to my fiancee. She gave me the confidence to stand up here," Jiang said after winning the title.

Since the day he entered the competition, Jiang's Japanese fiancee has had him on a body-building nutrition program.

The morning diet goes like this: soy beans 20 grams, hazel nuts 10 grams, pine nuts 25 grams, one banana, one glass of yogurt.

Jiang will get 30,000 yuan (US$3,614) cash, a diamond ring and a wristwatch.

The "Mr Shanghai" contest started in April. About 200 local men signed up for the city's first male beauty pageant and 20 were chosen for the final round.

The contest focuses on physical appearance, athletic ability, public speaking charisma and social etiquette.

Shanghai men have long been criticized for "not being man enough" because they are usually very submissive to what their wives say and often do household chores.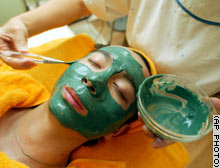 A man gets a facial at the Extraordinary Space Spa in Beijing.

But Jiang says it's a misinterpretation of what a good man should be.

"I think it's sweet and sexy to put on the apron and cook a nice meal for the woman I love," he said. "It has nothing to do with being sissy. I find many of my friends, French men and German men, are all very good at taking care of women and their kids."





| | |
| --- | --- |
| | |
| Halloween | |

| | |
| --- | --- |
| | |
| Twinkle, twinkle, diving stars | |

| | |
| --- | --- |
| | |
| Sex exhibition opens in Beijing | |
Today's Top News
Top Life News

Two Chinese men to circle space for five days




Bush, Kerry in tight sprint to finish




New limits set on car fuel consumption




US trouser quota against WTO principles




Iran parliament OKs nuke enrichment bill




Poisonous gas gush kills 15 Chinese miners